BUS:STOP Krumbach – Functionality meets Architecture and Creativity
What do you think happens when 7 architects from 7 different countries are invited to design something as utterly ordinary as a bus stop? The result, located in Krumbach, is a unique project attracting travellers with a love for great design and functionality to the area. Let us discover BUS:STOP Krumbach, a unique, international design project where functionality meets architecture and creativity. And it all happens off the beaten path in Austria.
Promotional content
During the design process, the 7 chosen architects, representing architectural agencies from all corners of the world, were to collaborate closely with local builders and to only use local materials and building techniques. The project is supposed to represent Austrian traditions – flavoured by international ideas. It was expected that the design projects would build bridges between different cultures and ideas, and to simultaneously introduce new inspiration to both the city of Krumbach and to the architects involved.
As already mentioned, the bus stops needed to be built using local building techniques and materials only. Besides this, the structures also needed to provide shelter from the wind and the rain for travellers, and it needed to be visible to local bus drivers. The bus stops could, however, have more than one sole function, and that is something I would later discover when visiting several of the bus stops.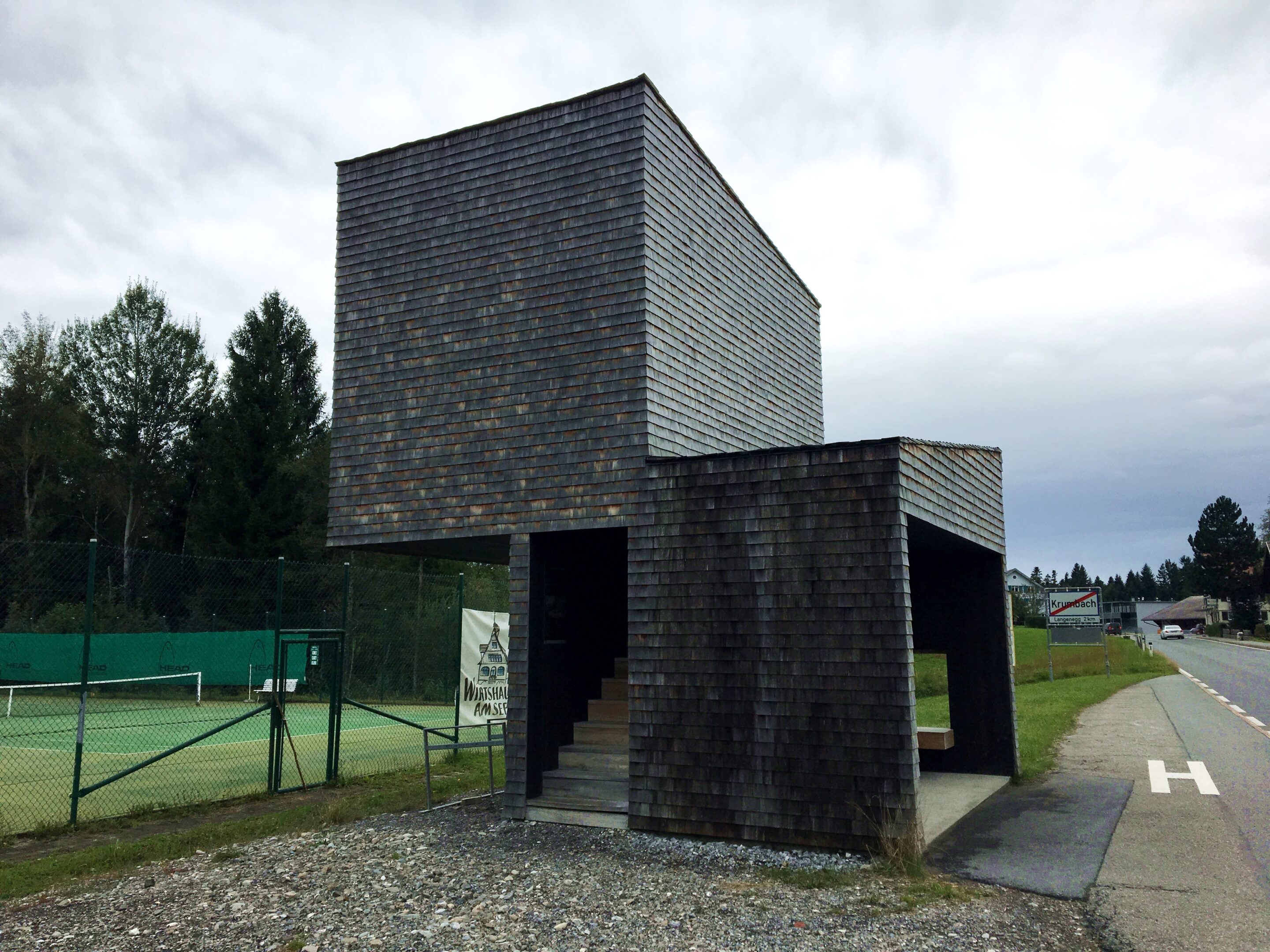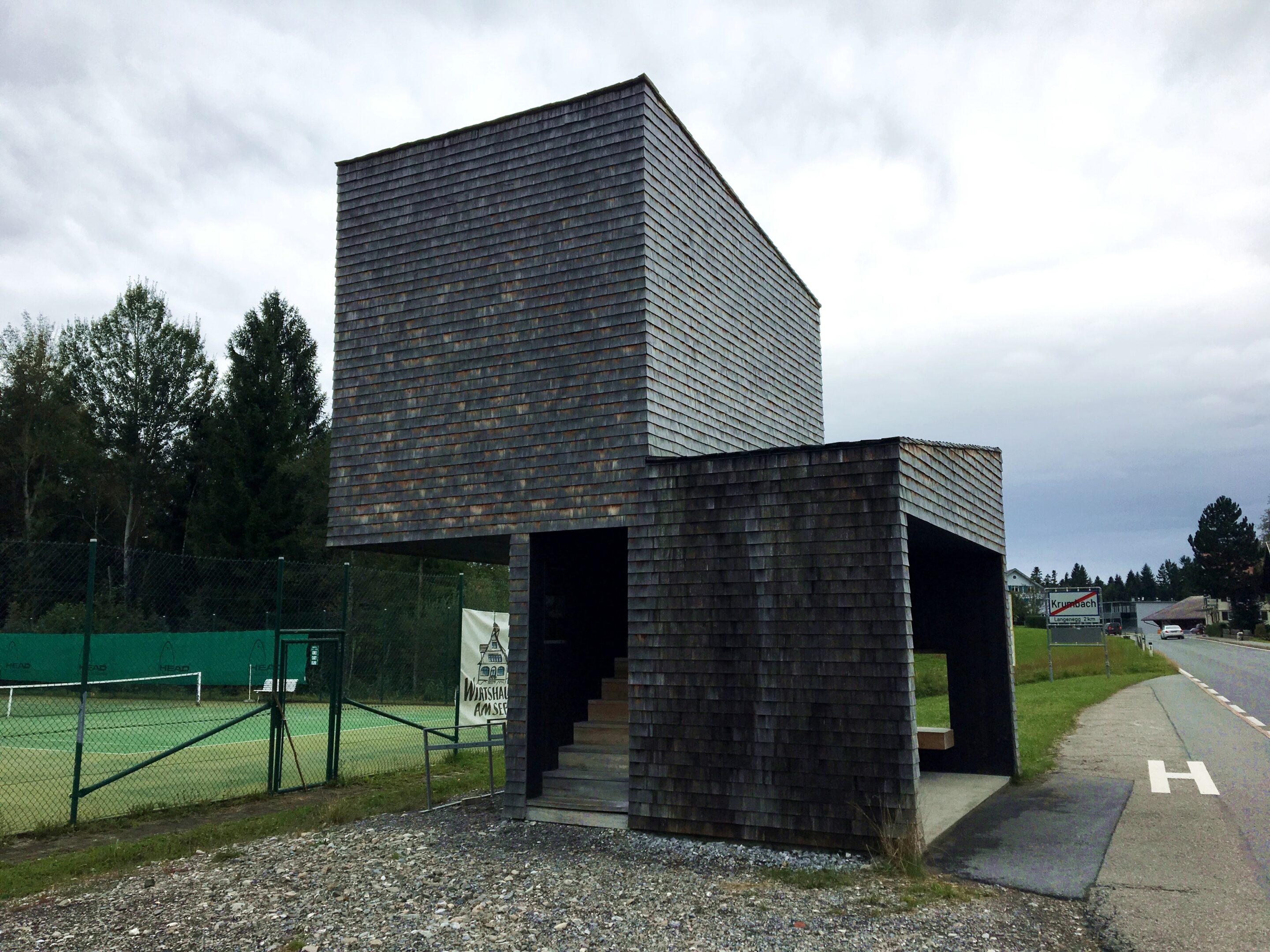 This bus stop was designed by the Norwegian-based architecture company Rintala Eggertson, and I am quite sure that this is the only bus stop in the world with its own tennis court. A waiting room will give you shelter on rainy days, and a small staircase will lead you up to a gallery where you will find a wonderful view of the tennis court behind the bus stop. In the gallery, you will also find a wide selection of books for those of you who want to relax and unwind between the tennis matches. The outside is covered in untreated wood shingle, a material which is typical for this part of Austria.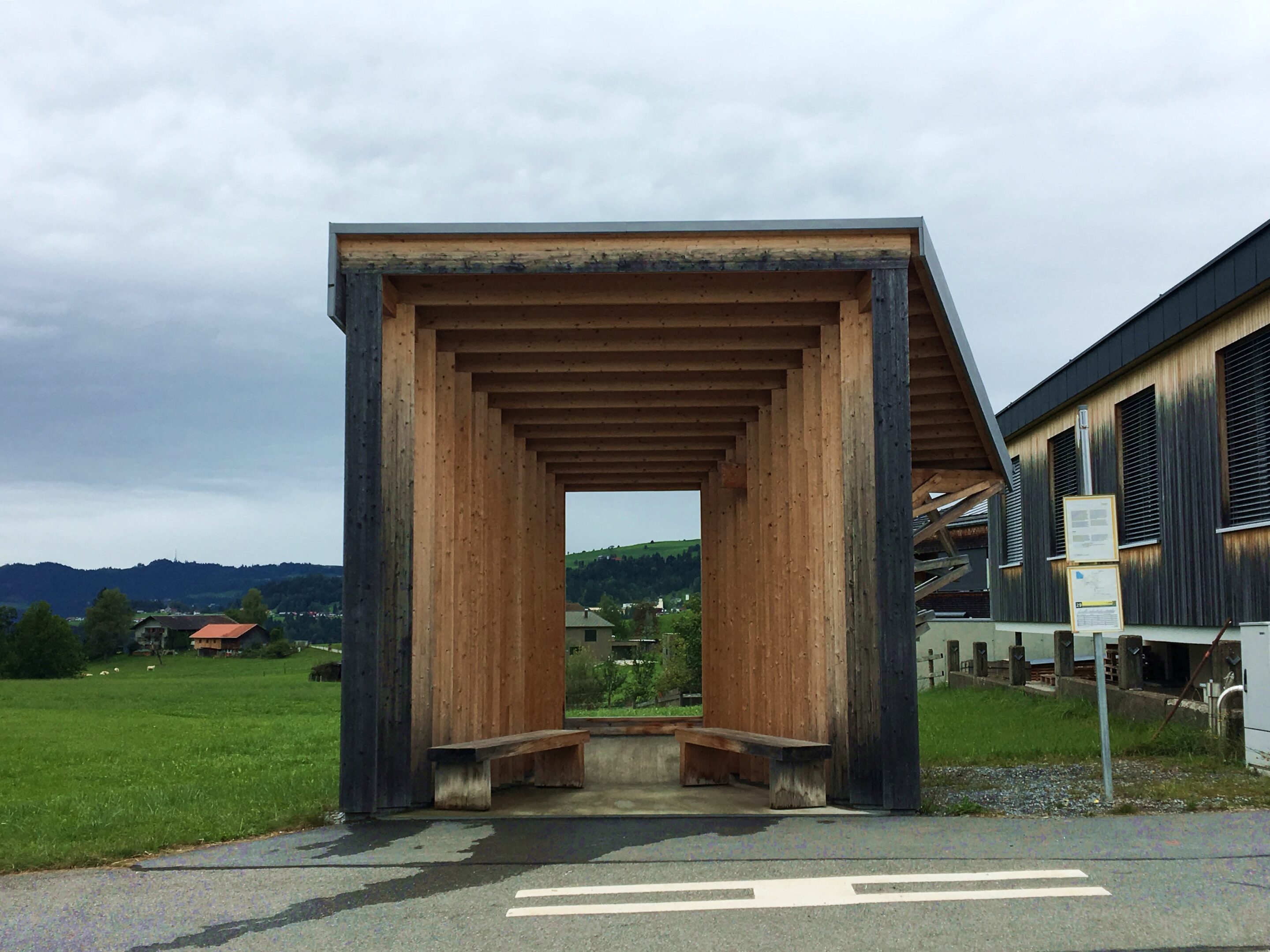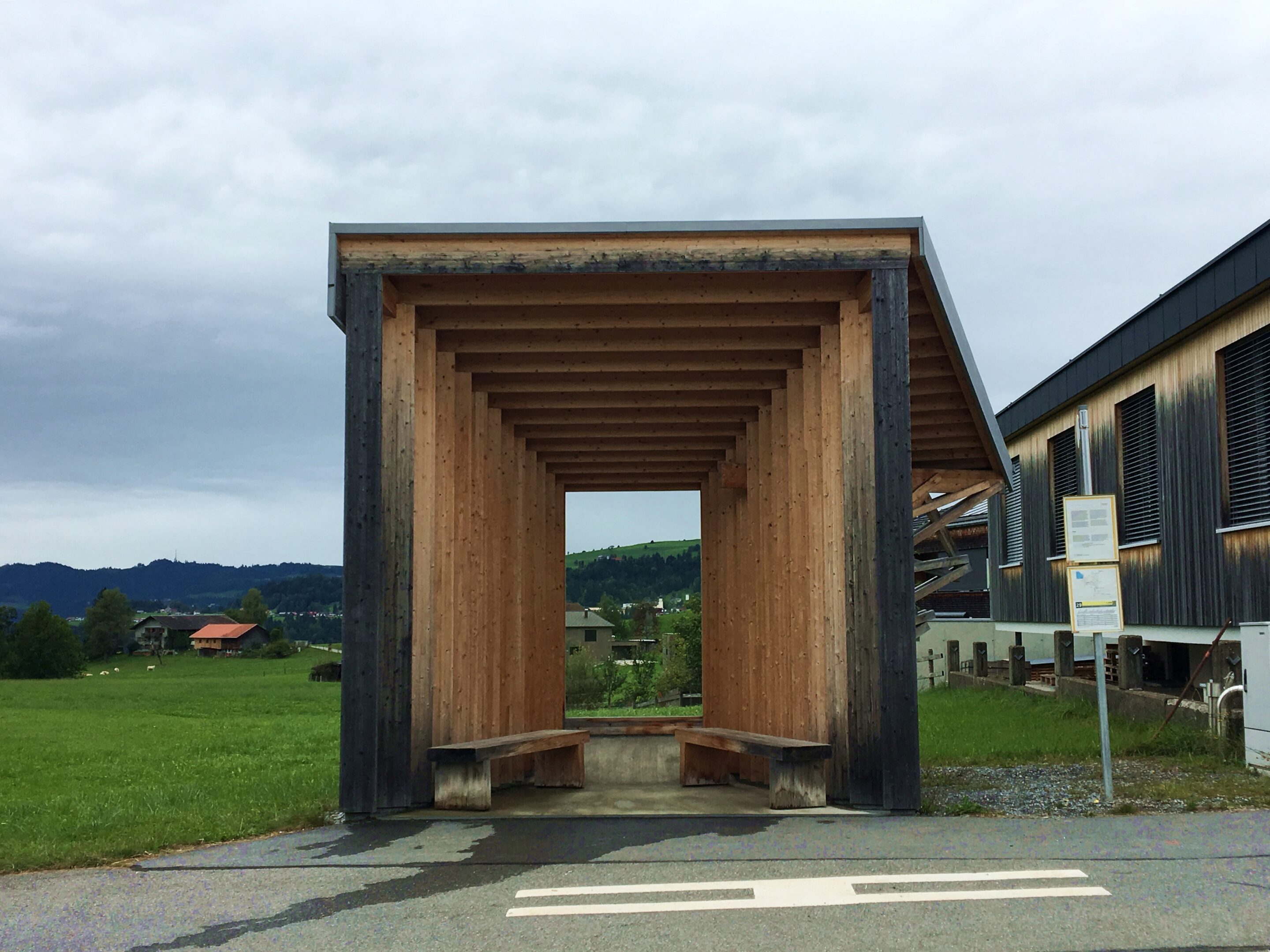 This bus stop was designed by Wang Shu and Lu Wenyu from Amateur Architecture Studio in Japan. This is a more classic wood construction, and you can easily see all the wooden beams. During the design process, the two architects based their ideas upon an old-fashioned camera.
The architects involved were not payed for their work, instead they were invited for a weeks holiday in the area. This way, the architects would also be more familiar with the local area and culture before the design process started.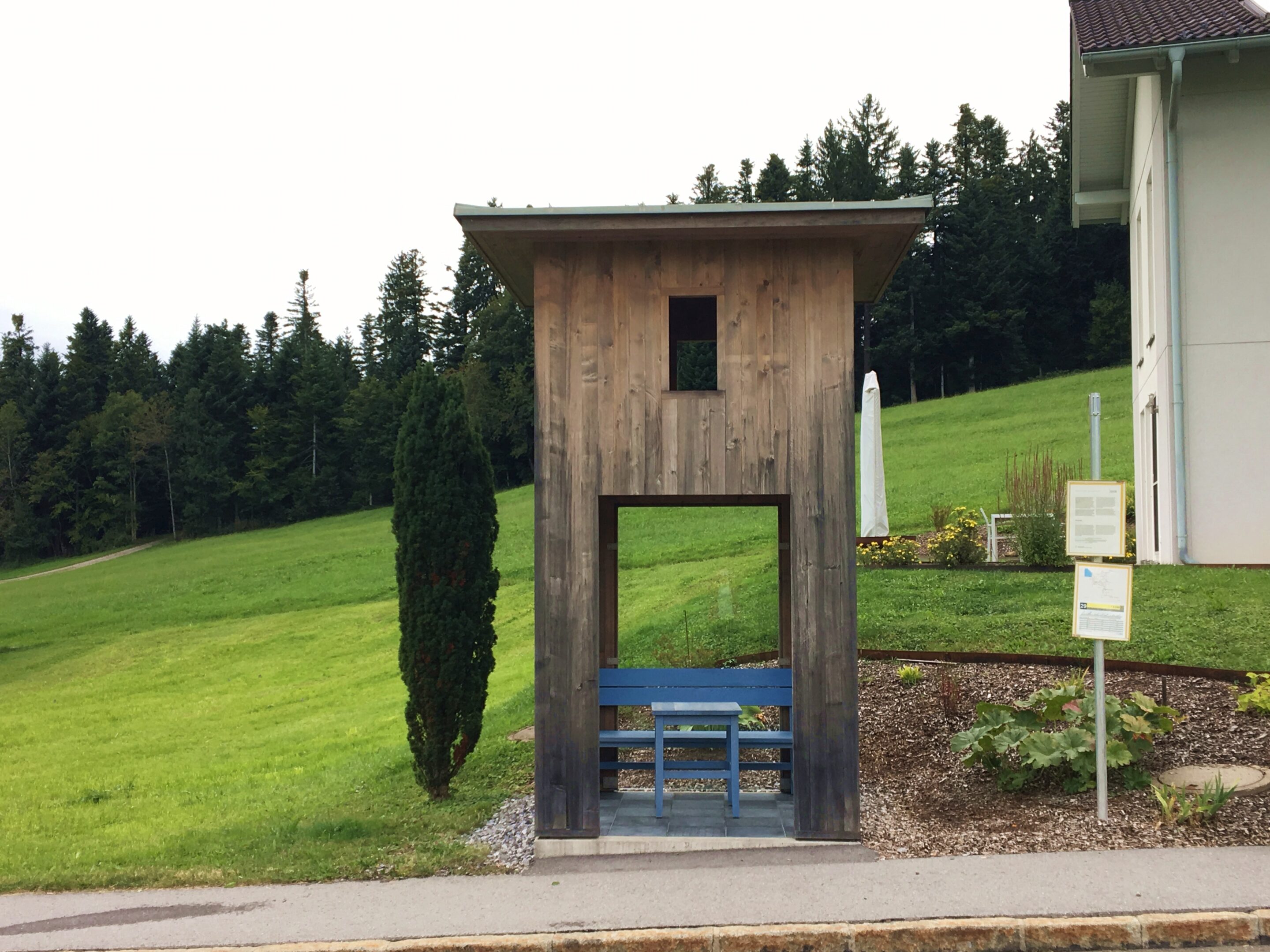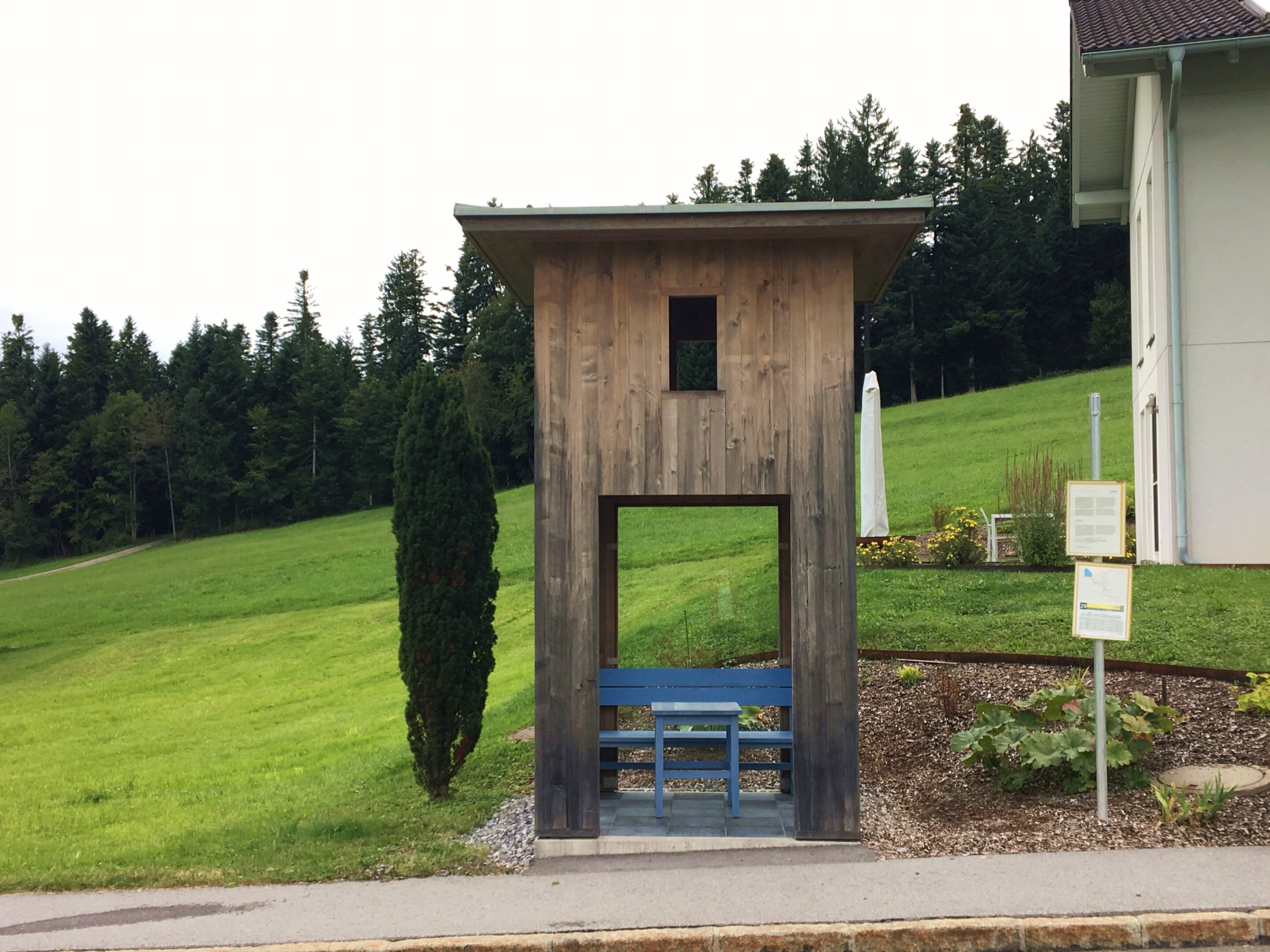 The bus stop pictured above resembles a bird house, and it was designed by the Russian architect Alexander Brodsky. Inside, there is a bench and a table where travellers can rest while they wait. The bus stop is covered in plexiglass, and the small attic has four open windows where the wind can move through freely.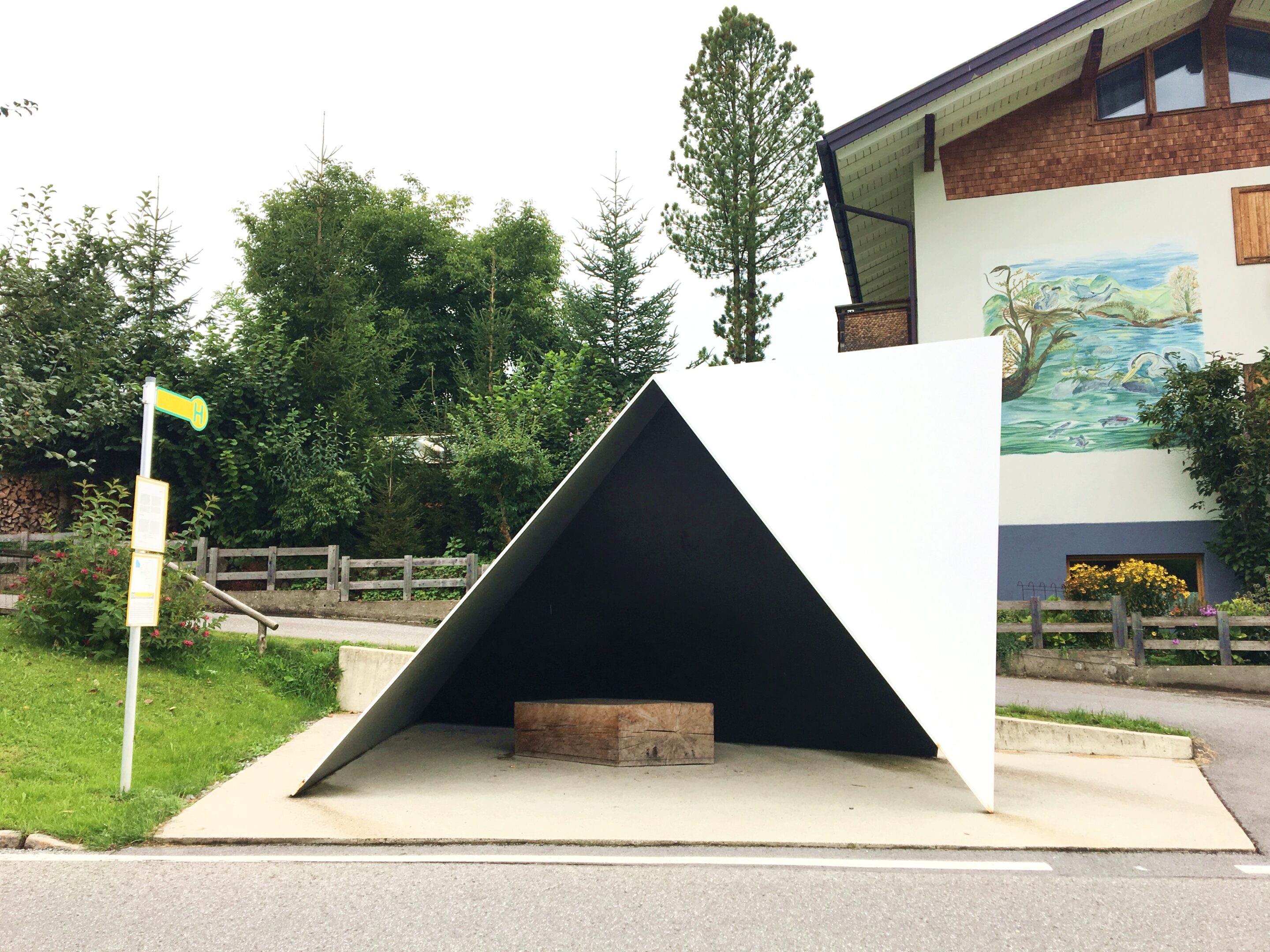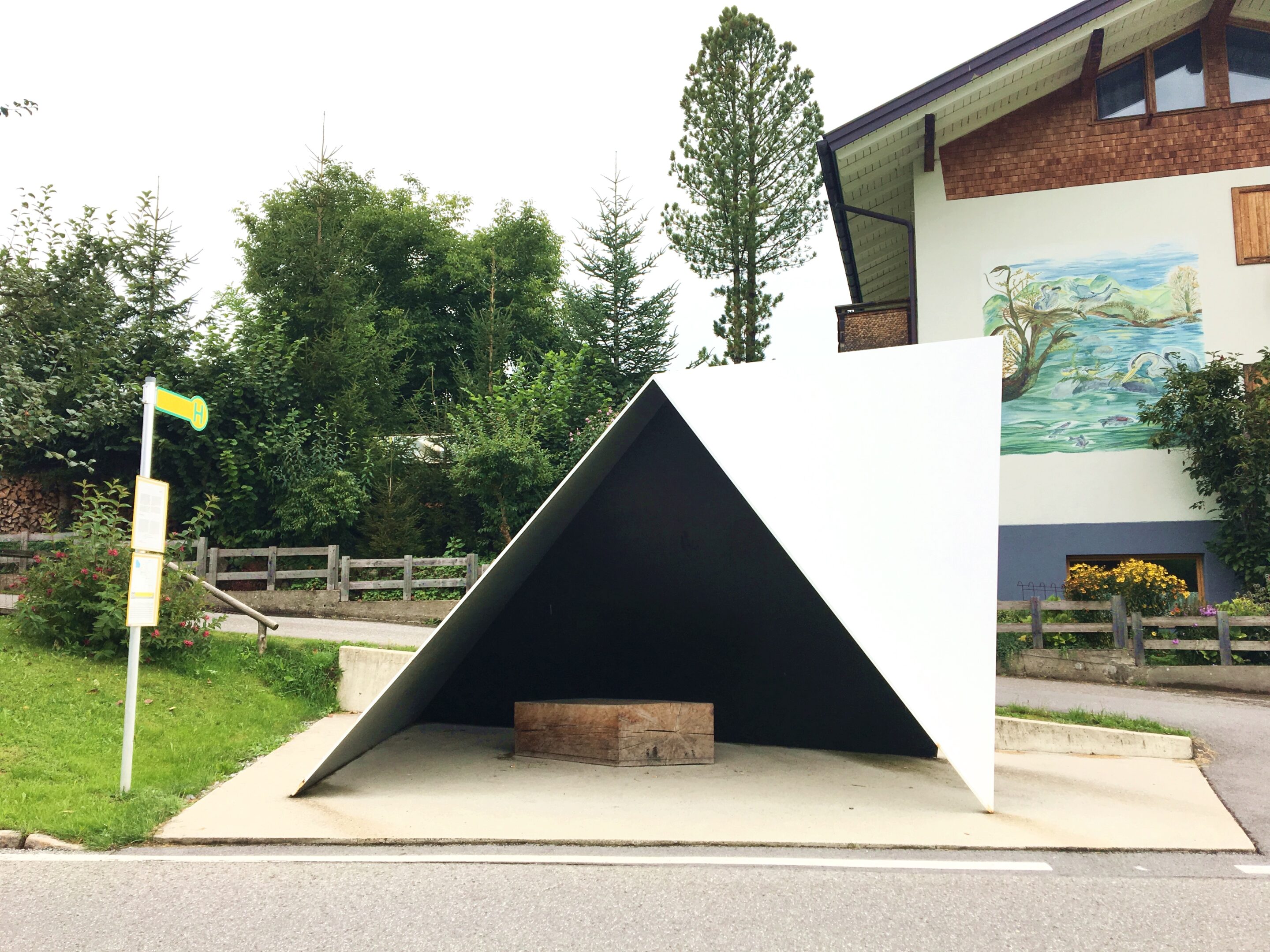 The Belgian agency Architecten de Vylder Vinck Taillieu designed this bus stop, and the building is welded together by metal plates. The shape is inspired by the tall alps in the area, and a wooden box functions as a chair inside the little building.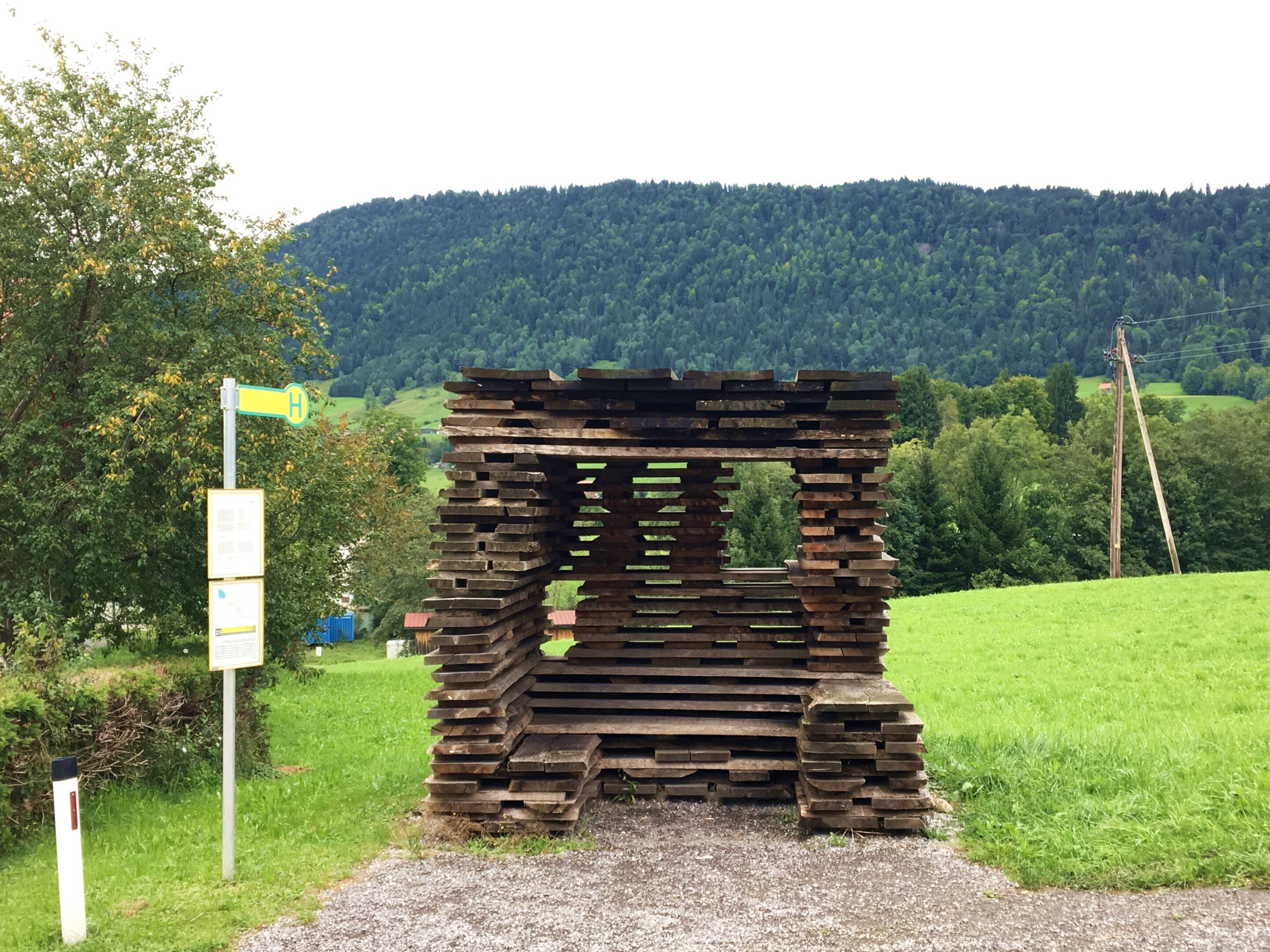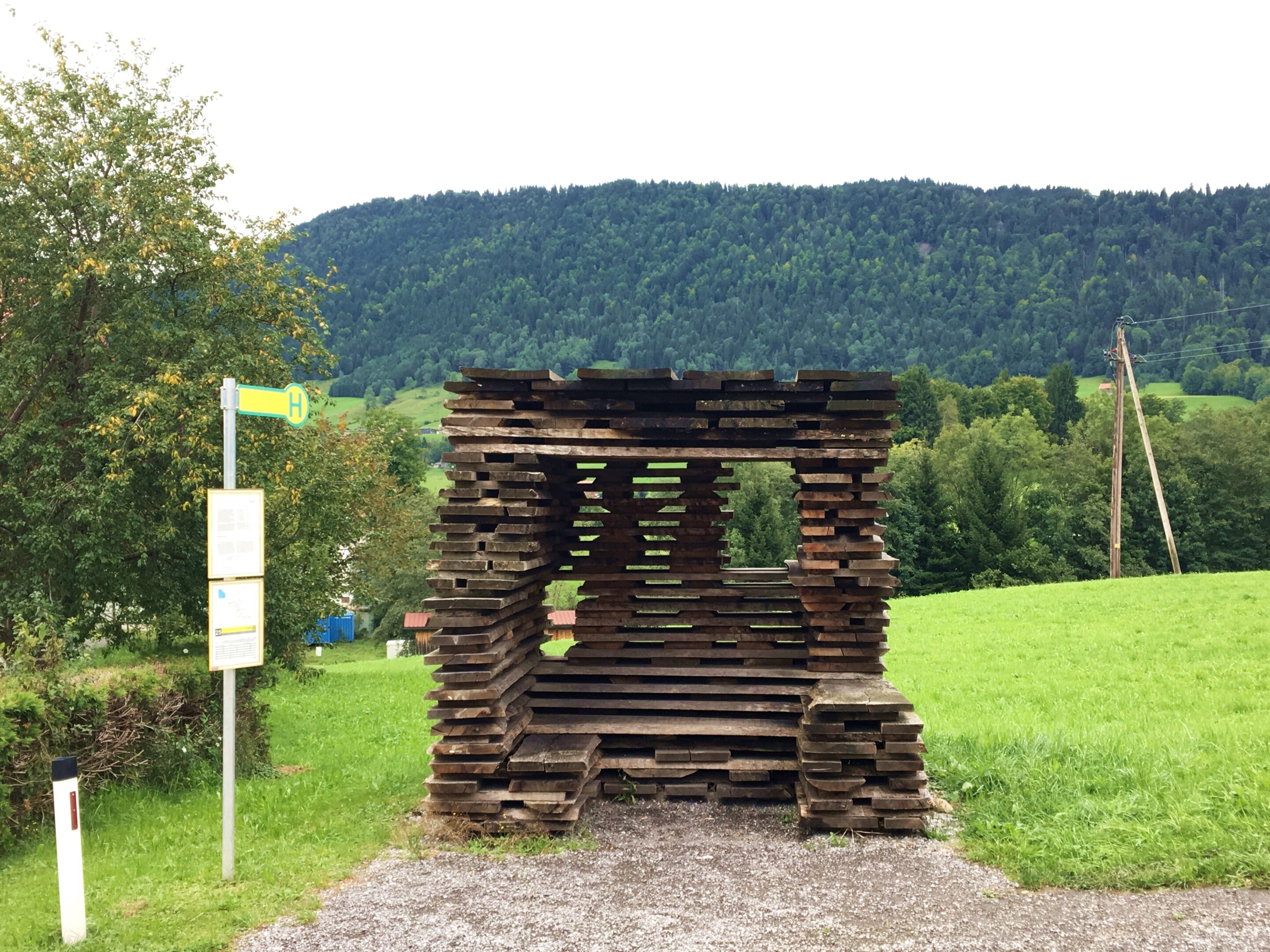 Antón García-Abril and Débora Mesa, two architects from the Spanish Ensamble Studio, created this bus stop. The Spaniards were inspired by the lumber mills in the area. When lumber is being dried, it is gathered into big heaps by a technique similar to the one used in this bus stop. Both the walls and the benches appear to melt together, and the entire building appears to be built with the local heritage in mind.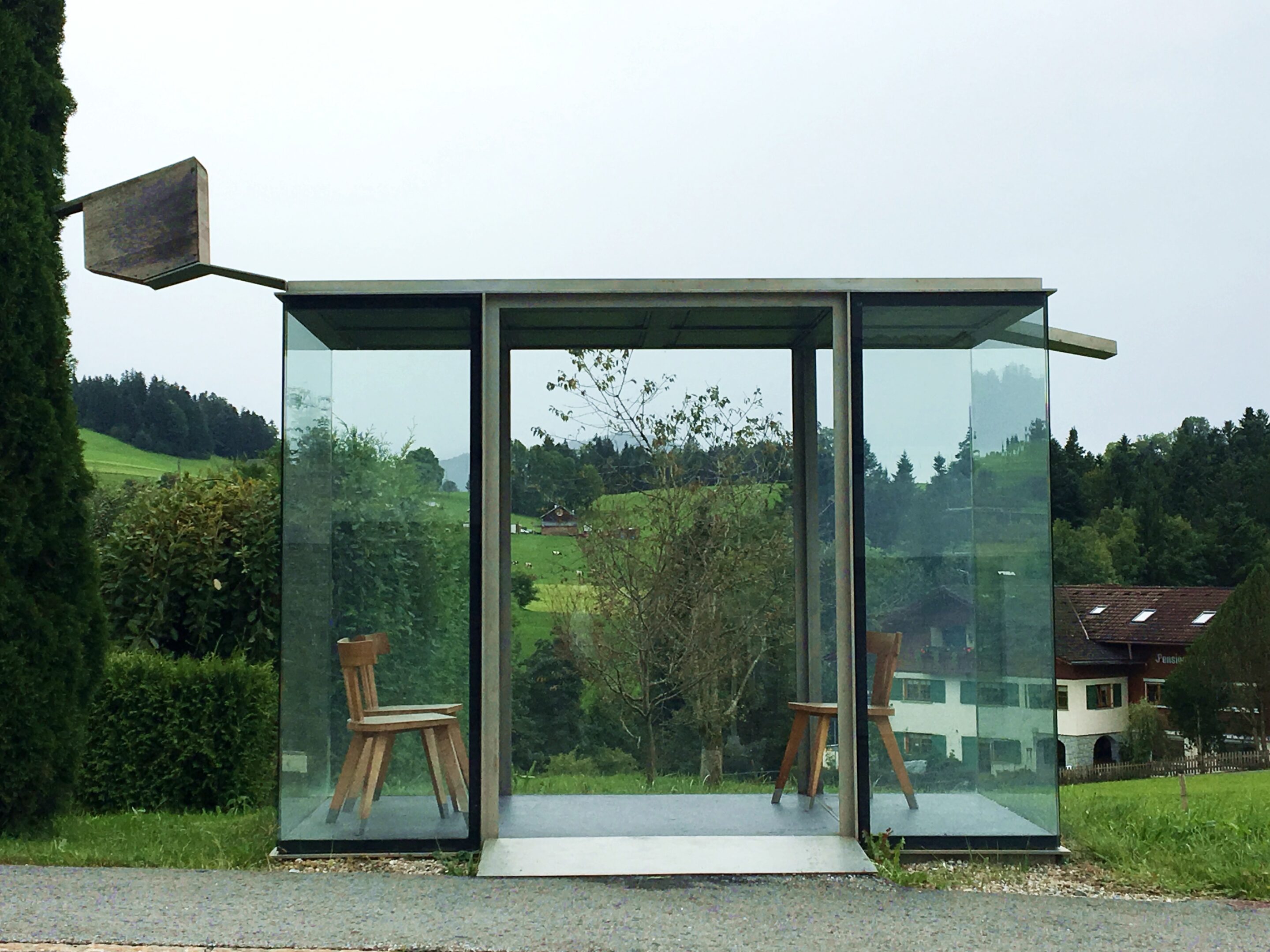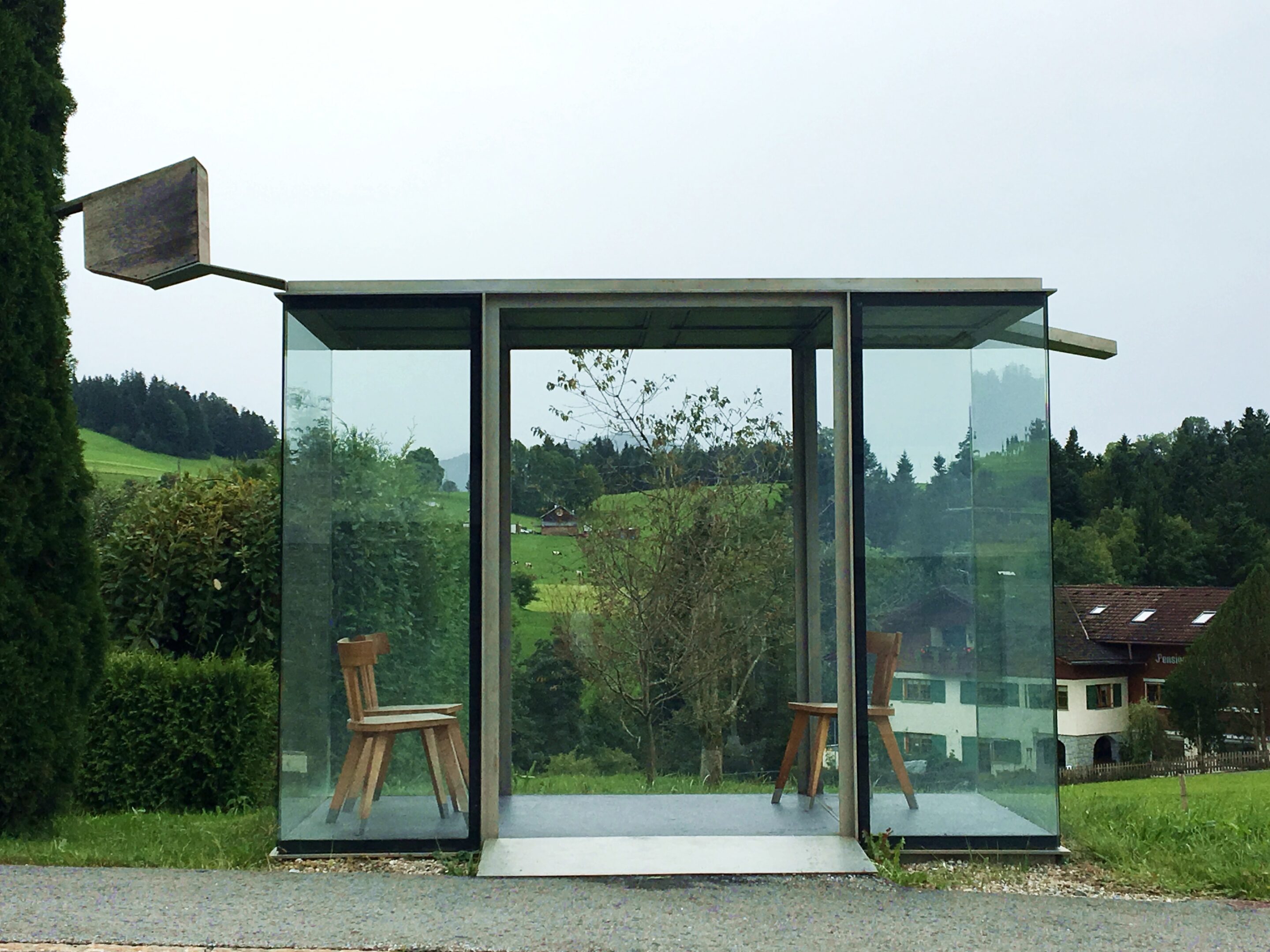 This bus stop, very similar to a classic bus stop covered in plexiglas, is designed by the Chilean architect Smiljan Radic. The building itself is shaped like a glass box, and it is supposed to symbolize a typical Austrian living room. At the top, there is a small bird house in wood.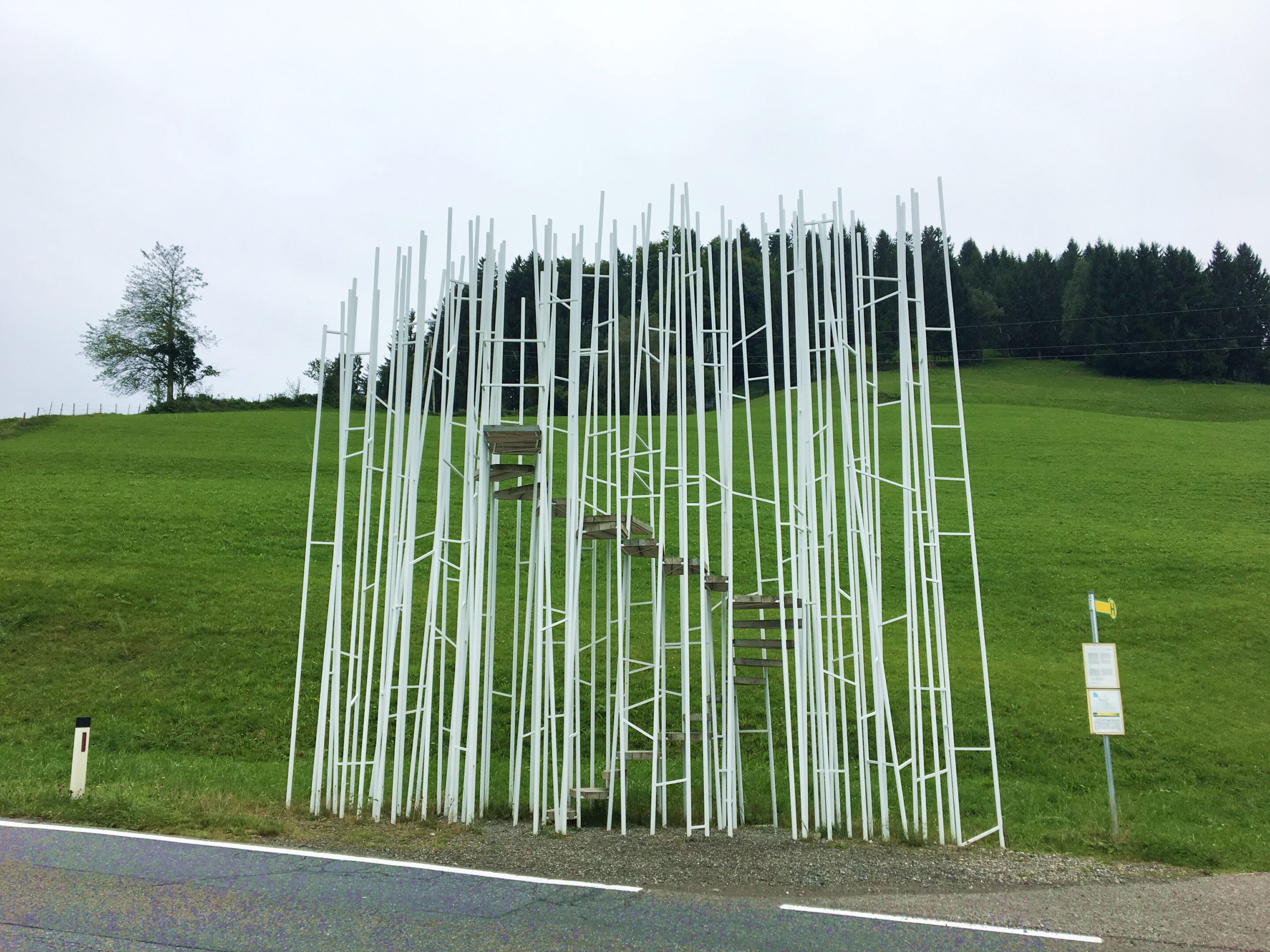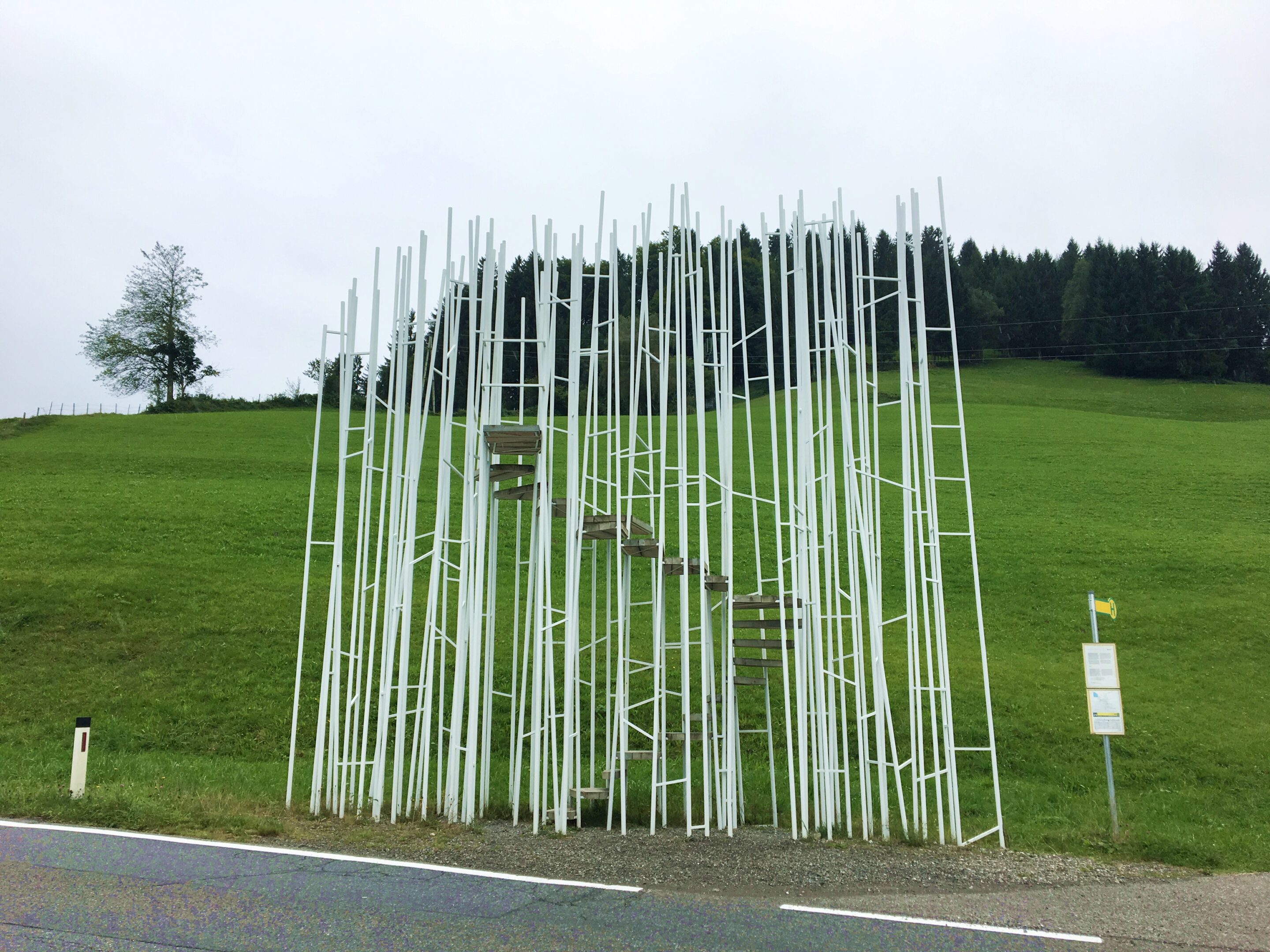 This bus stop is a bit of an underdog as it does not live up to one of the two original demands: the building does not have a roof and can therefore not shelter its travellers. The construction itself is supposed to resemble a local forest, and it is all produced in thin metal frames. Despite the lack of shelter, it is a wonderful place for a family portrait or a group photo of you and your friends. The building is designed by Sou Fujimoto, a Japanese architect, and the idea behind it was to create a new landmark in Krumbach. I think we can all agree that he succeeded in doing just so.
BUS:STOP Krumbach has been welcomed and appreciated by both locals and travellers alike, and it has created fascinating landmarks and waiting rooms all over the region. If you want to discover these architectural gems for yourself, you can see them all in Vorarlberg in Austria.
My trip to Vorarlberg in Austria was as a result of a marketing collaboration between NordicTB.com and Vorarlberg Tourismus called #inVorarlberg to highlight the region as a holiday destination. All opinions are as always my own. 
This post is also available in: Norsk bokmål