The Best Aruba Travel Tips for Adventurous Souls
Aruba is a Caribbean island which is often associated with sunshine, swimming and pink flamingos. While Aruba is most definitely the perfect destination for anyone dreaming of white beaches, warm sun and azure seas, it also has plenty more to offer.
I visited the island in order to discover the more hidden and unknown parts of Aruba – and I was certainly not disappointed! Aruba is rich in activities, both on land and in the sea, and it also offers an exciting history and colourful culture which is worth taking a closer look at. Here's my best Aruba travel tips for adventurous souls.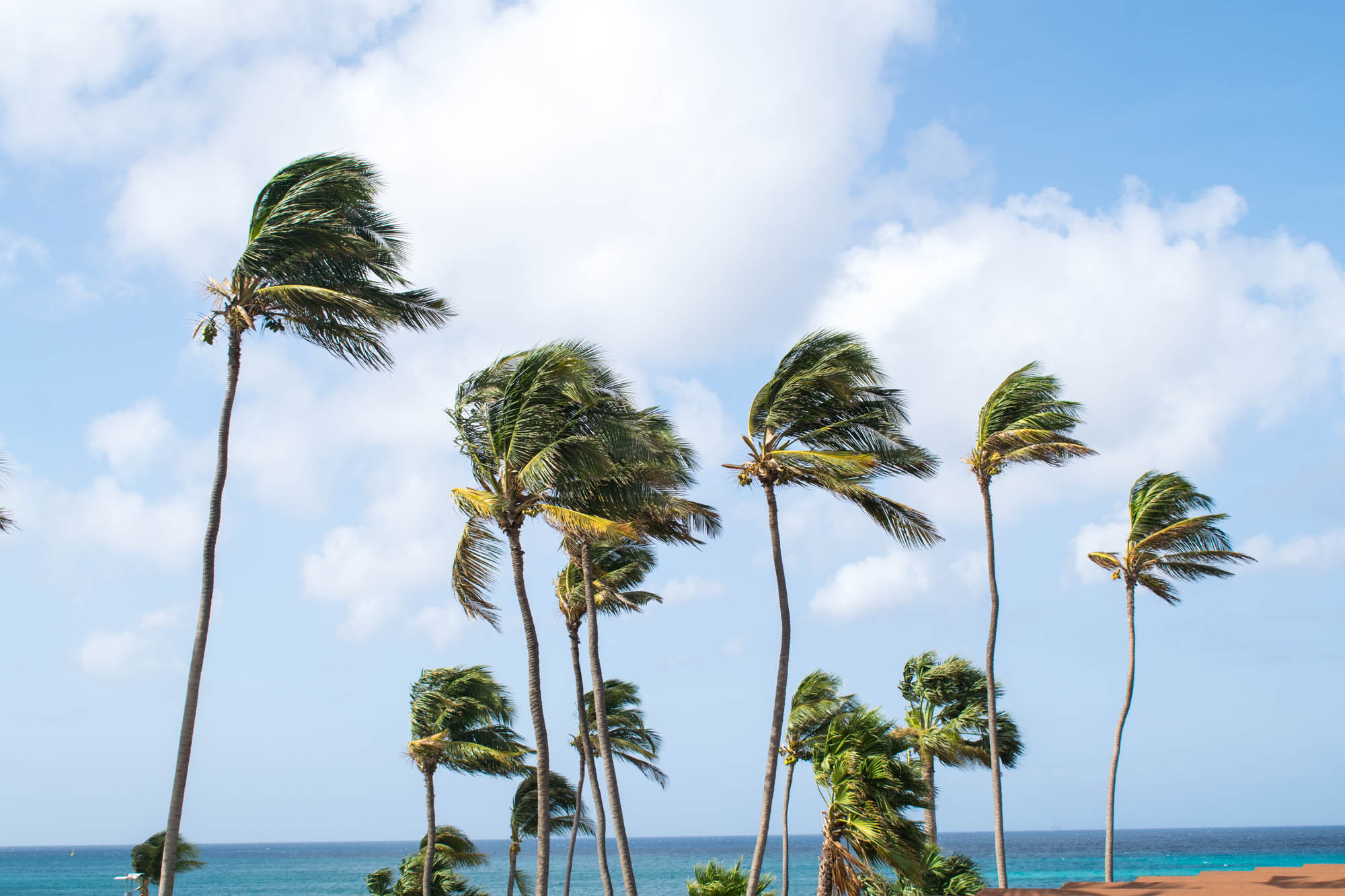 Facts about Aruba
The island of Aruba is situated only a few kilometres north of Venezuela, and it has belonged to the Kingdom of the Netherlands since the island was first colonised in 1636. Today, the island is an autonomous region.
Aruba is also part of what is often referred to as the ABC-islands. This group consists of Aruba, Curaçao and Bonaire which lies in close proximity to each other. All of the islands have their own unique charm and history.
The official languages on Aruba are Dutch and Papiamento. The latter is a language that has been developed based on Dutch, Spanish, Portuguese, English, French and a few other languages. Papiamento is still being developed, and due to the islands large amounts of tourists they still add new – mostly English – words to the language every year. As with most tourist destinations, you will find that plenty of the locals speak English fluently too.
Aruba is very conveniently situated just south of the Hurricane Belt, meaning that it has a mostly dry temperature that seems to average between 27 and 30 degrees all year round. However, it's quite windy, which means that it won't feel too warm. This also makes it the ideal destination for surfers and kiters. The landscape is mostly sand and desert, but it does also include some majestic caves and cliffs.
How can you get to Aruba?
The best way to travel from Europe to Aruba, is by flying with KLM from Amsterdam. The flight tends to be around 10 hours long. On your way, you might even be lucky enough to visit one of the other ABC-islands (but only through your window though). My flight stopped on Bonair, for just an hour, to pick up visitors from this other Caribbean pearl.
Getting from A to B on Aruba
The best way of exploring everything Aruba has to offer, is by renting a car. As the island is rather small, you can actually drive across it in less than an hour and a half. But don't let the size fool you – Aruba still has many magnificent viewpoints and places for you to explore.
There is a main road across the entire island, from northwest to southeast, but don't forget about the smaller roads too. When you travel on the smaller routes, you get to see and experience where and how the locals themselves live – and it's a nice way to get away from all the resort hotels that occupy most of the Aruban beachfront in the south.
The northeast of the island differs quite greatly from the opposite side. Here, the weather is a little rougher and the waves are impatiently throwing themselves towards the ragged coastline. However, this part of the island is still absolutely gorgeous – and your camera will love it as well!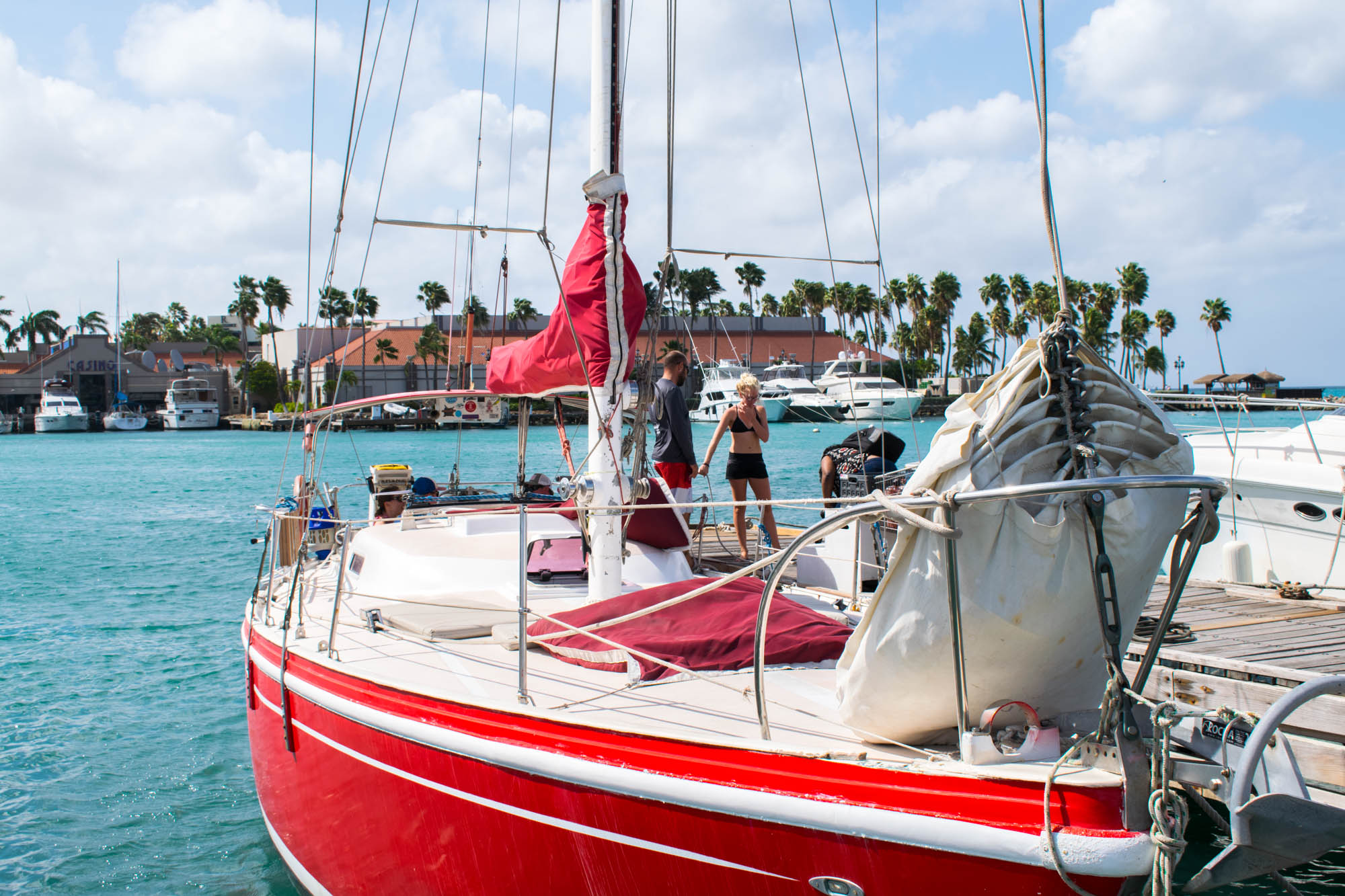 Exciting Things to See and Do on Aruba
California Lighthouse – A Majestic Sight in the North
Let's start on this side of the island, and then work our way south through this article on travel tips and recommendations for Aruba.
In the northeast end of the island, you will find a majestic lighthouse which is known as the California Lighthouse. It lies on top of a small hill, and if you climb all the way to the top you will be rewarded with a breathtaking view of most of the island. In fact, you might even spot Orangestad, which is located near the middle of Aruba. The lighthouse is 30 metres tall, and it was built between 1914 and 1916. It received its name from a steamship, named California, which unfortunately sank right outside of Aruba in 1891.
When visiting the lighthouse, you must remember to pick up some fresh coconuts to keep the thirst at bay. Located nearby, you will find a charming little caravan that sells ice creams, pastries and fresh coconuts. The latter is definitely a must on a hot summer's day.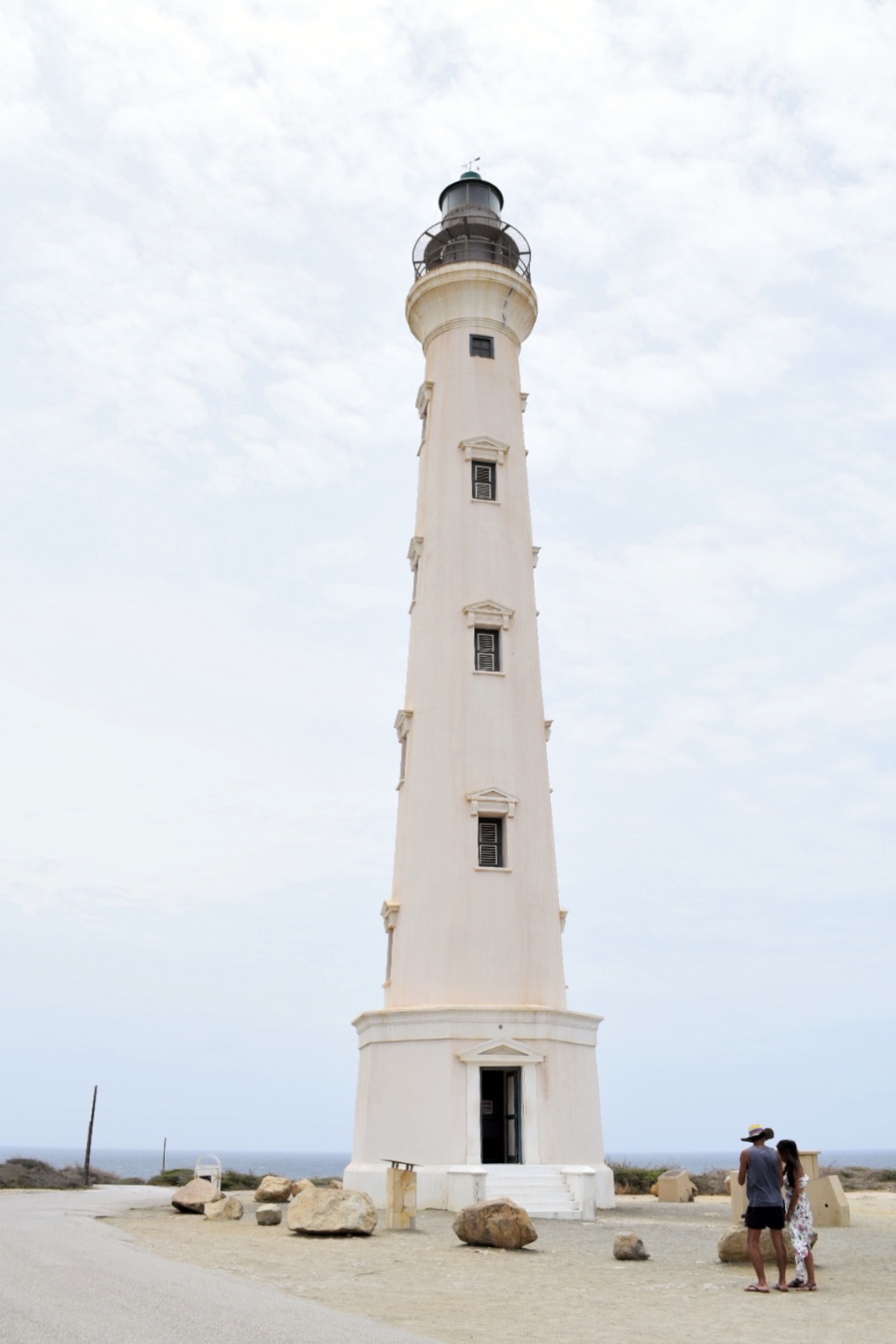 The Alto Vista Chapel
Situated only a short drive from the lighthouse (on bumpy roads that definitely requires an ATV), is the Alto Vista Chapel. The roads that take you to the chapel are marked with a cross, so you will quickly realise whether or not you are headed in the right direction.
The chapel itself, which dates back to 1750, is painted in a light yellow colour, and it's surprisingly small. Luckily, there are a few extra rows of benches outside in order to accommodate anyone who wants to participate in the ceremonies. Sit down for a few tranquil minutes, and I can almost guarantee that you will feel a little calmer and a little more content. I left the little chapel with a feeling of inner peace.
If you fancy a quick adrenaline rush before the remaining sights, I can recommend that you try out some of the bike paths in the area. These are great for off road biking, so bring your bike along and give it a go!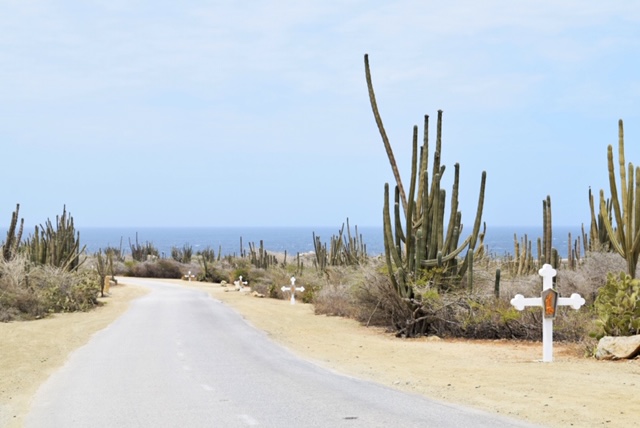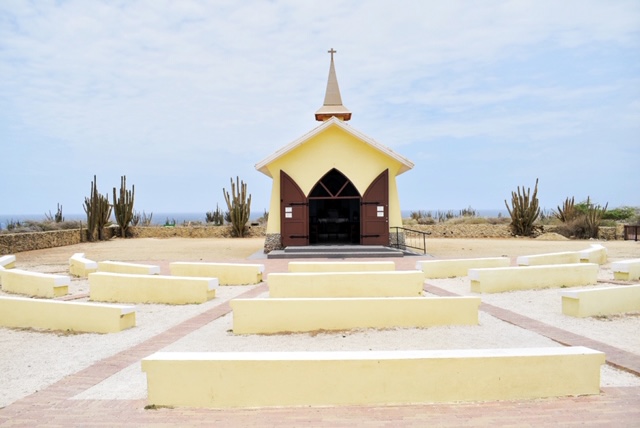 Malmok Beach – Perfect for Snorkelling, Diving and Kiting
Malmok Beach is not one long beach, but it's actually several smaller and hidden beaches along the coast. Aruba is a paradise for anyone who likes snorkelling, as the azure blue sea can offer both underwater caves and exciting fish. Further out the coast, you can also find coral reefs and old sunken ships! If you're of the more relaxing kind, you can of course just find yourself a quiet beach and enjoy a day in the sun.
Further south on Malmok Beach, the coast opens up and offers ideal spaces for surfing and kiting. I don't think I have ever seen clearer water in my entire life, and I thoroughly enjoyed just leaning back and watching the surfers play around on the demanding waves. If you haven't tried surfing before, you can take a few classes here on Malmok Beach. Maybe it turns out you're a natural?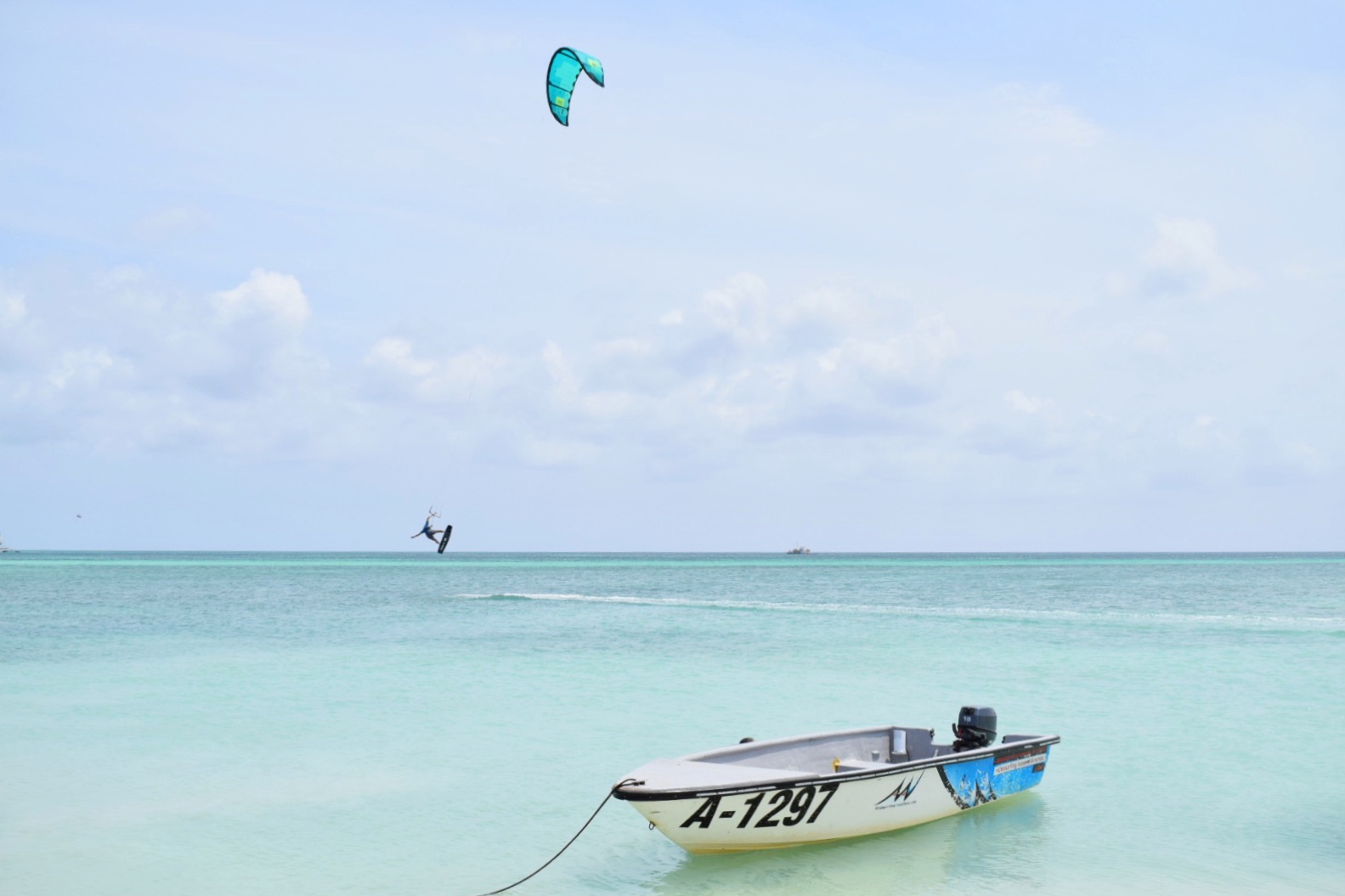 Palm Beach – Tourist Area with Towering Hotels
By Palm Beach, you will find all the massive hotel resorts – most of which have been awarded 5 glorious stars. Behind these hotels, you will find an exciting street offering plenty of restaurants and stores. If you're in the mood for a round of shopping, this is the place to go. There are cheap parking lots nearby, so leave the car behind and enjoy an evening of shopping and good food.
Many of the hotel buildings are also quite fascinating, so it might be worth strolling along the beach if you have a soft spot for grandiose architecture.
Eagle Beach – The World's Best Beach for Both Animals and Humans
Eagle Beach is known for being the best beach on Aruba, and it has also been awarded the prestigious title of the world's best beach several times! Spoiler alert: I couldn't agree more!
Cute beach parasols are there to protect you from the strong sun, and the white, soft sand feels like velvet between my toes. However, tread carefully if you ever come across fenced areas on the beach. This is because the local turtles crawl up here during the night and bury their eggs under the soft sand. The local authorities protect the eggs – in the two months they take to hatch – by fencing off the area. This ensures that both animals and humans can continue to live together in harmony. I wish I could have been there to see the young turtles hatch and head for the sea for the very first time!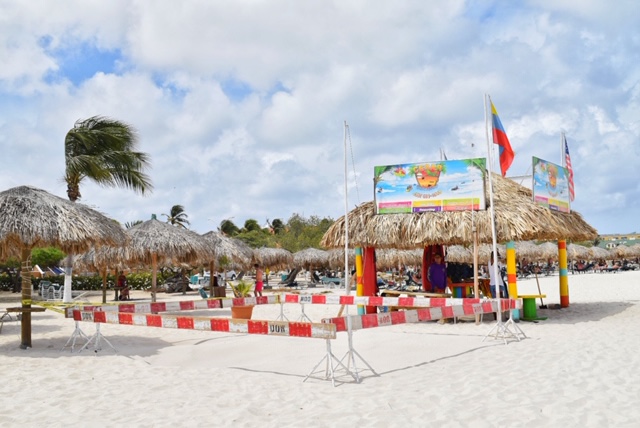 Passions on the Beach – The Perfect Place to Propose to your Partner?
Along Eagle Beach, there are plenty of smaller hotels. I stayed in one of these hotels during my stay, the cute and cozy Amsterdam Manor. Perfect location, great service and good food.
Additionally, this hotel is also the home of one of the most romantic restaurants on Aruba – Passions on the Beach. Here, you can have your dinner on the beach while watching the sunset. The chairs are comfortable, and the table is covered with long white tablecloths. There is live music playing in the background, and the food is of course of a high quality.
If you're thinking of proposing, this is the perfect place. We were actually lucky enough to witness a real proposal during our dinner – luckily he said yes!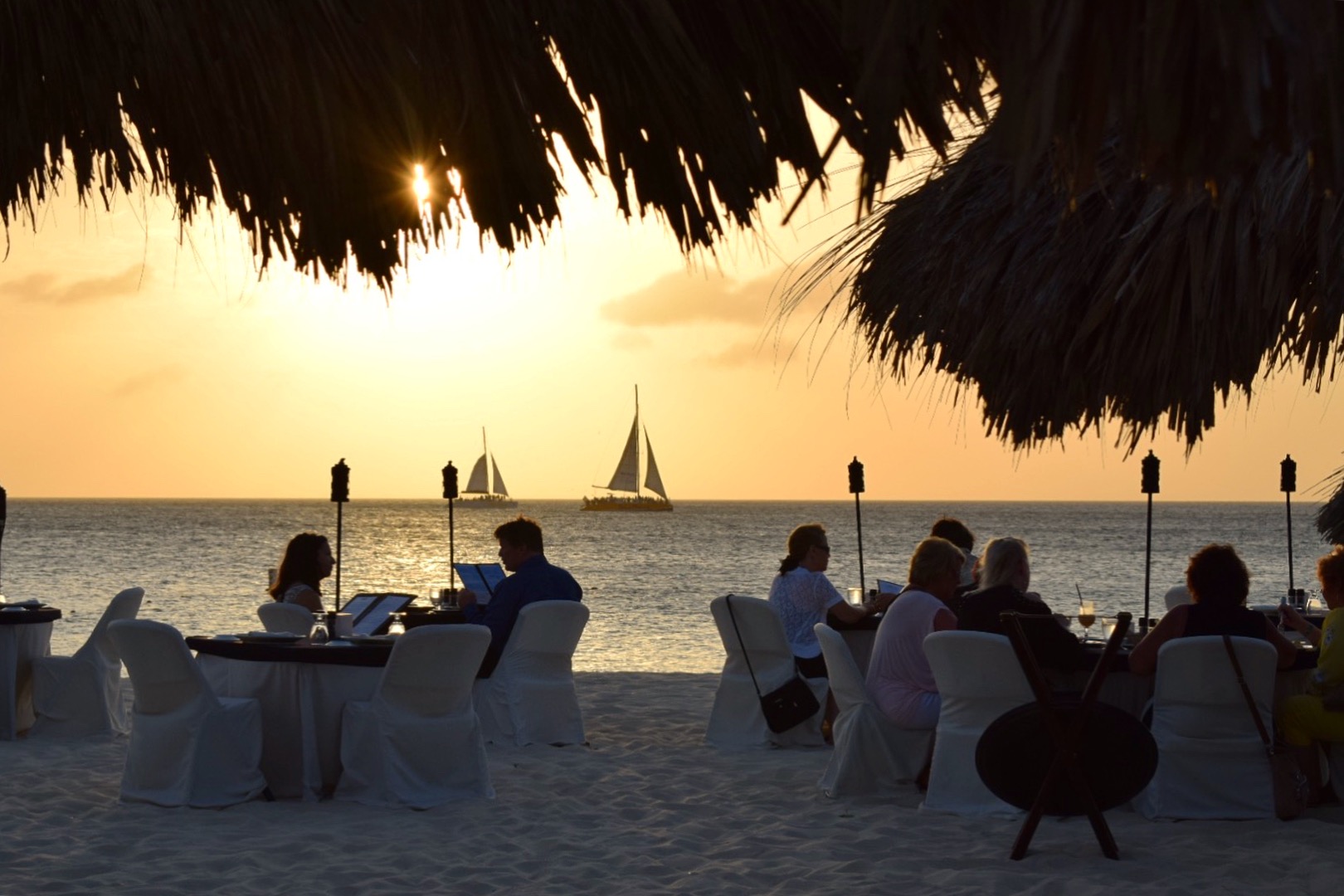 Visiting the Aloe Vera Factory
Aruba produces some of the best and most effective aloe vera in the entire world. Due to the dry climate, the plants grow differently here than what they do in other places. This means that these aloe vera plants contains even more of the good stuff they're so famous for.
I visited the aloe vera factory, and I got to witness the entire process from plant to product. Here, they produce everything from healing creams, to soaps and sunscreens that will protect and nourish the skin.
The factory also has a little museum, the Aruba Aloe Museum, which will tell you all about how to grow the plants, how the plant has been used during the years, and what makes aloe vera from Aruba so unique. Don't forget to buy some of the products to bring home. Or maybe as a present for friends and family? The factory is near Eagle Beach, and there are plenty of places to park your car outside.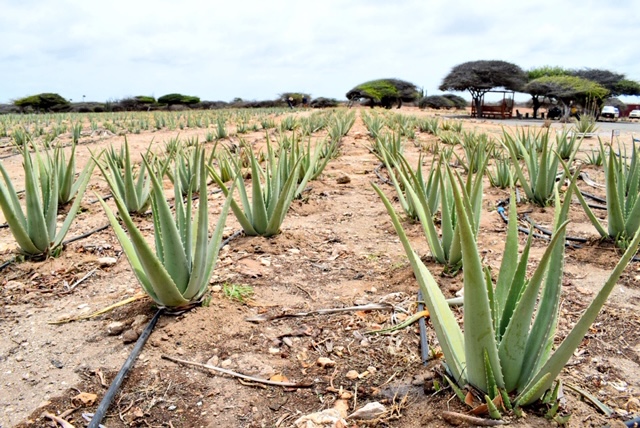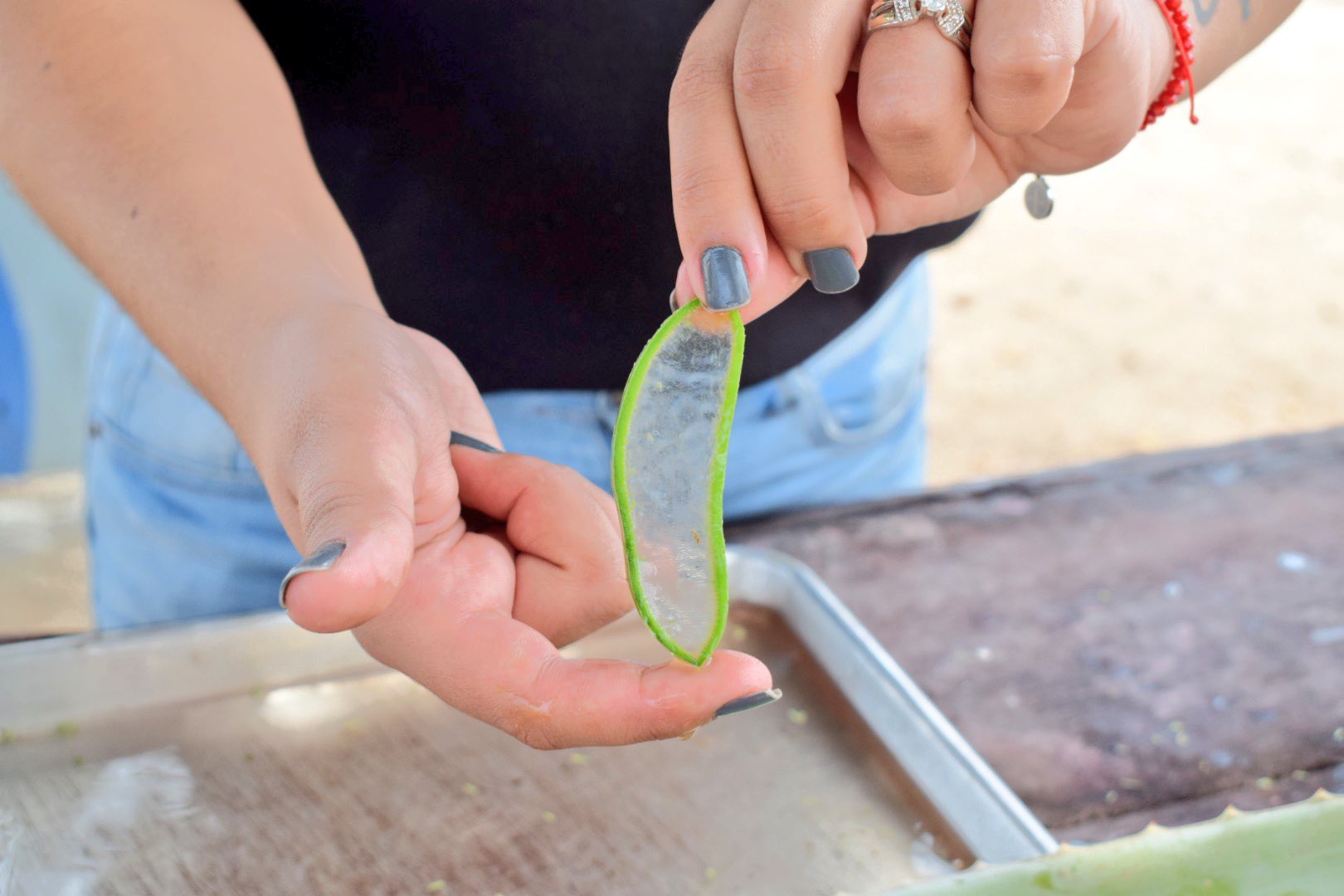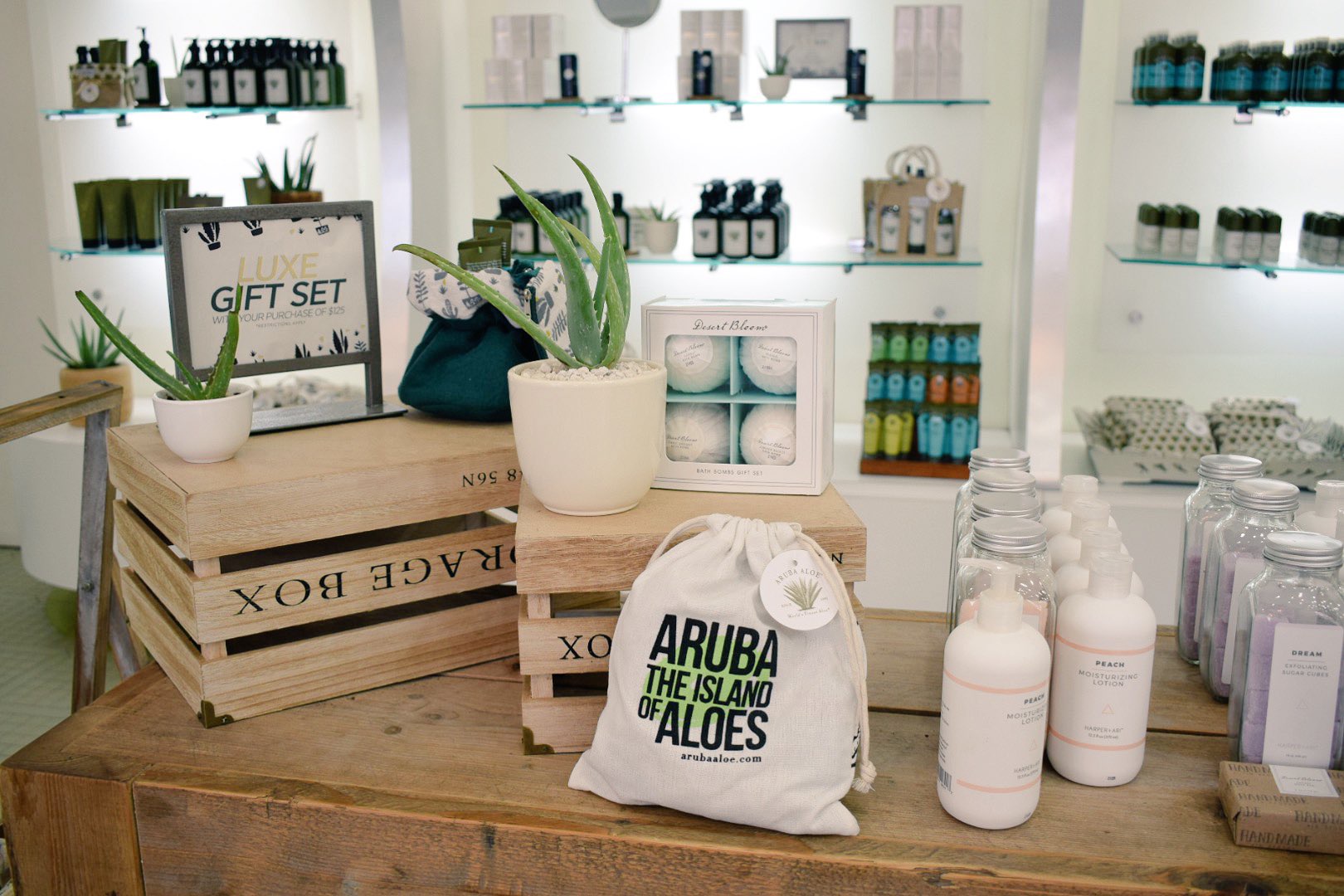 Divi Beach – with Pink Sunsets and an All-Inclusive Hotel
Further south, you will find Divi Beach. Here, you can walk hand in hand with your loved one and watch a sunset that is so pink that you can hardly believe it. This is also where one of the island's best all-inclusive hotels are located – the Divi Beach All-Inclusive. Enjoy the beach life, try out the many swimming pools and eat amazing food from the many restaurants.
The hotel is focused on being environmental friendly, so you won't get any straws to your beach cocktails here. They also work on ways to save energy, and they have made a lot of changes in order to avoid as much food waste. On the beach, they are naturally also fencing of the areas where the turtles leave their eggs. All in all, this hotel is trying to do what they can to create a better balance between nature, animals and humans.
Did you know that you can drink the tap water on Aruba? You see, Aruba has its own factory which transforms seawater to freshwater. This way, they can always provide both locals and visitors with fresh and safe drinking water. When you stay at Divi Beach, you will even get your own reusable water bottle, so that you can avoid buying bottled water during your holiday. Both practical and environmental friendly at the same time.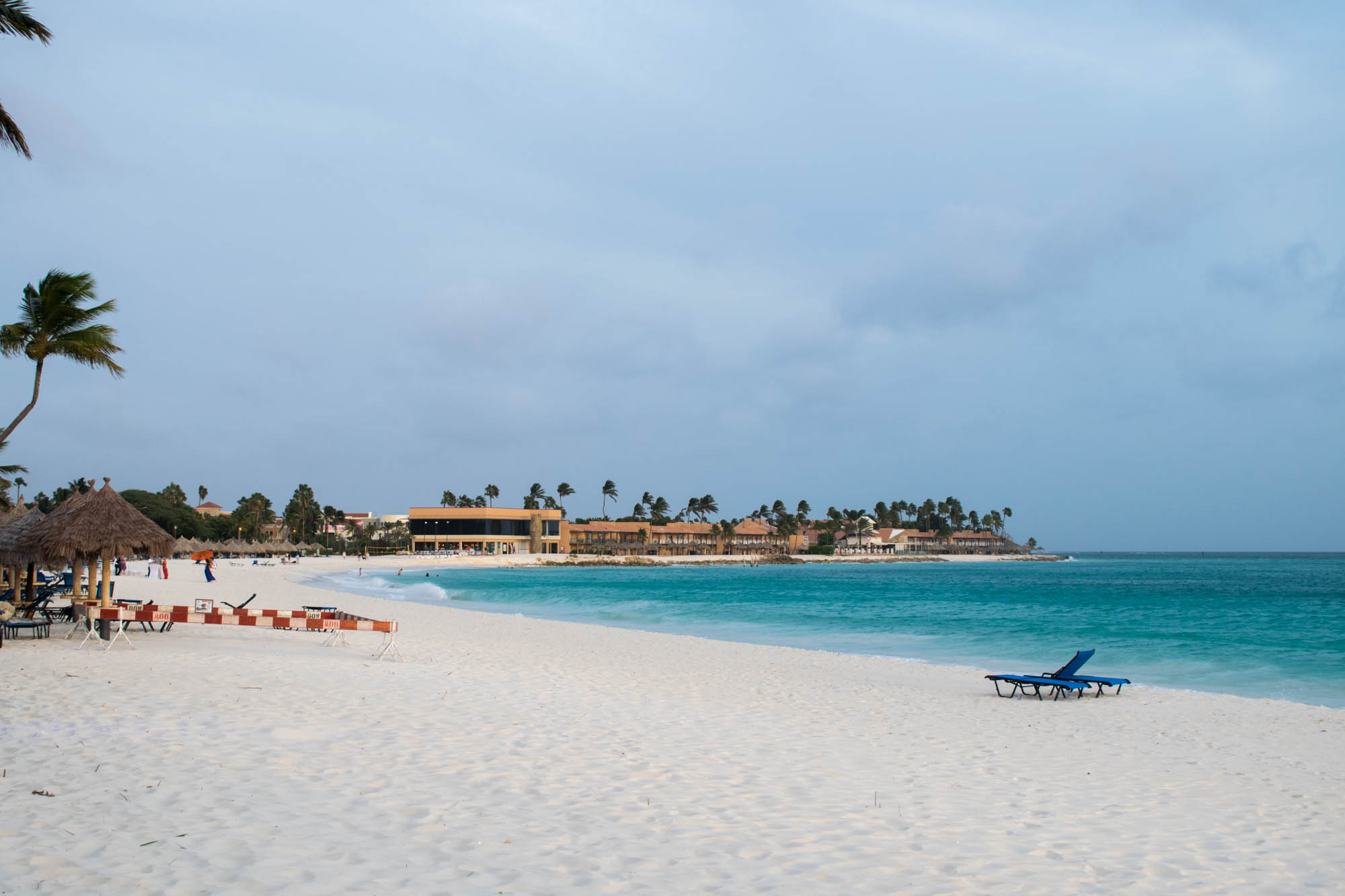 Oranjestad – For those who Love Architecture and Culture
Oranjestad is the capital of Aruba, and it's also the heart of the island. Not only is it where all the cruise ships arrive at, but it also offers some exciting and colourful architecture. And the chance to learn more about Aruba's culture and history.
Every Tuesday, the Bon Bini Festival is arranged. This is an event that will take you through all aspects of the culture and history of the island. Here, you can explore authentic music and dancing, local storytelling and cultural impressions that can be hard to find anywhere else on the island. You can also buy handmade souvenirs and real Aruban food, created by local grandmothers. This is an event that you don't want to miss out on.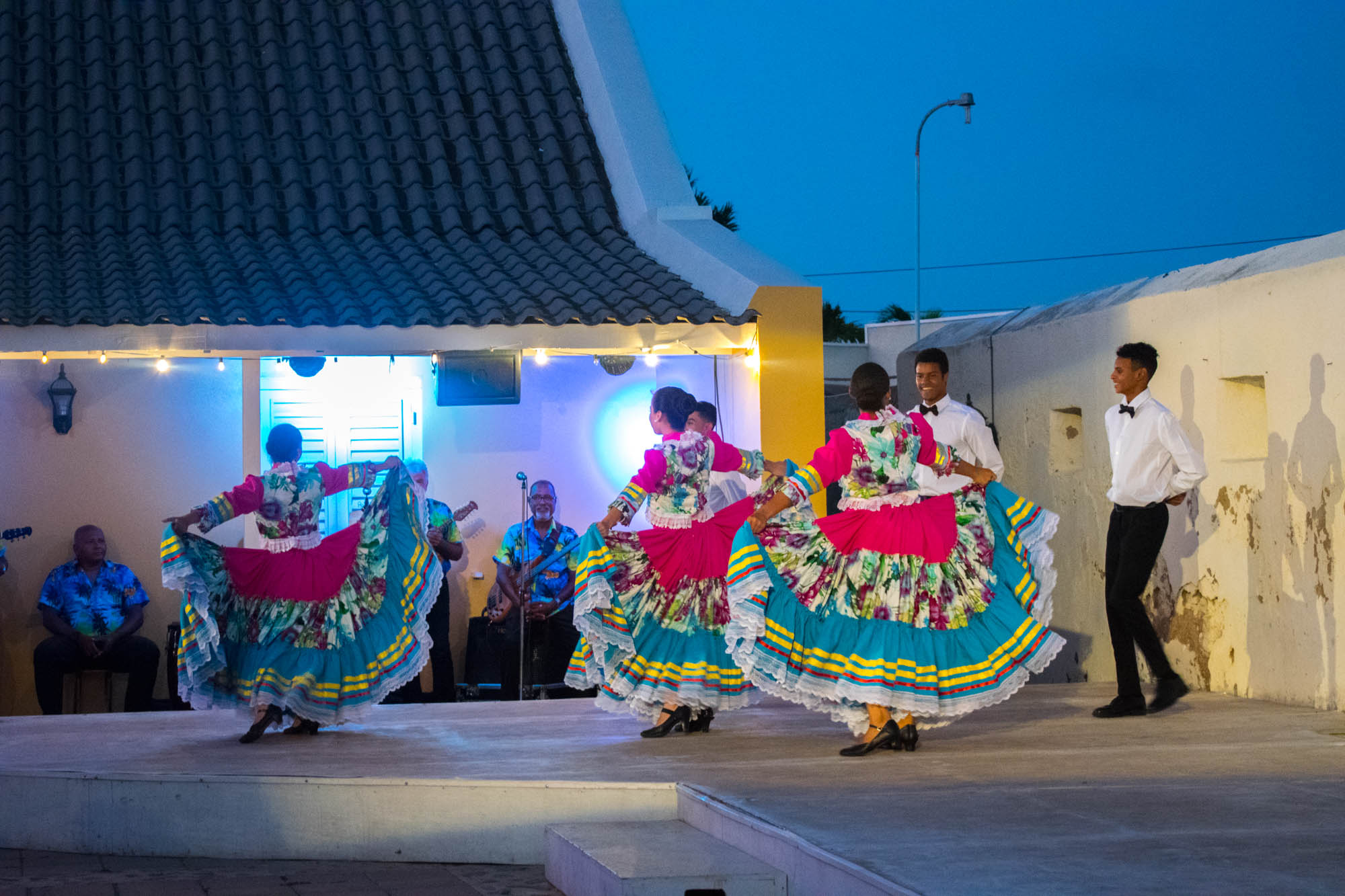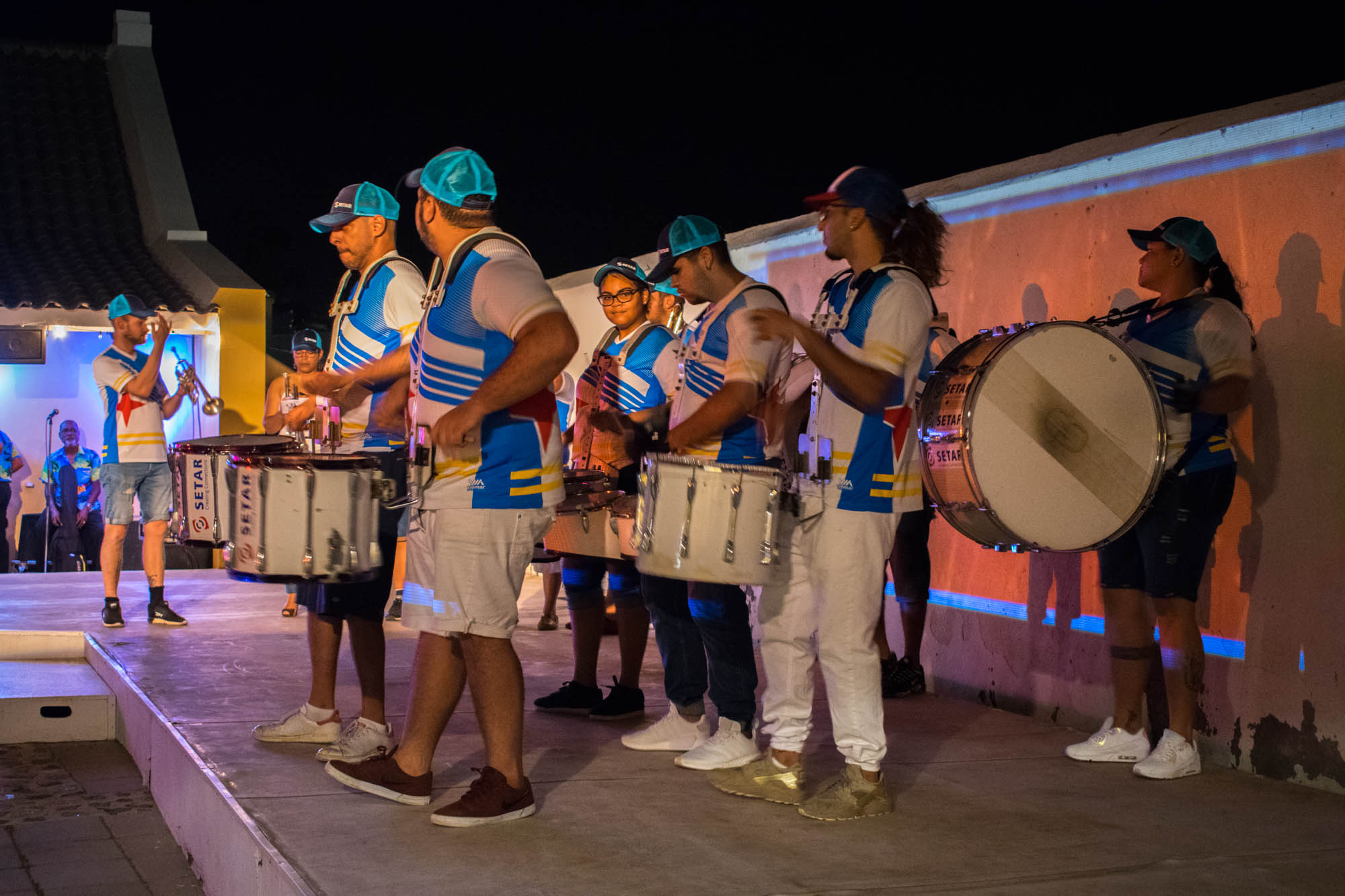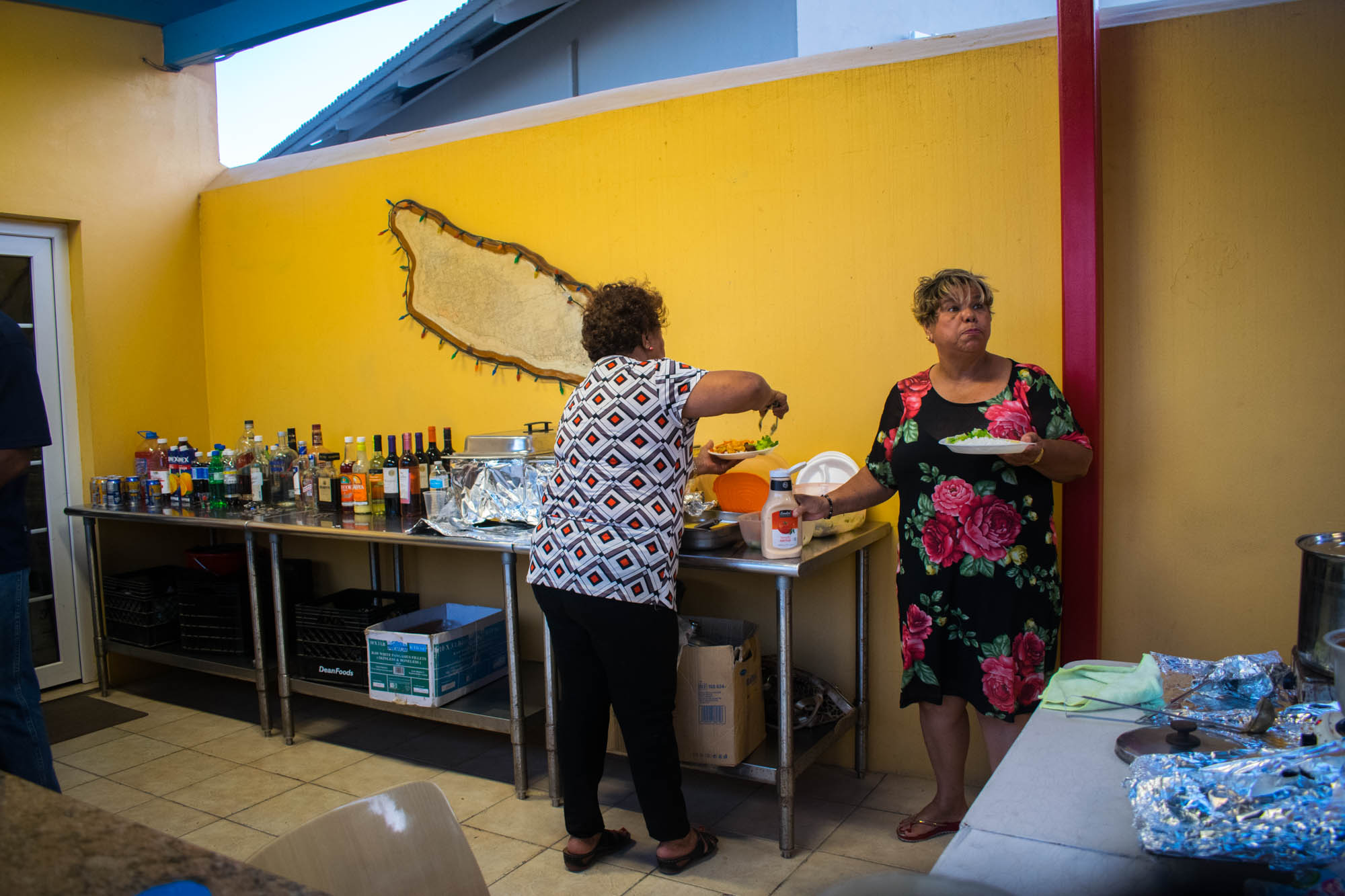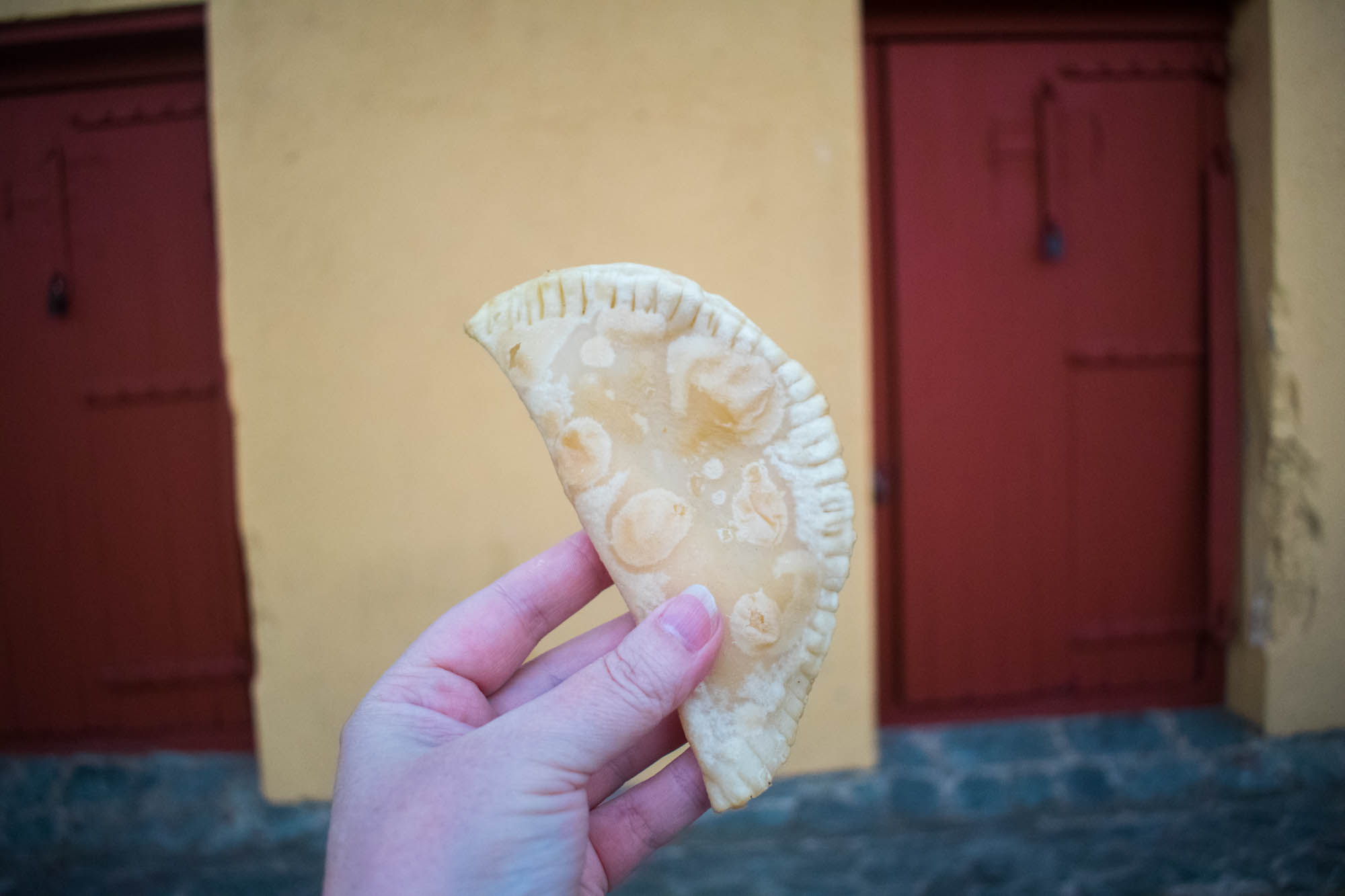 Explore the Sea – Discover Aruba both Over and Under sea
From Oranjestad, there are plenty of sail boats that can take you out to the best snorkelling places. There is something really special about being out on the sea, and feel the scent of the salty seas and the wind that blows through your hair. I spent a day on the family-owned Tranquilo, and we sailed around to visit all the "secret" snorkelling places in the area.
After a little time at sea – travelling past the airport and the harbour – we finally arrived at Mangelo Halto, a little paradise. Mangelo Halto is a little reef that is barely visible above water. We didn't have to swim far before we discovered plenty of colourful fish! We also had the opportunity to try drift snorkelling – meaning that you simply drift away with the current from one place to another.
After a lovely day, the crew offered us homemade soup and freshly baked bread for lunch. Perfect after a long day of swimming!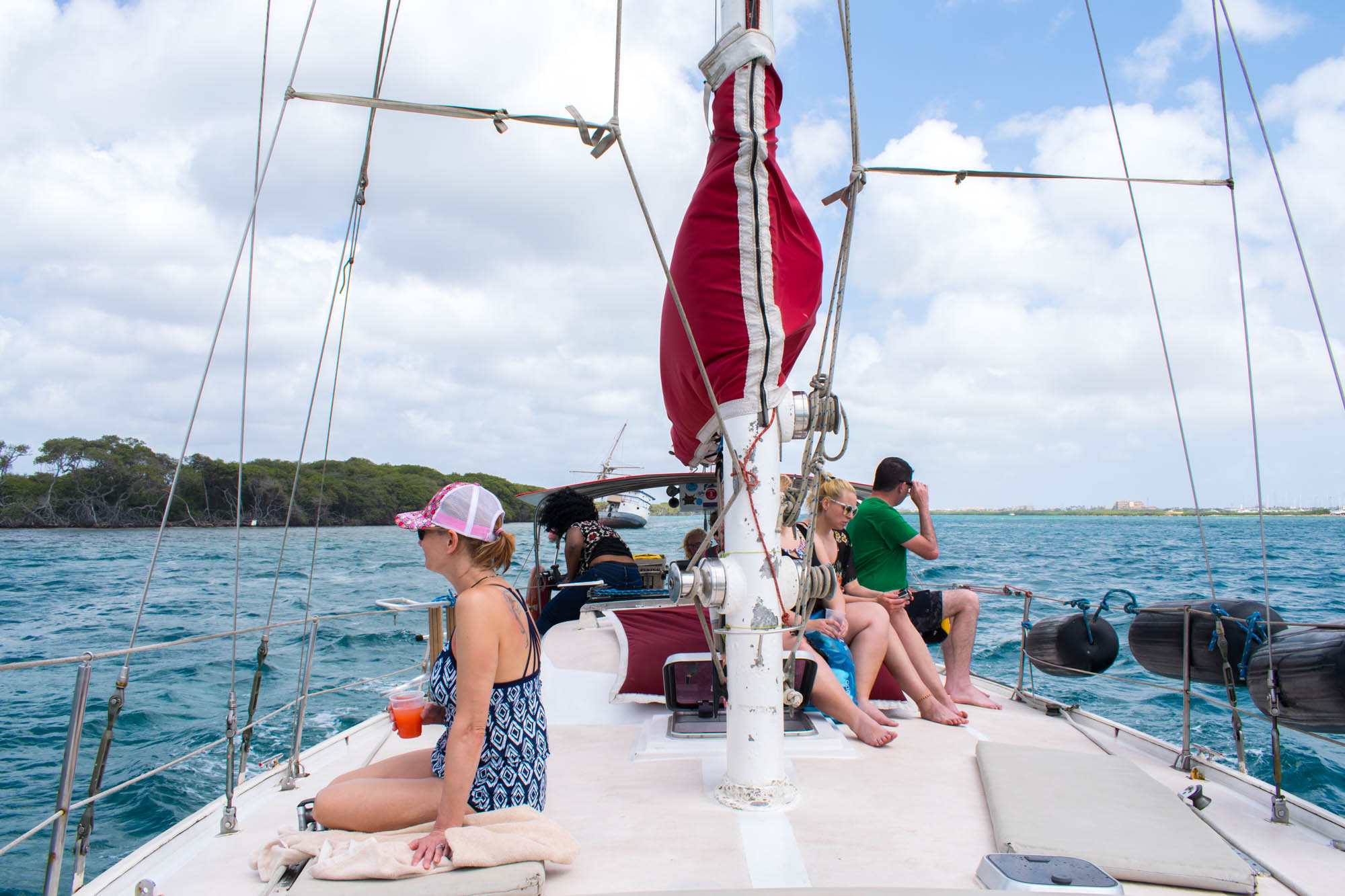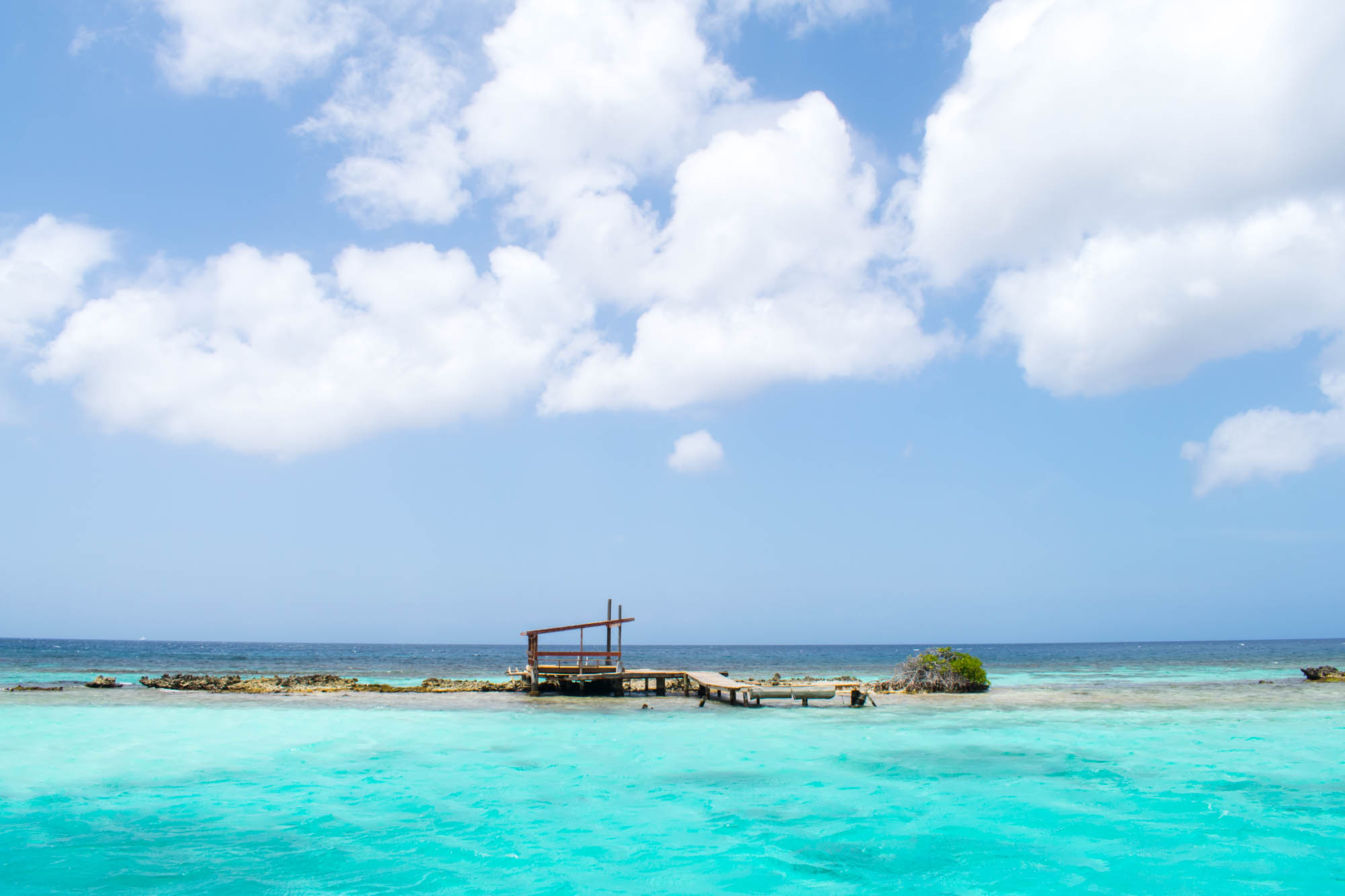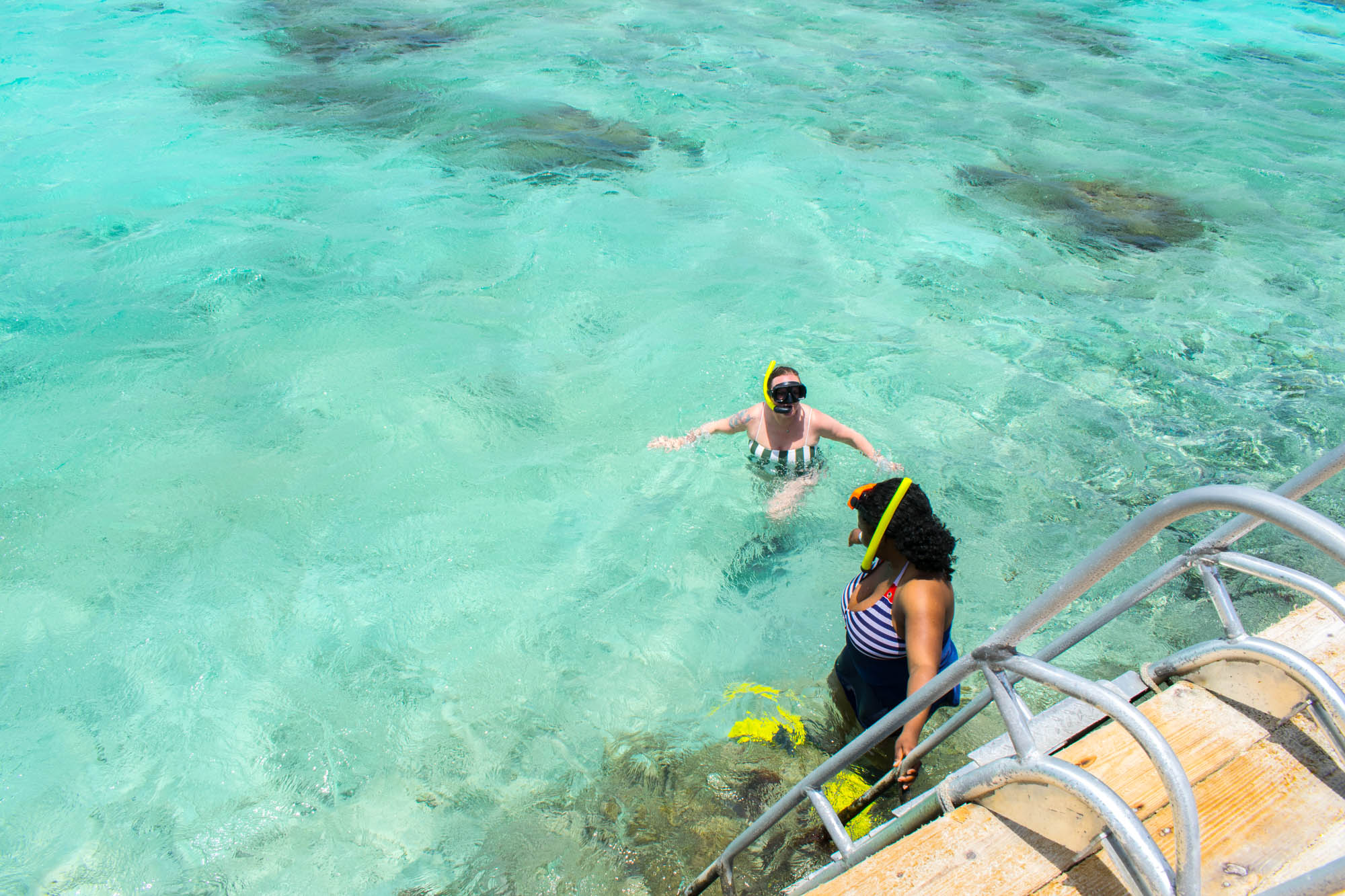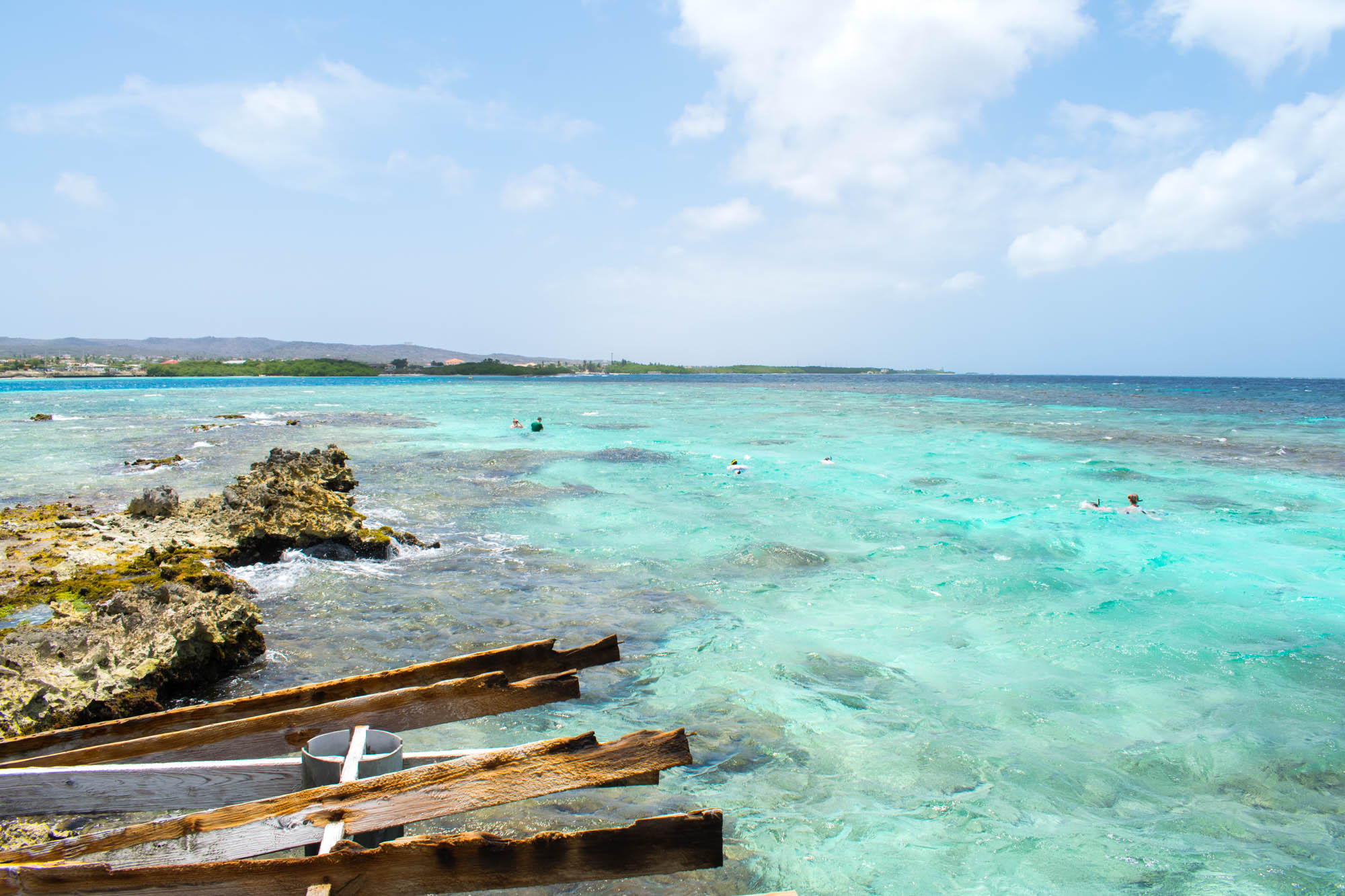 Zeerovers – Authentic Restaurant Serving Deliciously Fresh Seafood
When you drive south down the coast, I can highly recommend that you stop by Zeerovers for a different and authentic meal. While you can't make reservations here, they have plenty of tables. What is different with Zeerovers – which means "Pirate" in Dutch – is that you buy your food raw, charged by weight. You can choose from today's catch of fish and shellfish, and you pay based on how much you think you can eat and how you would like it to be prepared.
The food is prepared in an open kitchen on the harbour, and is then brought directly to your table. Here, you will eat with your fingers while admiring the stunning view from the harbour. Don't forget to dip your food in one of the delicious Mango sauces. If there's any food to spare, you can get a handy bag from one of the staff and take it with you.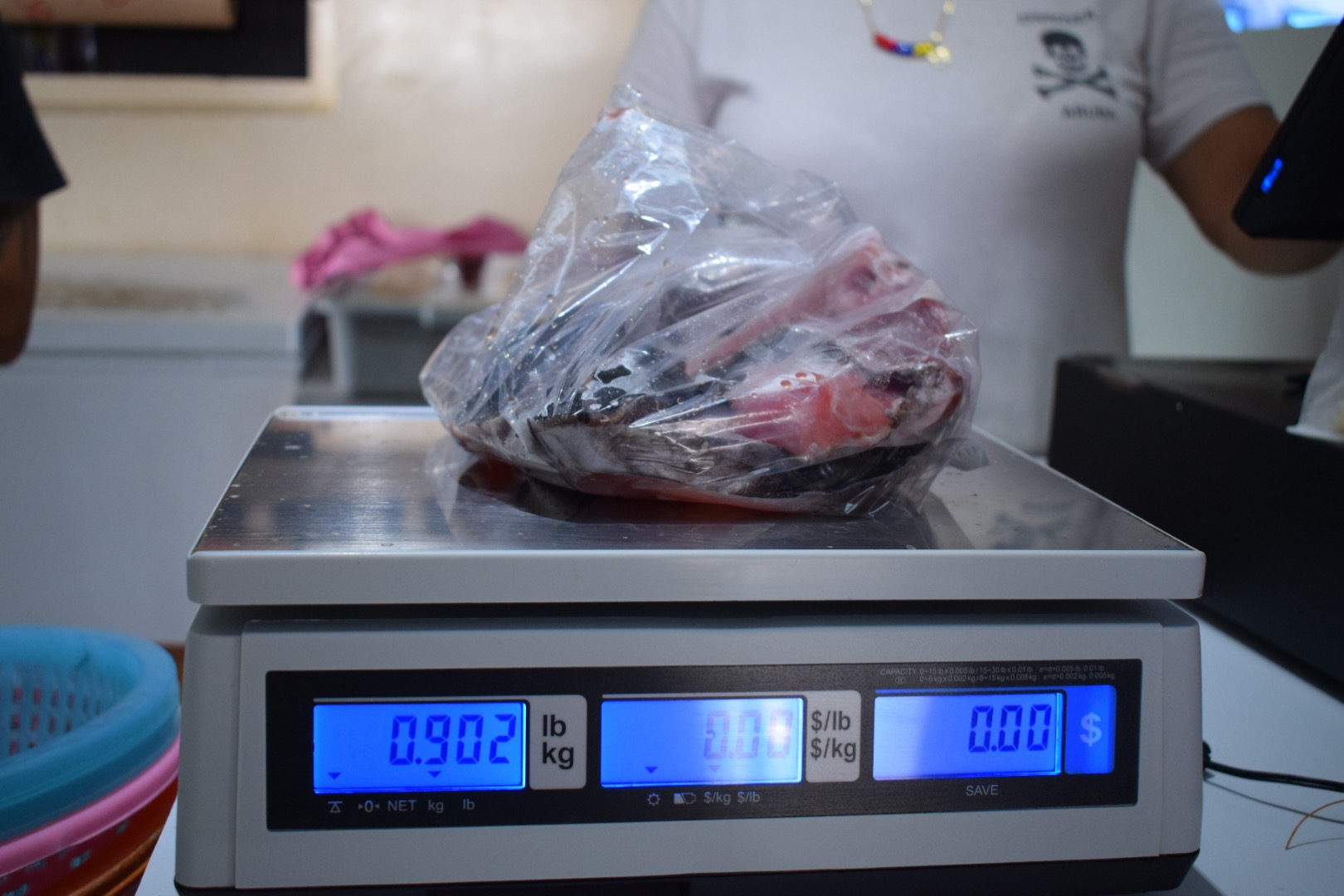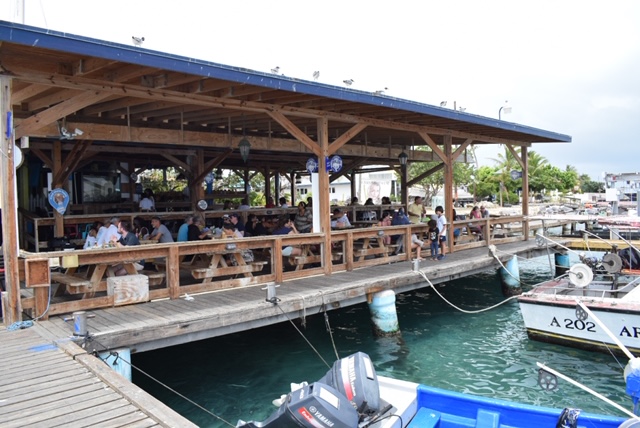 St Nicholas – Streetart of Another Dimension
I love to see local street art on my travels, and I had heard that St Nicholas – located south on the island – was filled with plenty of interesting artworks. And I was not disappointed!
Colourful street art and mosaic – made by both local and international artists – covered most of the city. It was a truly spectacular sight! As a matter of fact, this street art project has actually brought new life to St Nicholas. The town, which was once known for gambling and crimes, is now attracting visitors from all over the world.
Plenty of events are arranged regularly, and the town has been transformed into a hip, urban place. Don't miss out on St Nicholas when you visit Aruba!
You can read more about the street art in St Nicholas on my friend Lola Akinmade's website.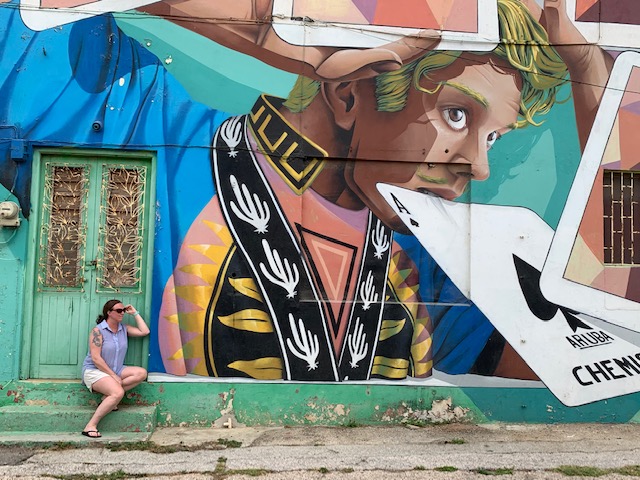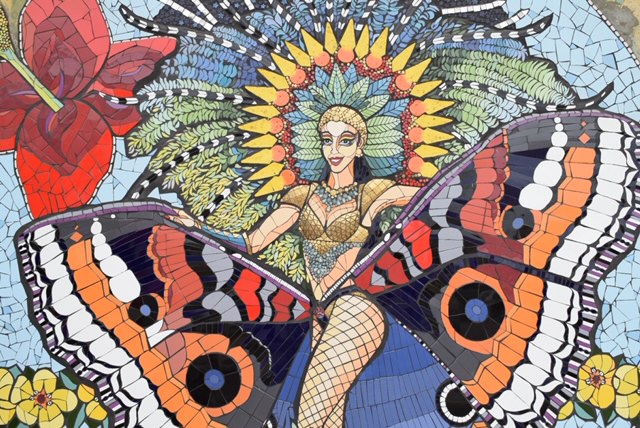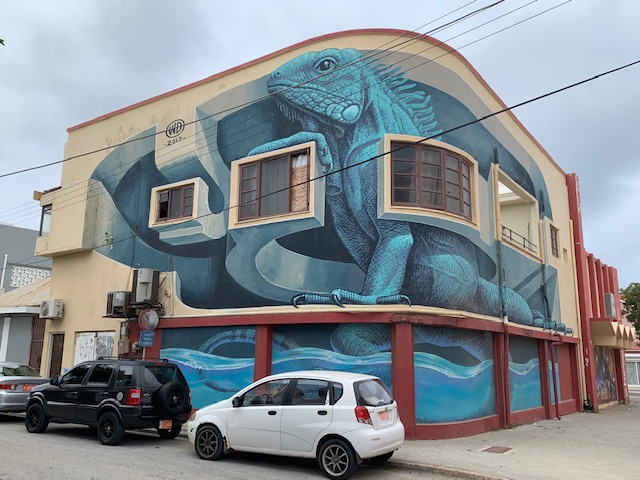 Arikok National Park – Hike Amongst Cacti and Bats
Arikok National Park is the great pride of Aruba. The park covers around 20% of the island, and it offers miles and miles of interesting hiking paths. Walk amongst large cacti, while you learn more about the history, landscape and the wildlife in the park. You can even find plenty of wild goats!
Arikok also has traces after the tribes that once inhabited the island. Here, you can find artworks, symbols and figures that have been carved into rocks and caves. While you can hike along, I will recommend that you go with a local guide – he or she can tell you all about the hidden stories of the area.
Symbols carved into stone is something you can find in most of the caves in the park. However, these are not only from the tribes. Visitors from hundreds of years ago has also carved their names and dates into the stone. In one of the caves, there is also a natural opening in the ceiling where the sun shines through. It's truly spectacular!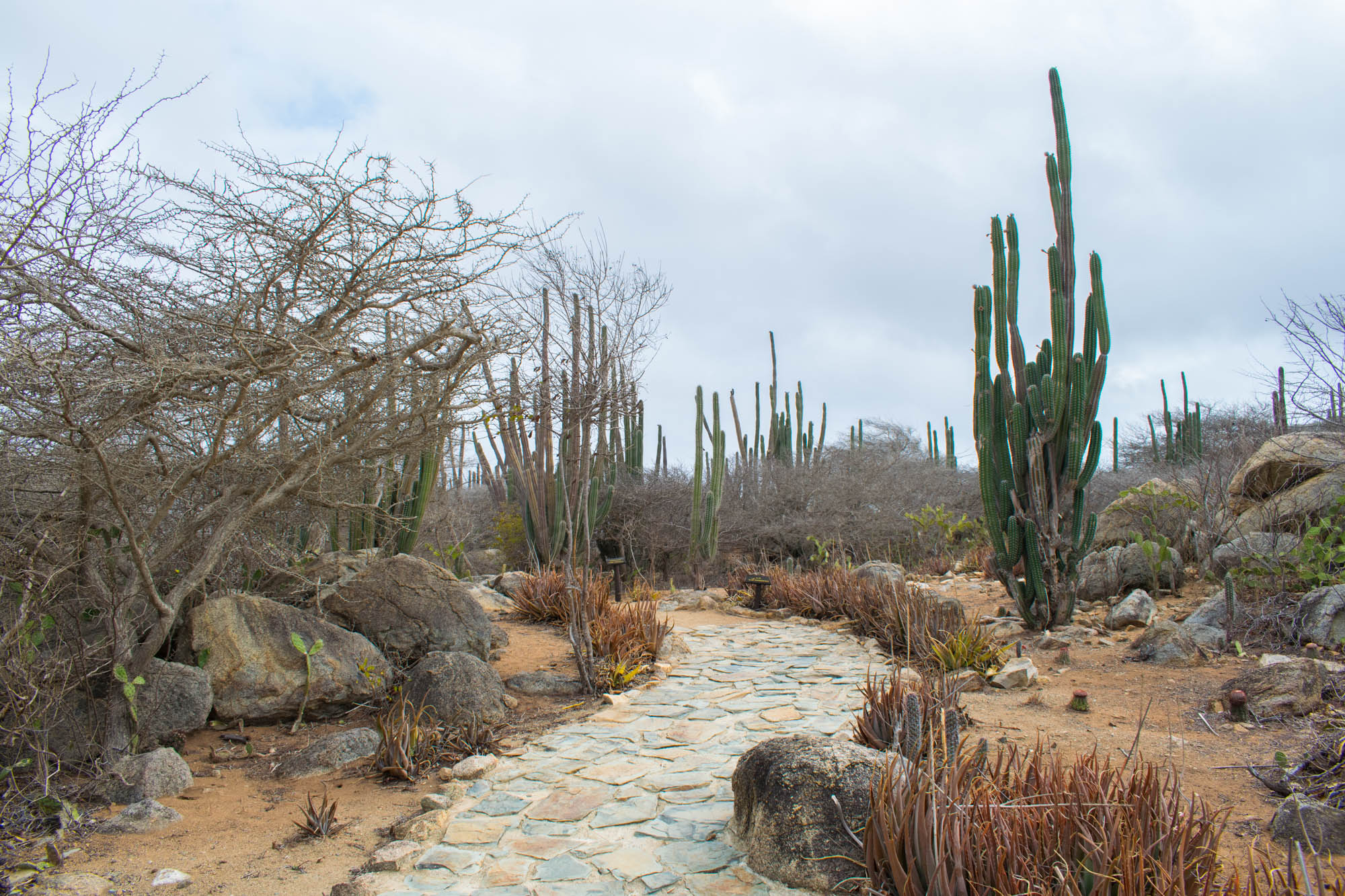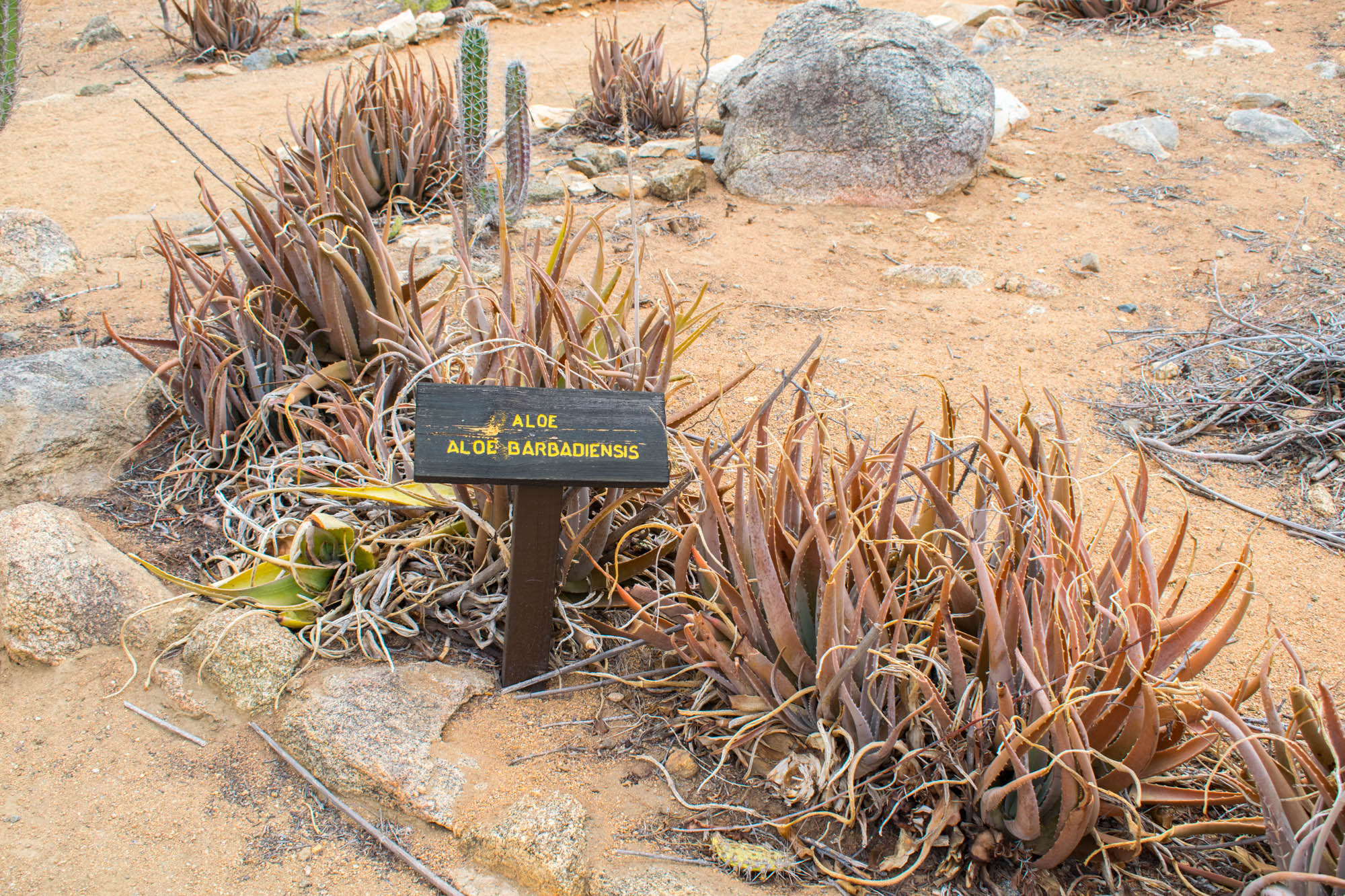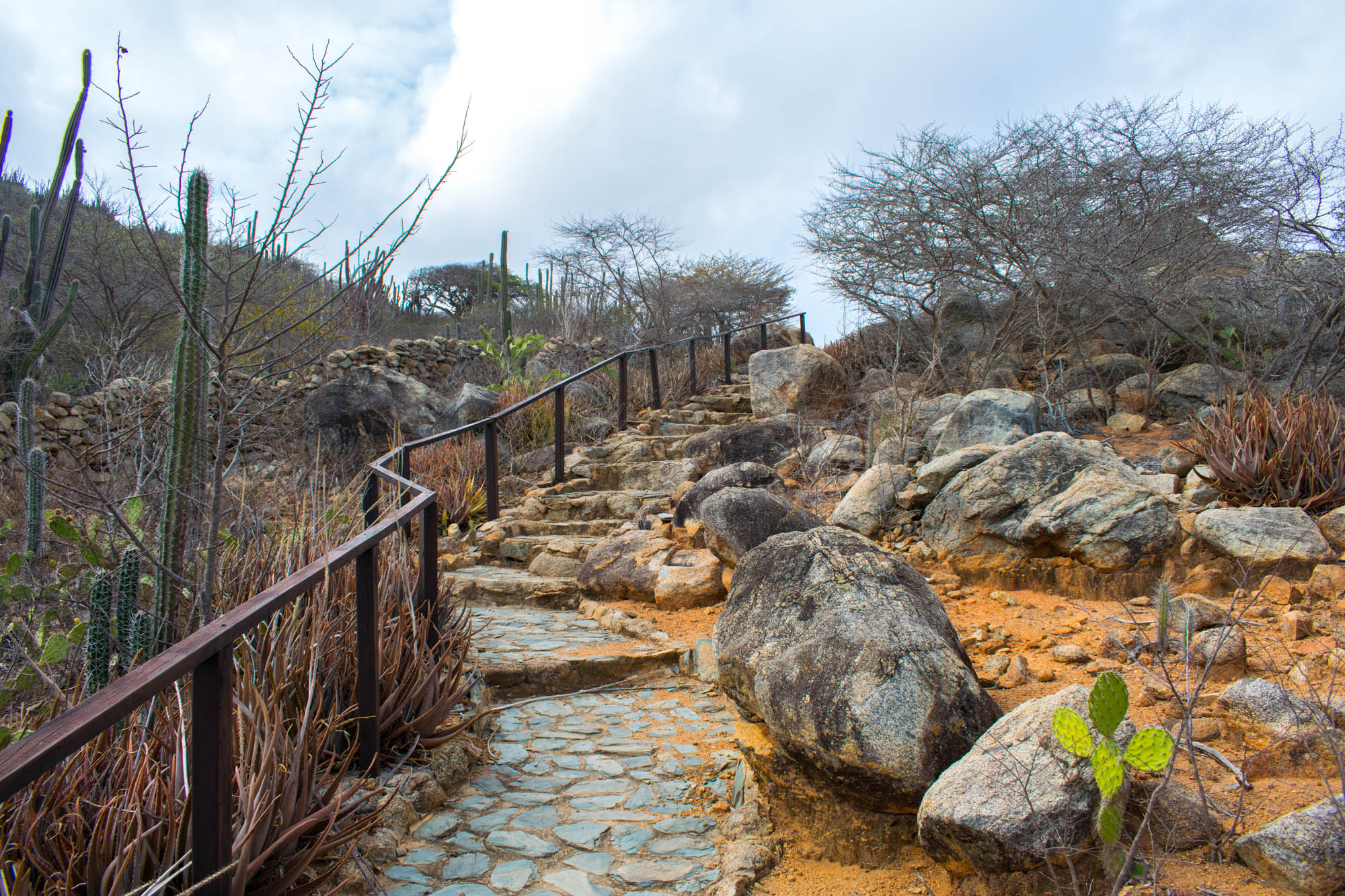 But What About the Pink Flamingos?
I hate to break it to you, but I think it's time you forget about the pink flamingos in Aruba. The animals are actually not native to the island – they were just brought there by one of the massive hotels in order to entertain their guests.
Of course, they are super cute – but that doesn't make up for the fact that they have been brought to this island and has no way of escaping it. In my opinion, this is wrong. I chose not to support this artificial part of the Aruban wildlife, and instead focused on what is authentic, genuine, and good for both the animals and the environment. A great alternative is to admire the many pelicans that are lazily floating around the coast. I promise you – they are super cute as well!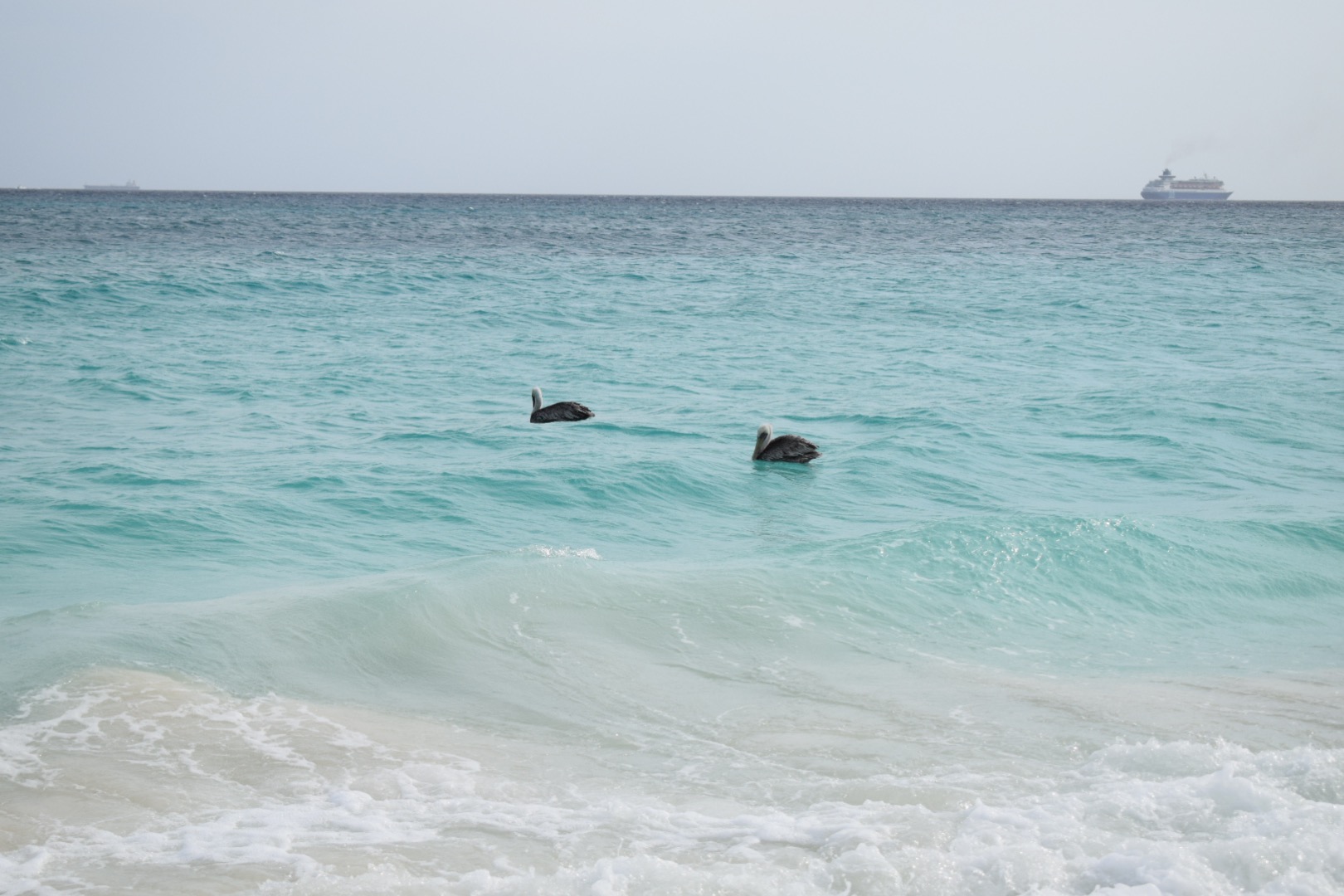 My journey to Aruba was done in collaboration with NordicTB, KL and Aruba Tourism. This was a marketing project focused on the more unknown and undiscovered parts of the island. The project was called #NordicTB in Aruba. As always, all opinions are my own.
This post is also available in: Norsk bokmål