At Salvador Dali's home in Port Lligat, Costa Brava
World famous painter Salvador Dali lived in the small fisherman's village of Port Lligat on the Costa Brava. His home is now an open museum, and it is possible to walk around the house and its gardens to see how his art and artistic impressions influenced his private surroundings. If you are ever on the Costa Brava this is something you should not miss. Join me in the home of Salvador Dali and his art.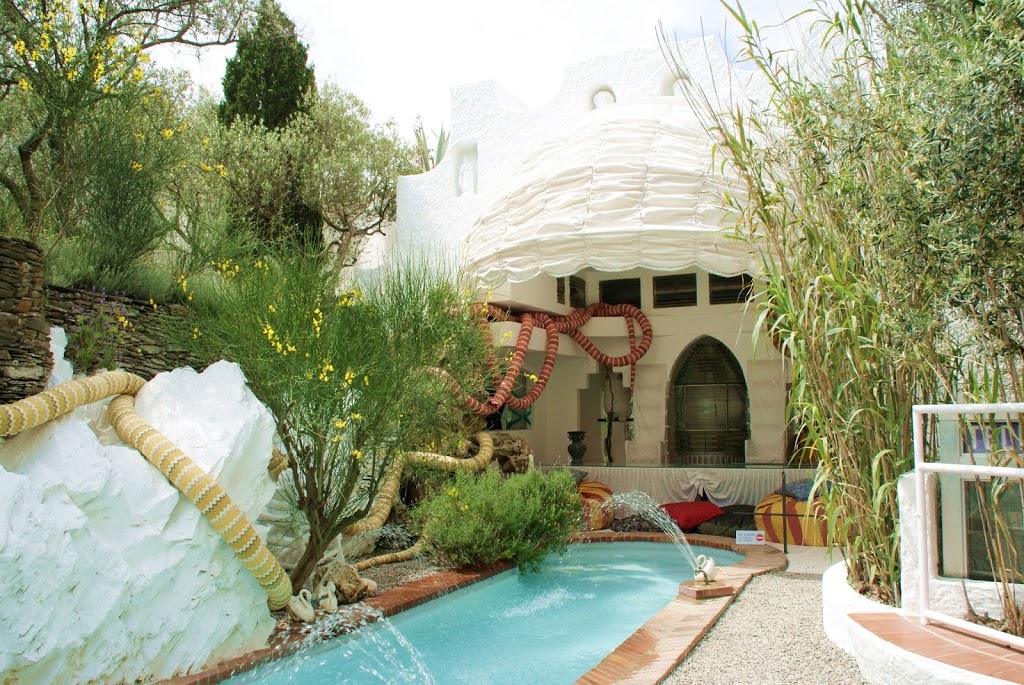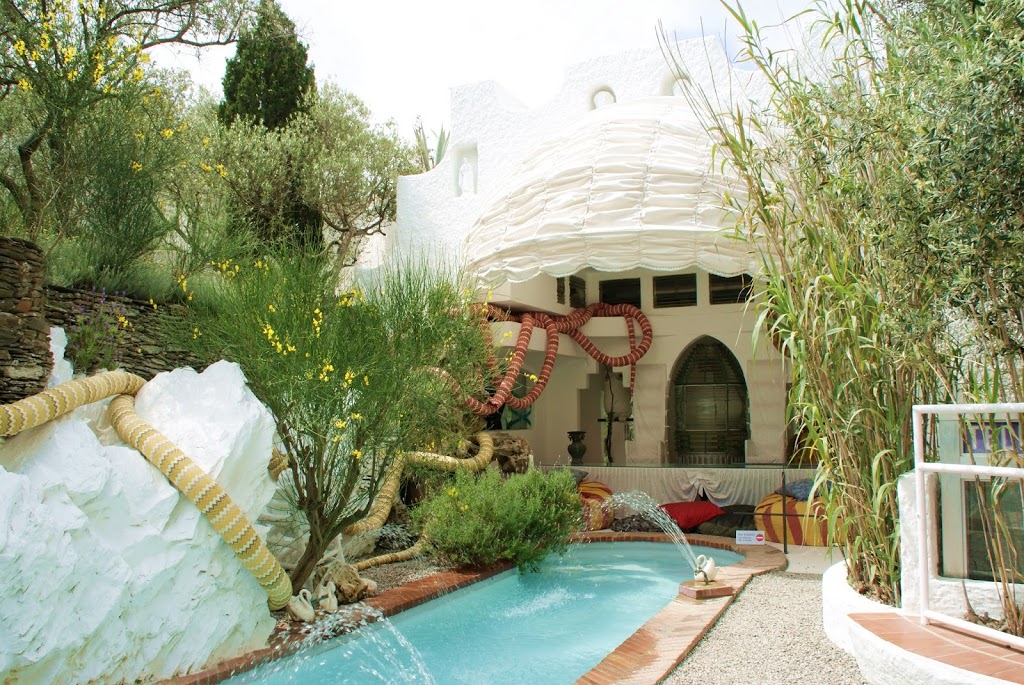 Promotional collaboration
Salvador Dali was originally from Figueres, a village not too far from Port Lligat. After several years of studying and as an art student in both Madrid and Paris, Dali returned to the are and bought a small building on the docks of Port Lligat – originally used to store fishing equipment. He redid the building and moved in with his beloved Gala.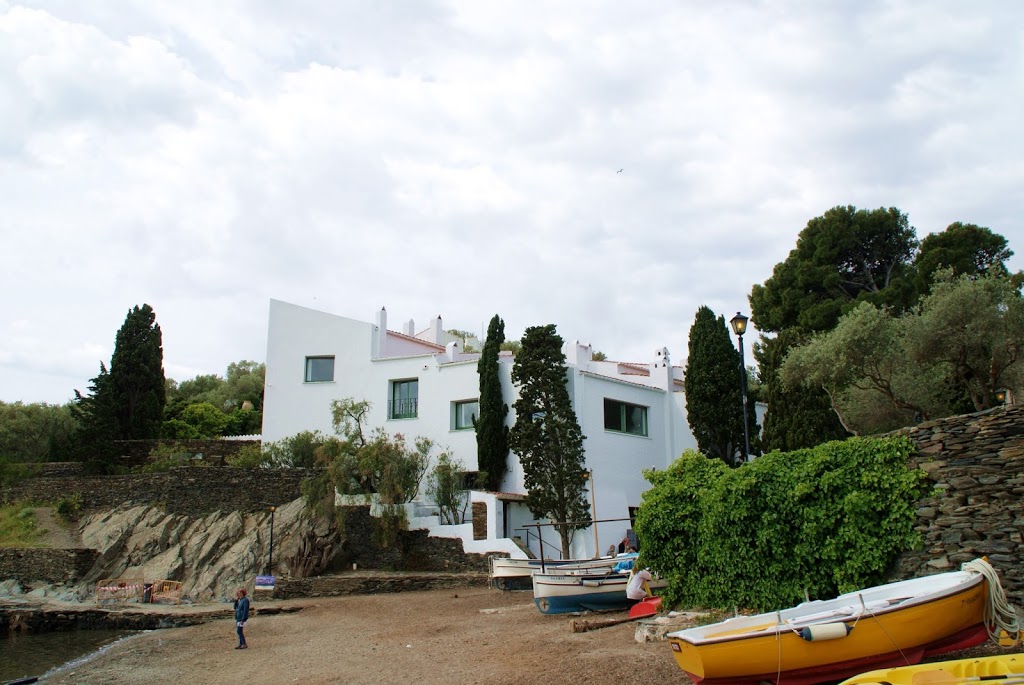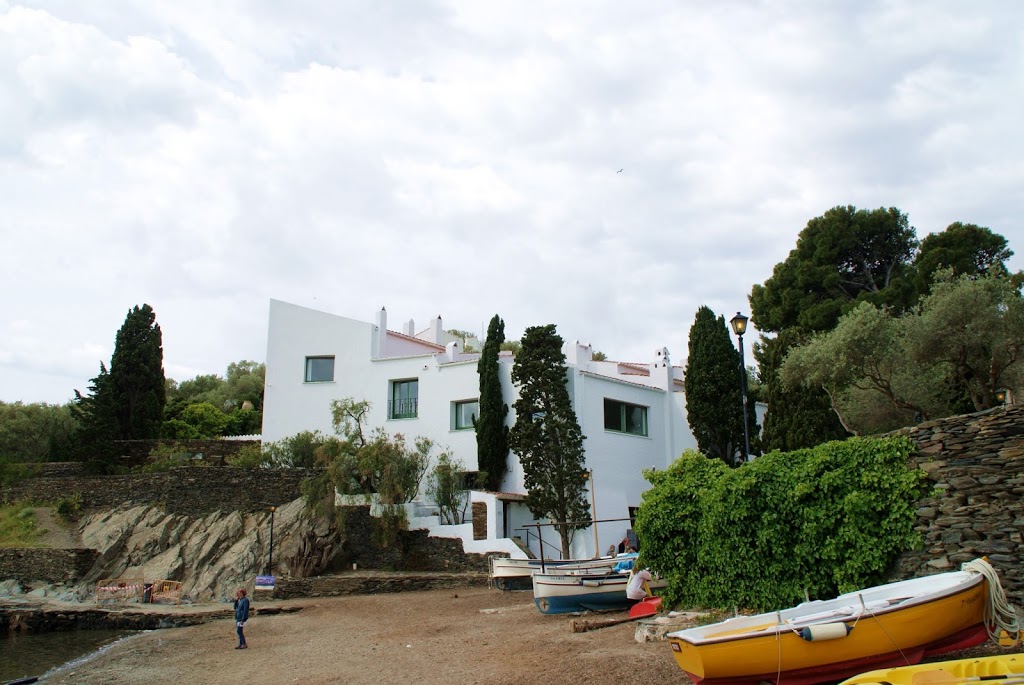 Salvador Dali's house seen from the outside. The house is close to the port and beach in Port Lligat.
During the 40 years he lived in Port Lligat he bought several adjacent buildings and ended up with a house that seemed like a labyrinth of rooms, hallways, gardens and floor levels. All were influenced by his artistic, surrealistic style. The house is close to the beach and port of Port Lligat and just behind you'll find a large garden and olive garden that he also decorated and shaped according to his own ideas and style.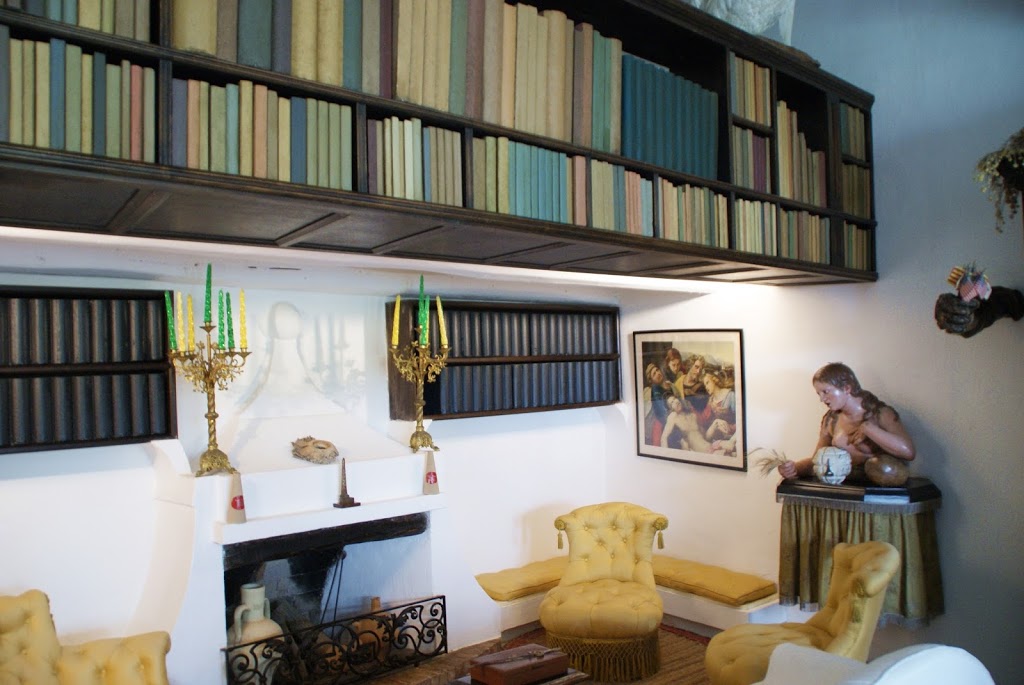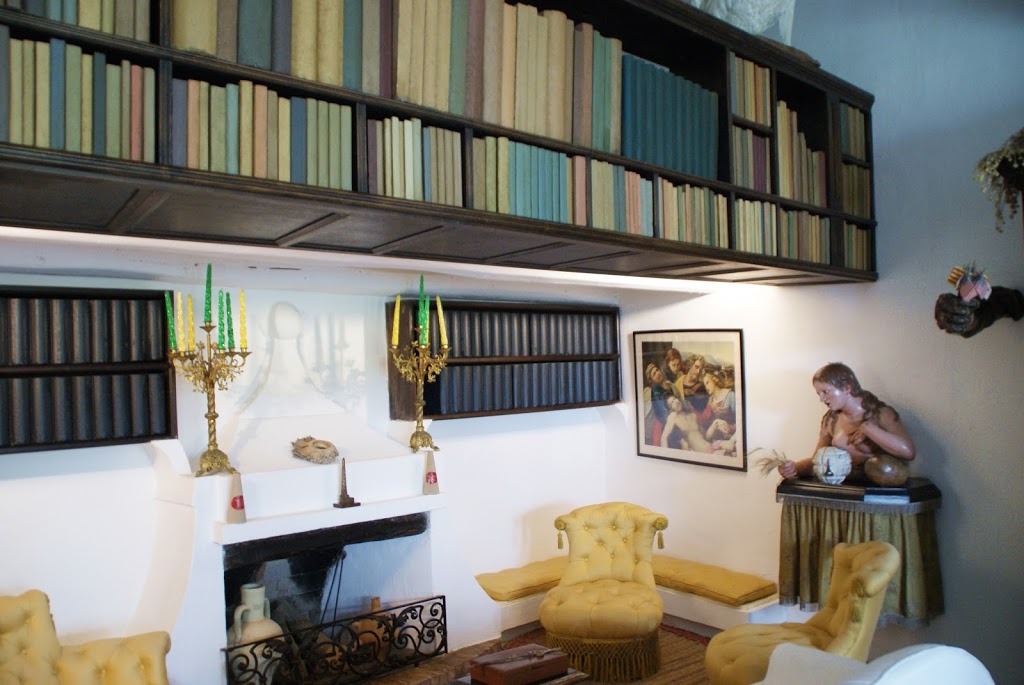 Picture from the living room
All furniture and decorations are original, and the different rooms are all unique and very special. Many elements from Dali's art can be recognised in his interior, such as large goose and goose eggs, amongst other more surrealistic details. It was Gala who was in charge of decorating, and she purchased used furniture that she mixed with the ideas of Salvador.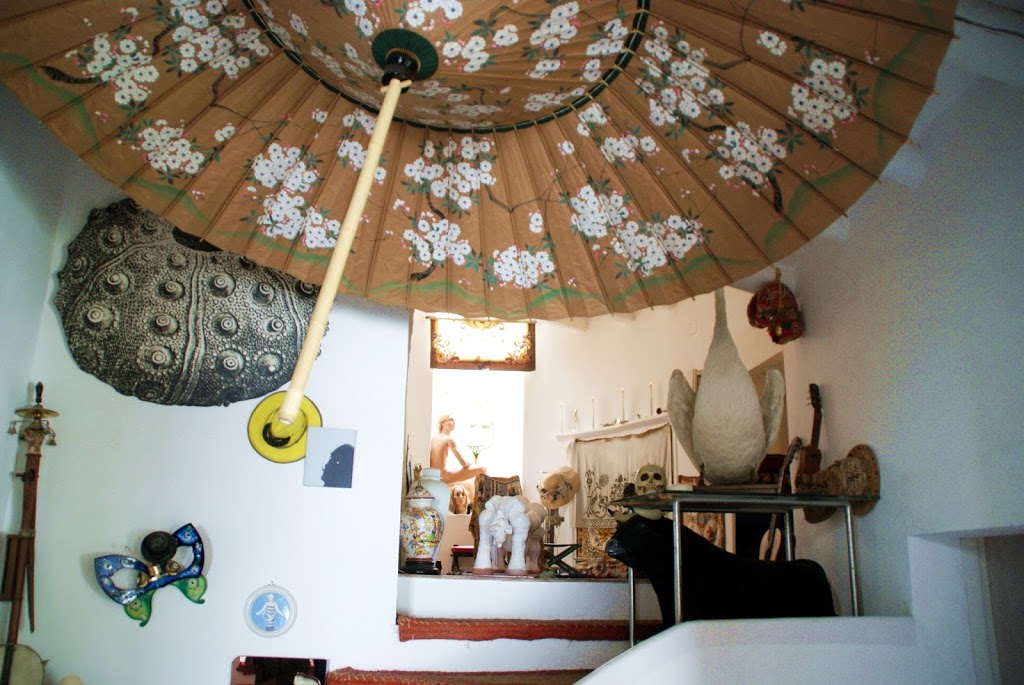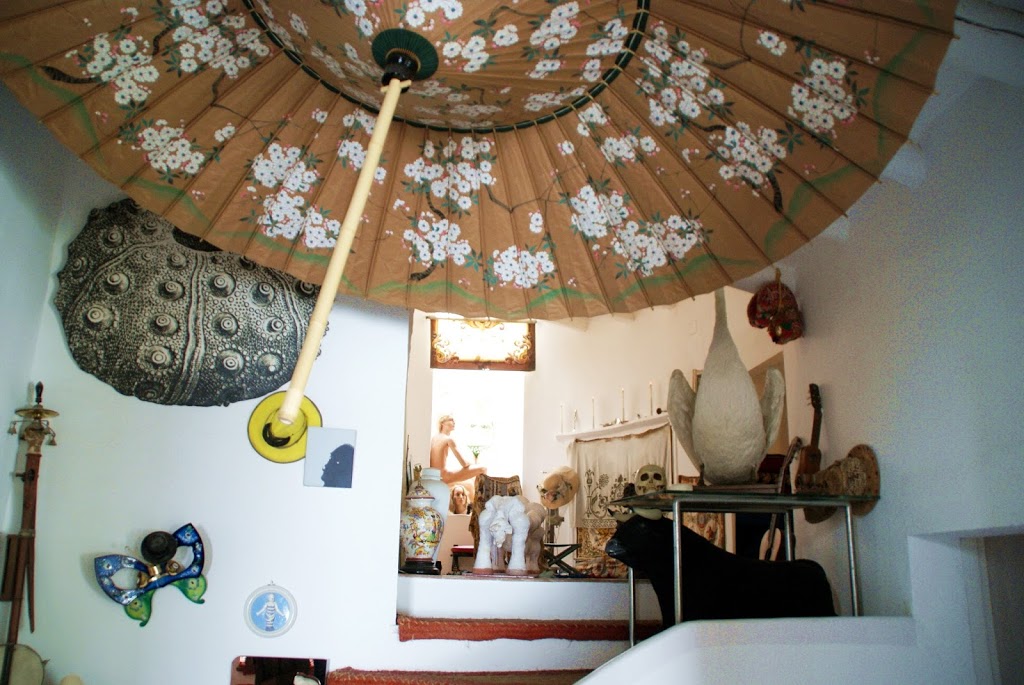 A large, Asian-inspired, umbrella is hanging in the ceiling over a small staircase separating one part of the house from the next floor up. In the room behind it there were naked display dolls and tiny chairs scattered around as a form of decoration.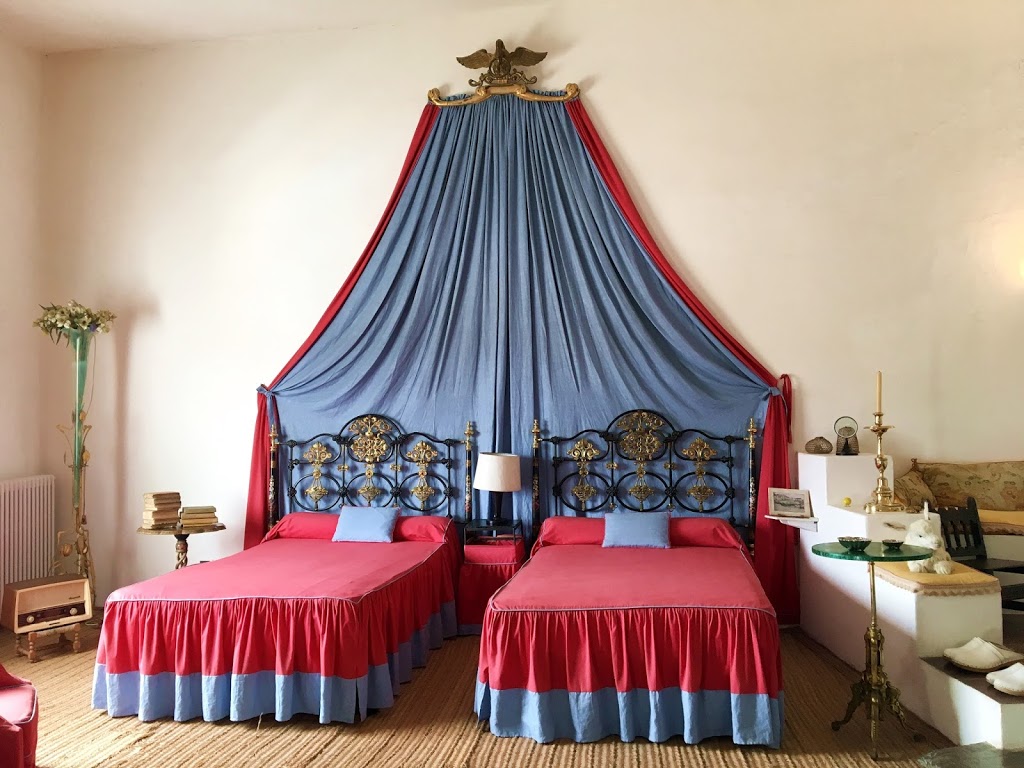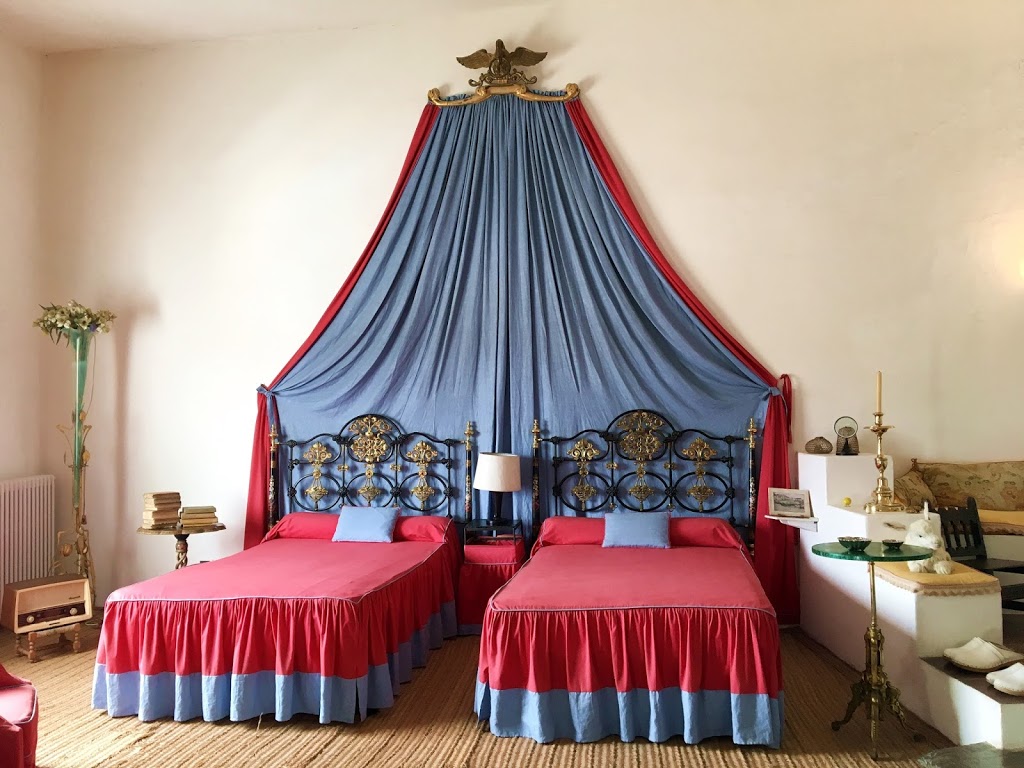 Salvador Dali and Gala's bedroom. Large windows let the light flow into the room and enhance the bright colors. The room also had small chairs spread around like a decor element.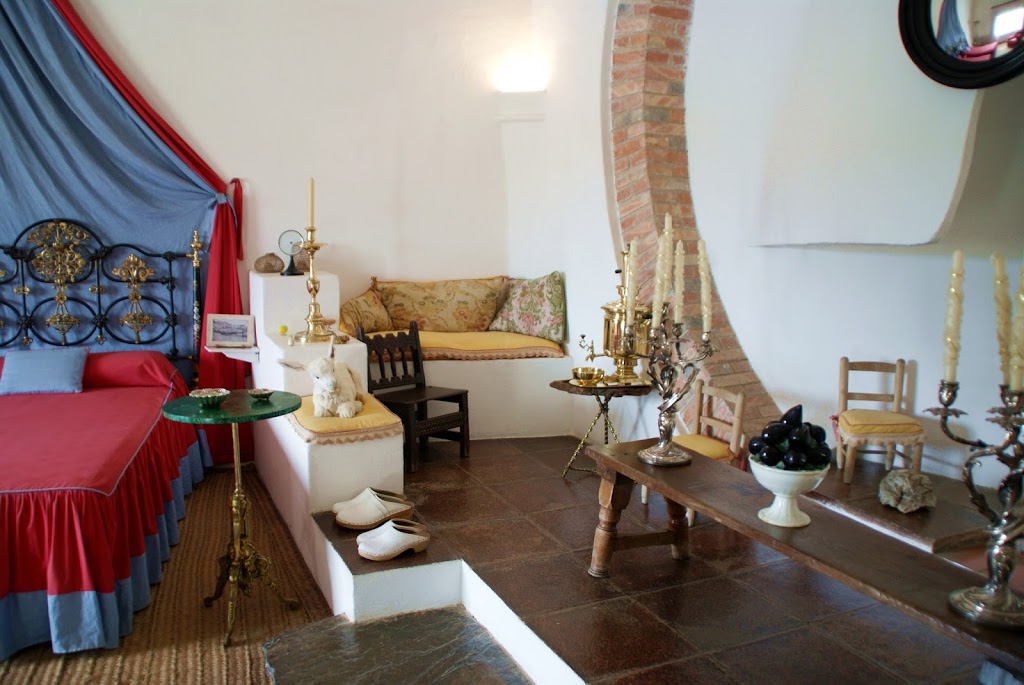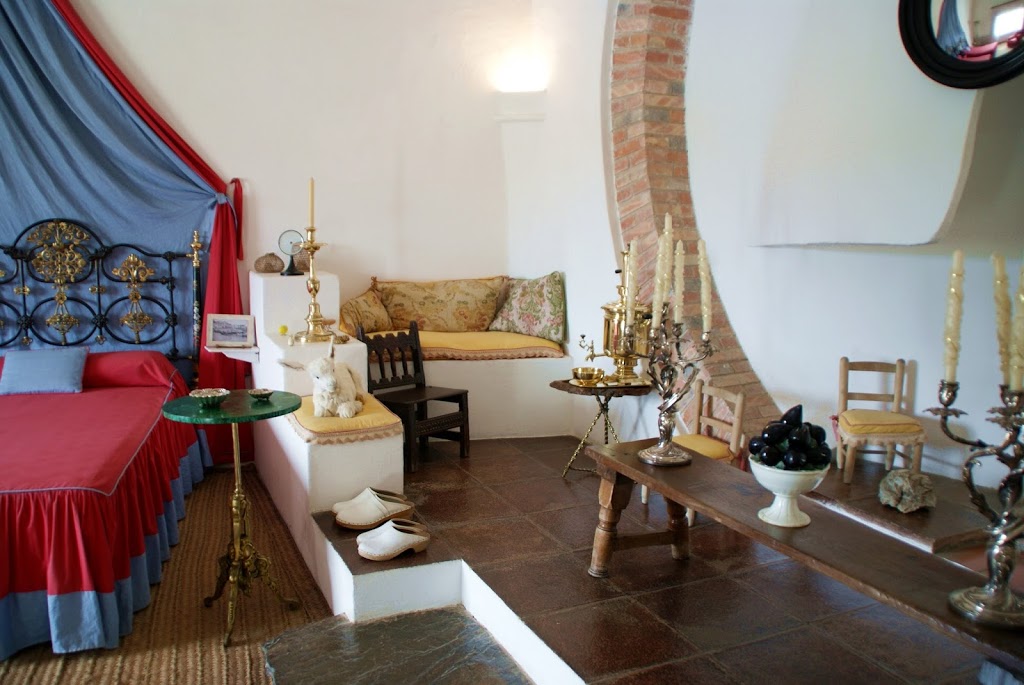 The clogs that Salvador and Gala used were still placed in their allotted space in the bedroom. The room had two adjoining bathrooms and were decorated and uniquely designed after their own wishes and needs. In the large and spacious dressing room Gala had hung photos of Salvador Dali and famous persons, almost as a collage of his exciting life.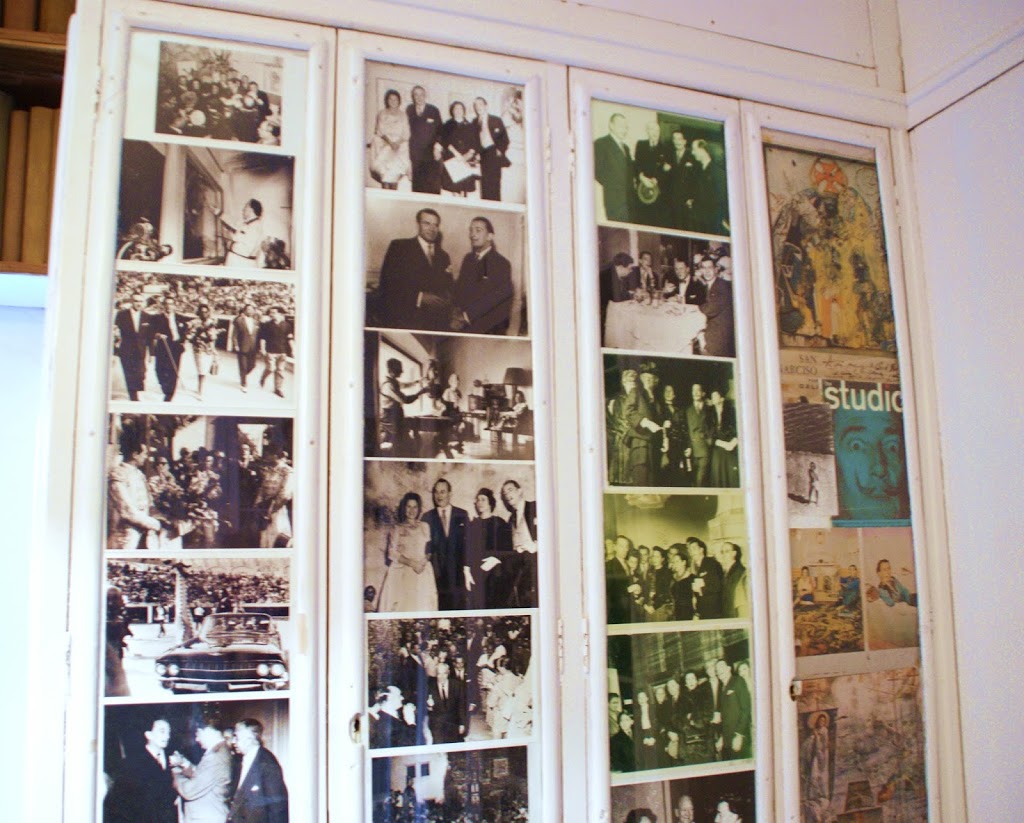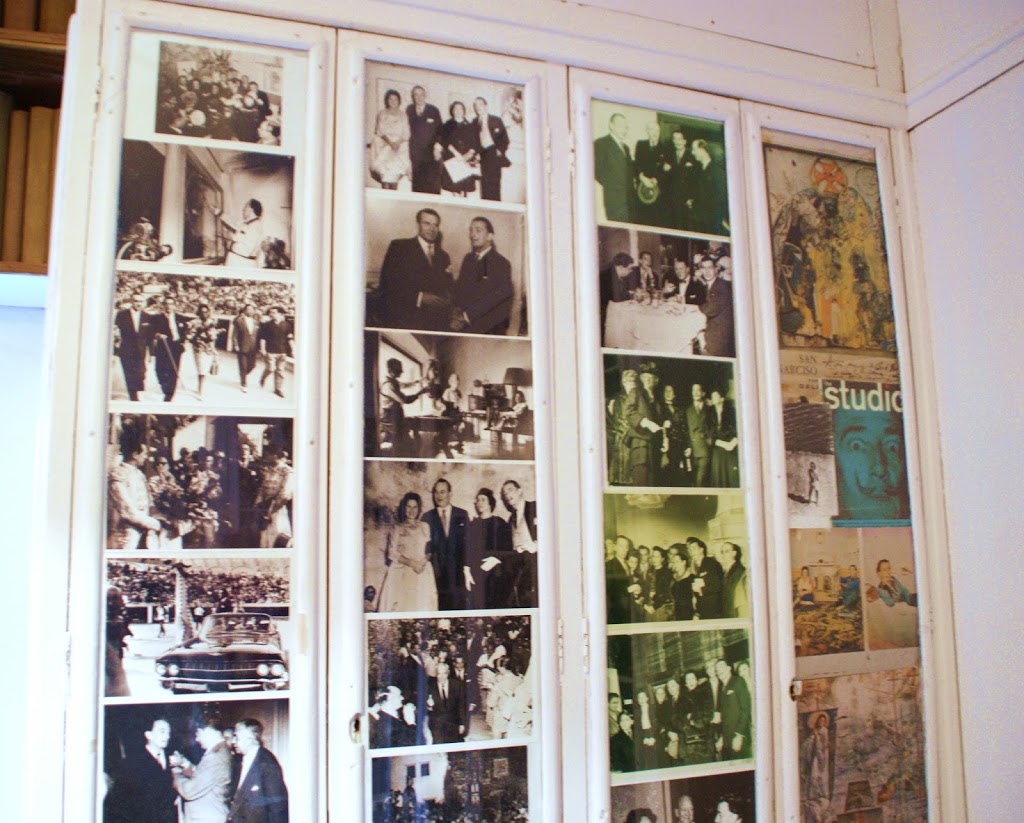 Pictures are used as a decor element in the house.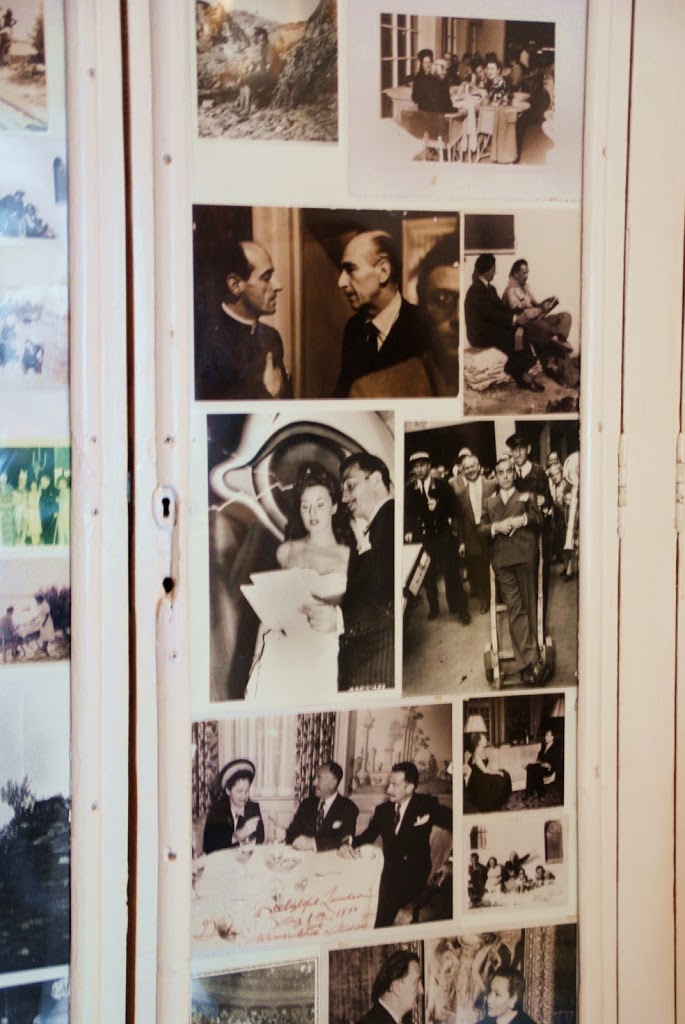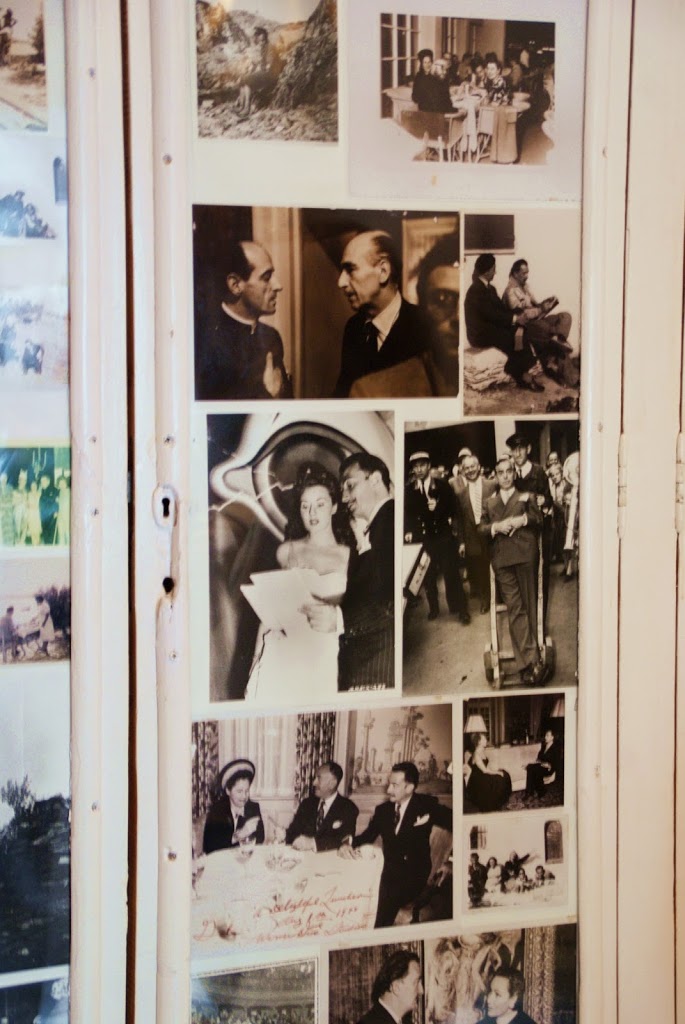 Salvador Dali met with lots of famous and powerful persons, and a lot of the meetings are documented through photos in his dressing room.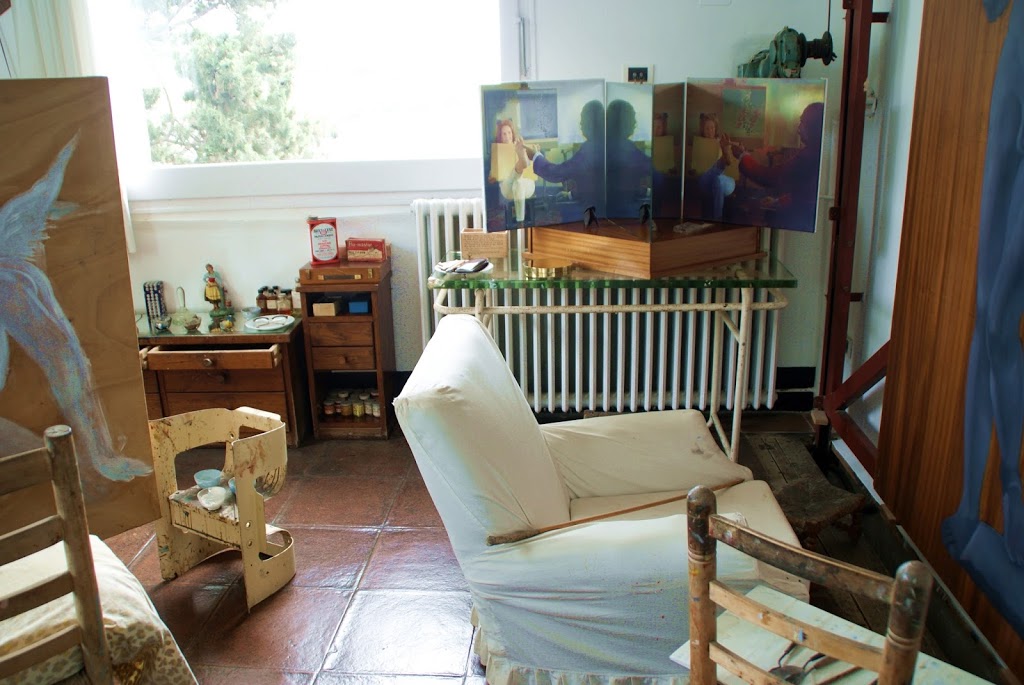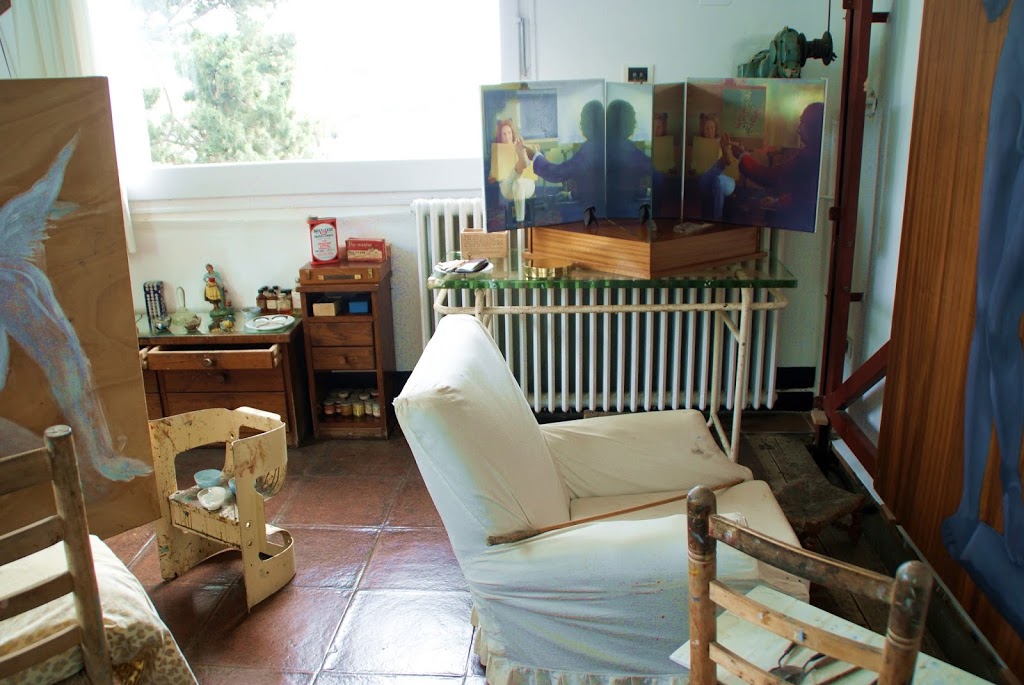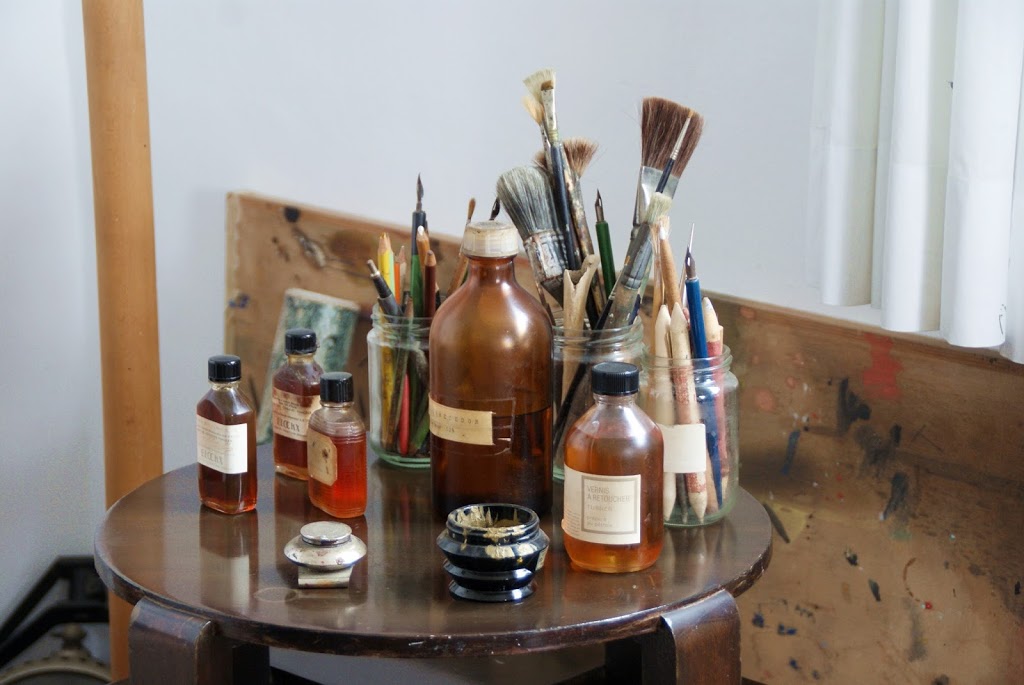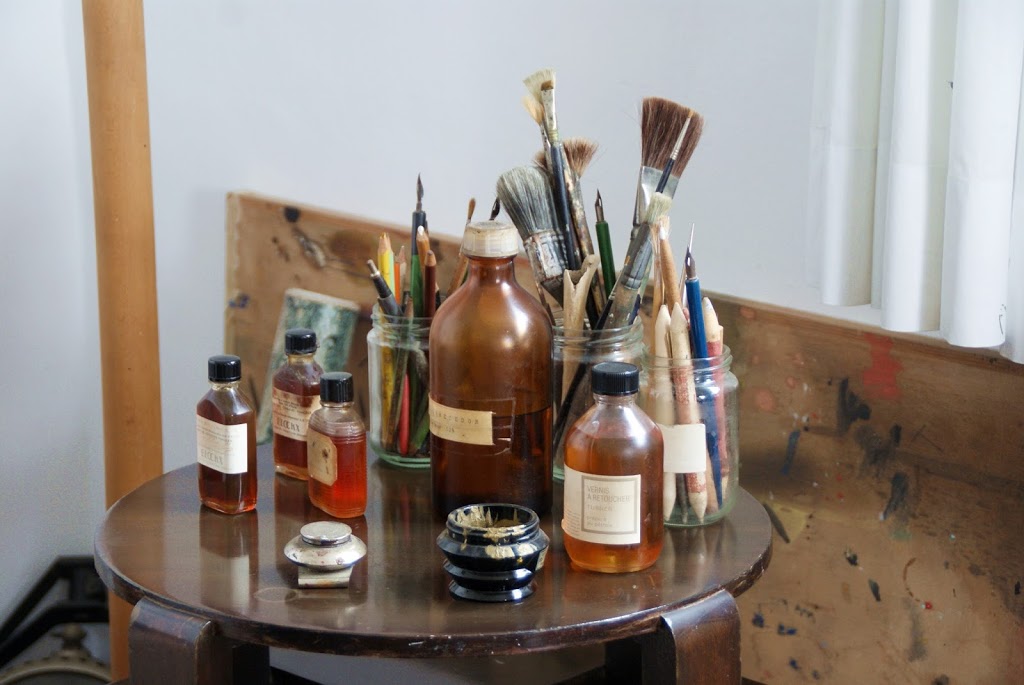 Salvador Dali obviously had his own atelier in the house, and had developed a unique system of moving the large canvases from floor to floor, for his own comfort. Using this he could sit in his own chair and paint.
On the right side of the picture you can see a large canvas strapped to this elevator contraption and Salvador's chair placed in front.På denne måten kunne han sitte i sin lenestol og male.
Salvador's equipment are still present in the atelier.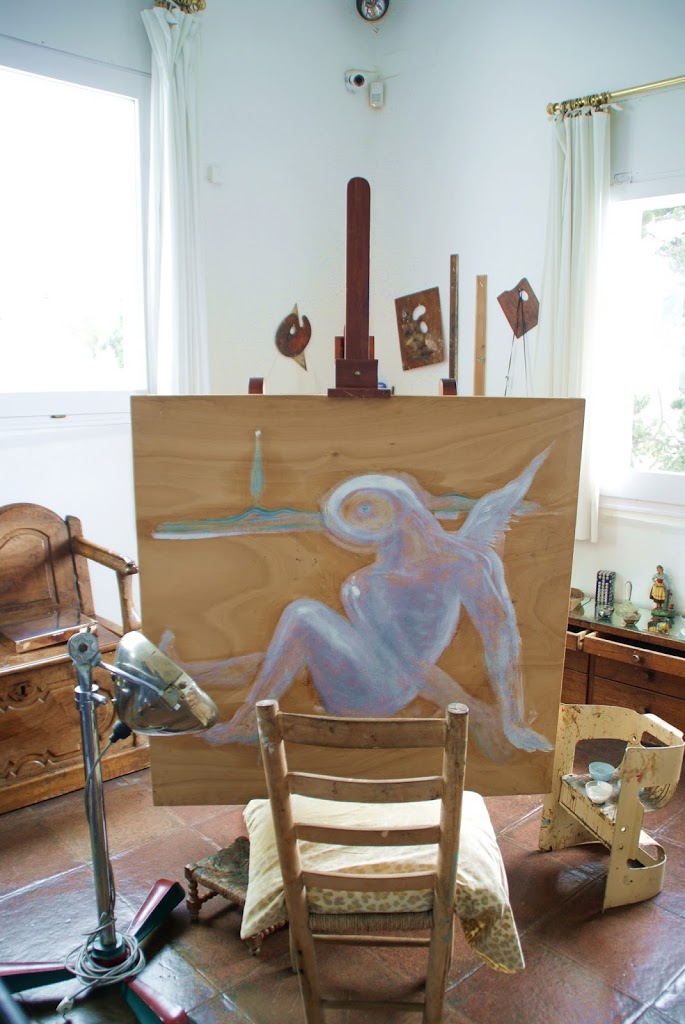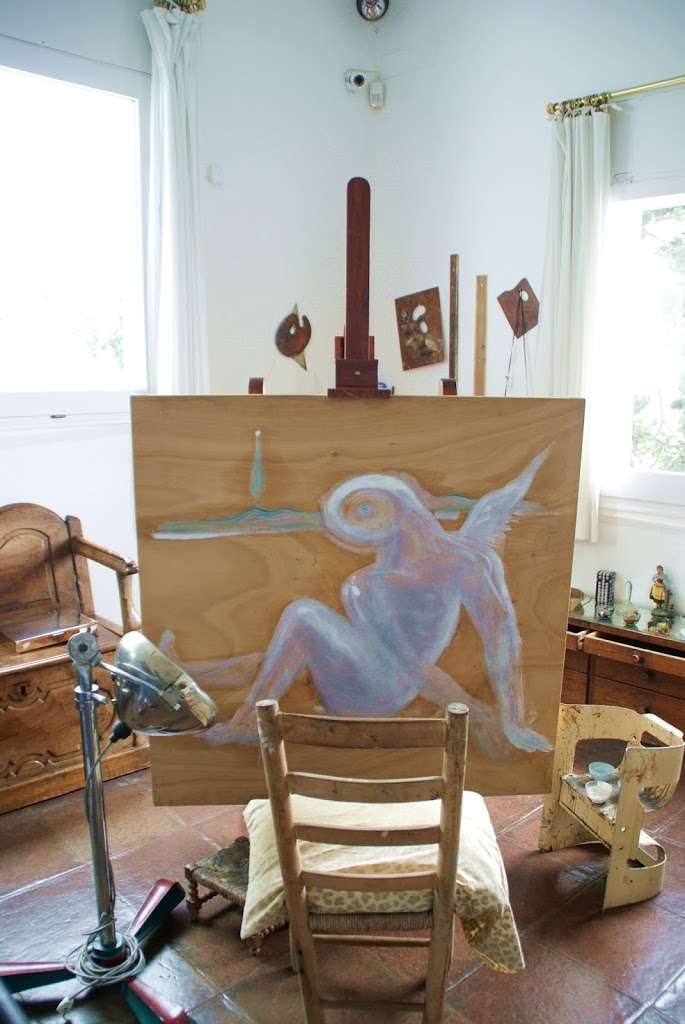 Salvador Dali painted over 1500 paintings during his career, and often used Gala as his muse and model. In addition to his paintings he also made sculptures, cosmetics, jewels as well as taking photos, and in addition to his surrealistic style he was well known for a rather unique body language which made him come off as arrogant and eccentric. He was, for example, kicked out of art school in Madrid after saying that none of the teachers were competent enough to judge his art, and thus allowing him to graduate.
One of Salvadors unfinished paintings are still in the atelier.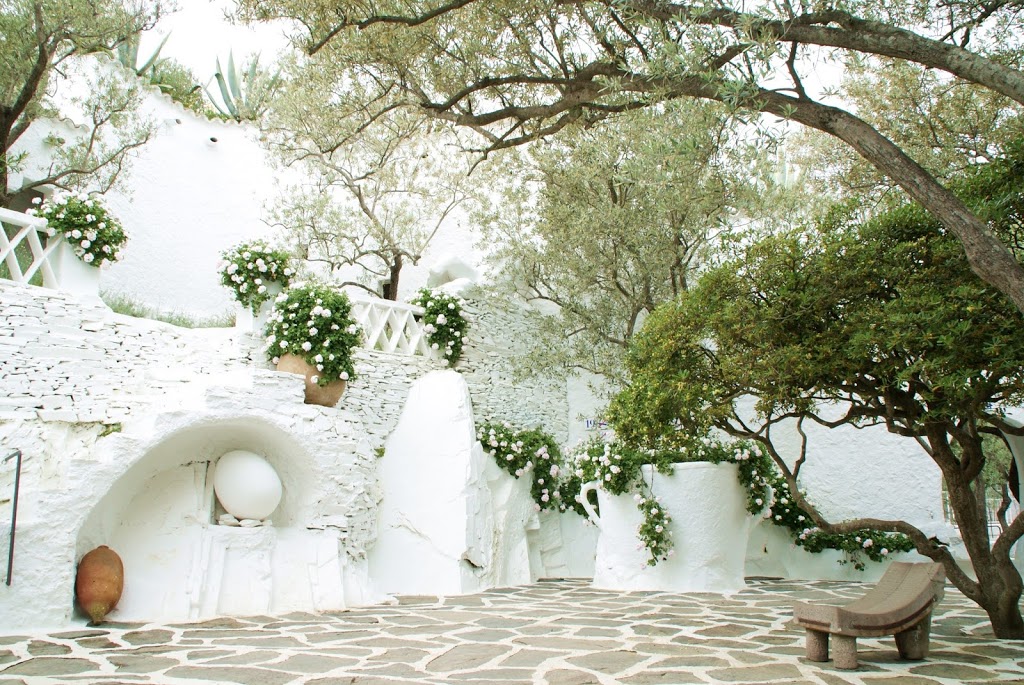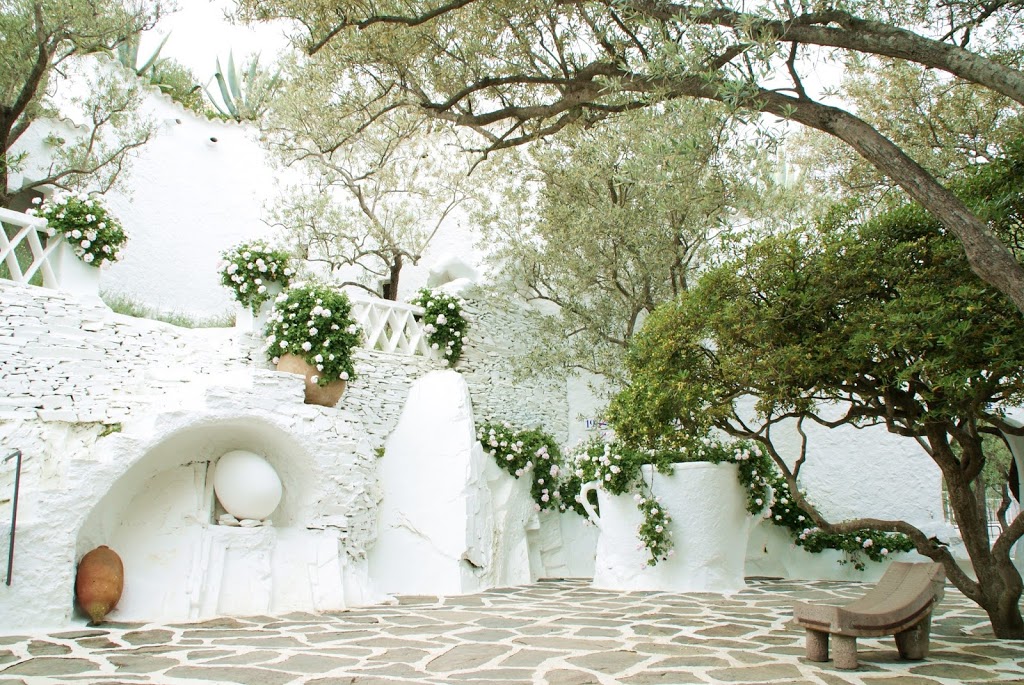 The gardens spread over several levels, and have many different areas and small buildings across the area. The outdoor space was especially created to be a social gathering space, and Salvador Dali had many parties and get-togethers here. In order to spy on his guests, he had construed hidden corridors with tiny peep holes and windows, so he could see and hear guests without them knowing he was there.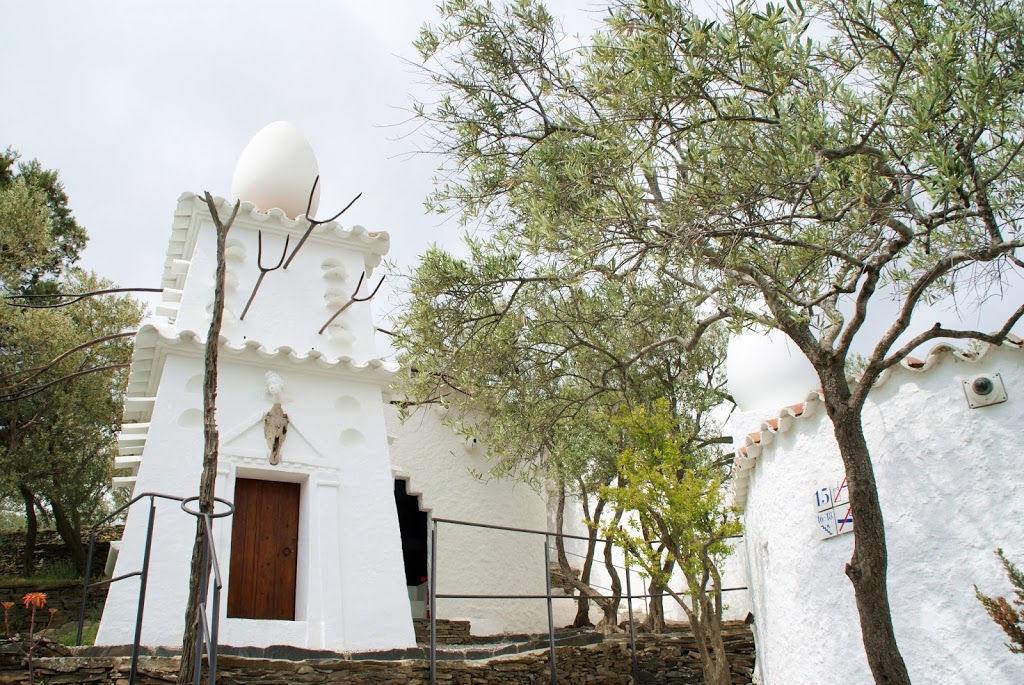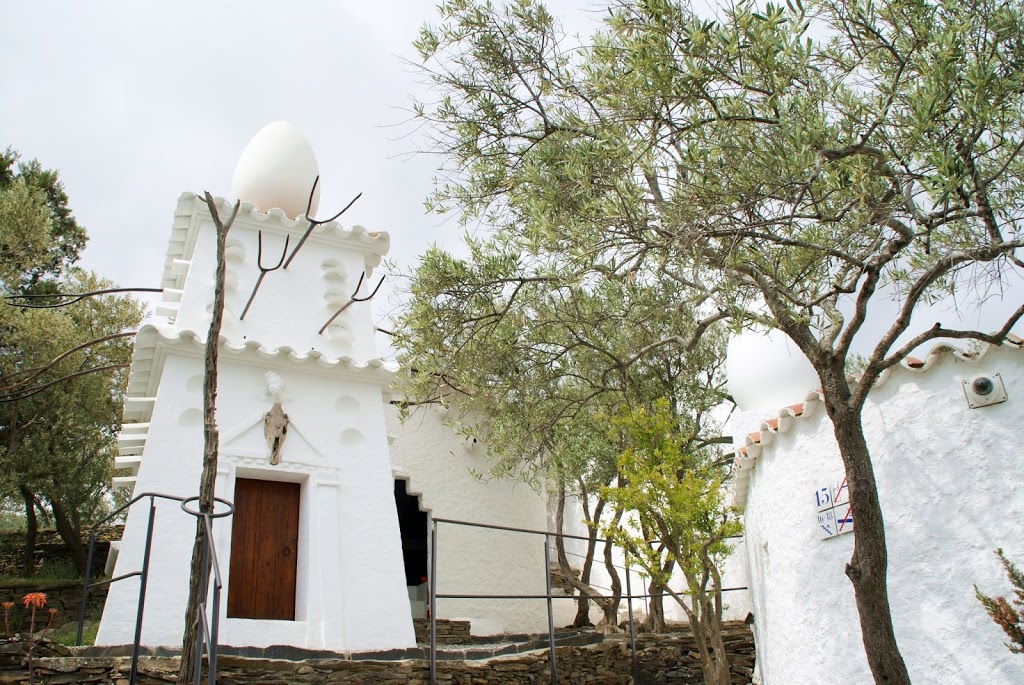 The tower in the garden was built with airing holes, so that when the strong Northern winds called Tramuntana would blow through, a howling sound could be heard. In this way Dali implemented his artistic preferences in more than just the visuals of his property.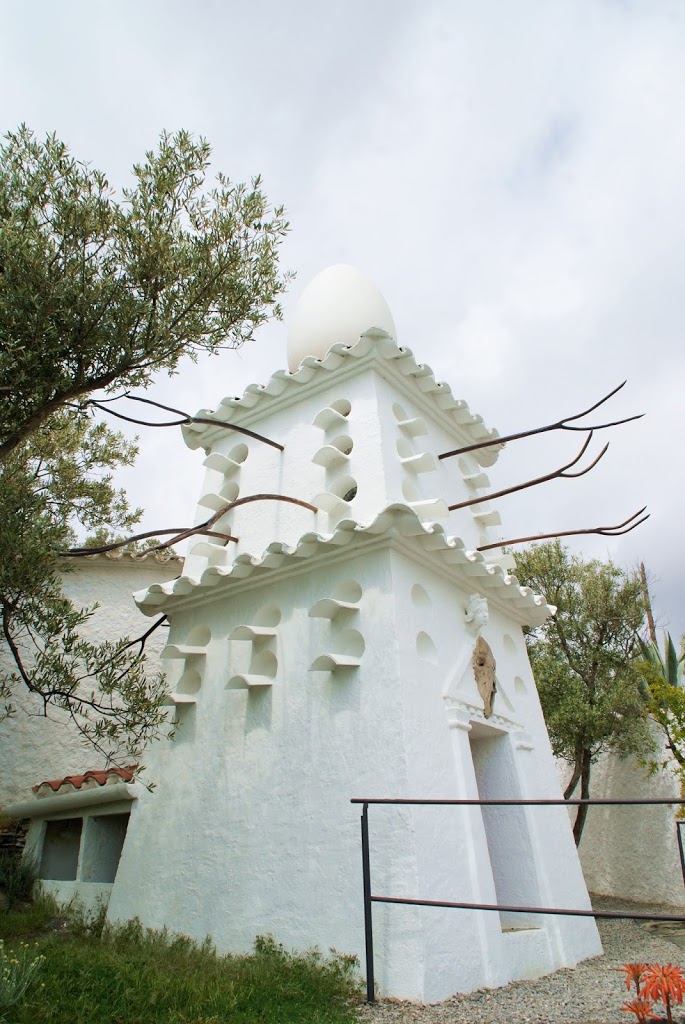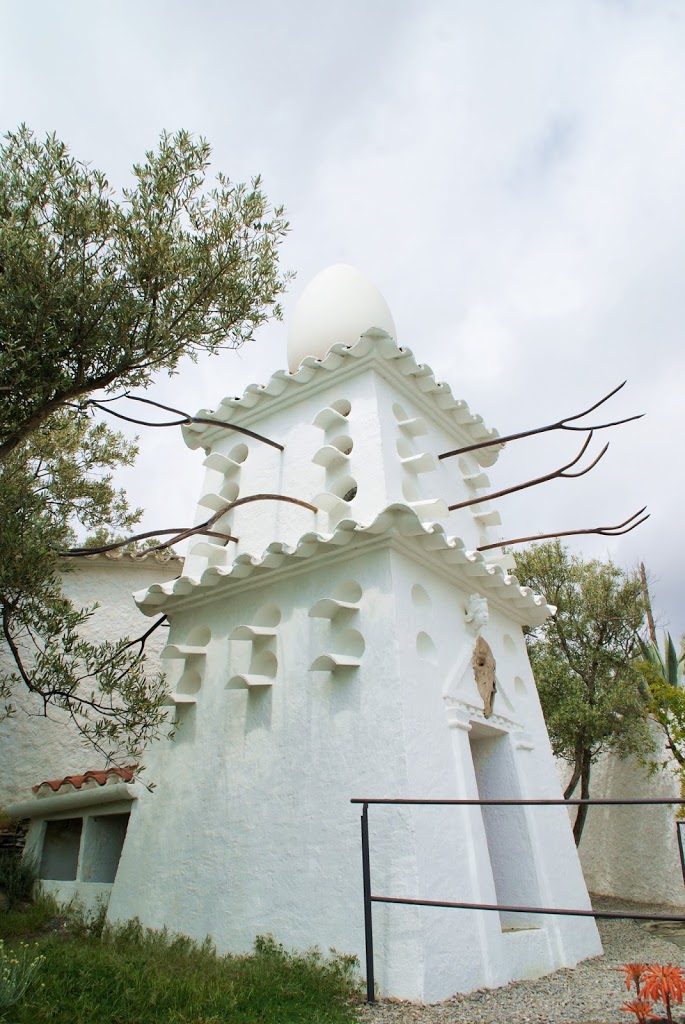 In a part of the garden Dali created a pool area. The pool was naturally not like any ordinary pool, and had many fountains, bridges, different forms of art and decorations, and several seating areas in fresh colors and designs.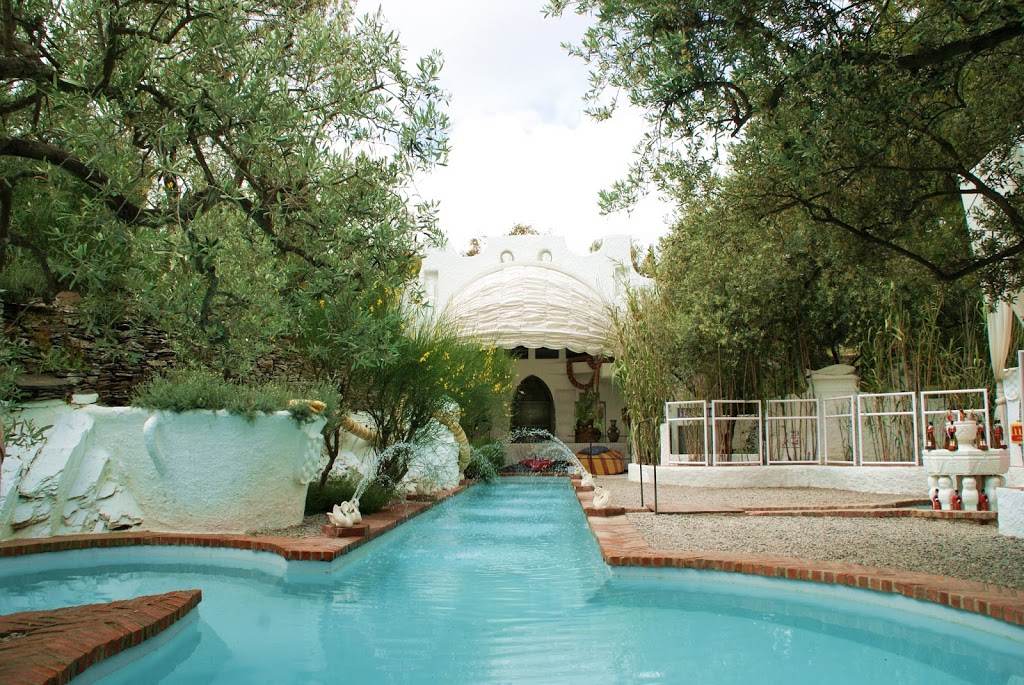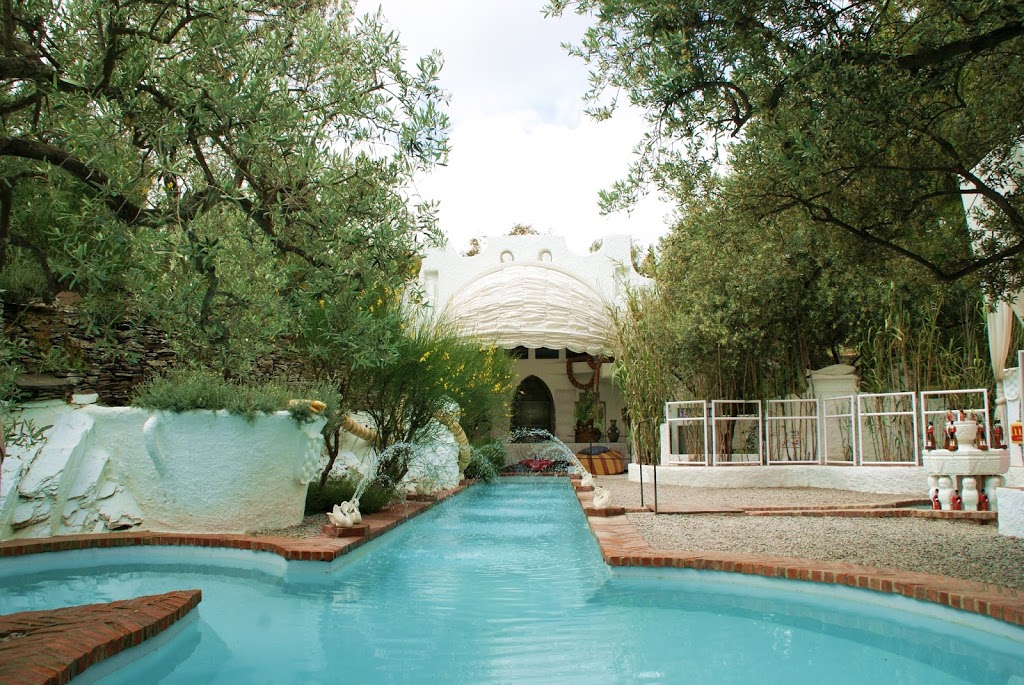 The pool area is like a small oasis in the garden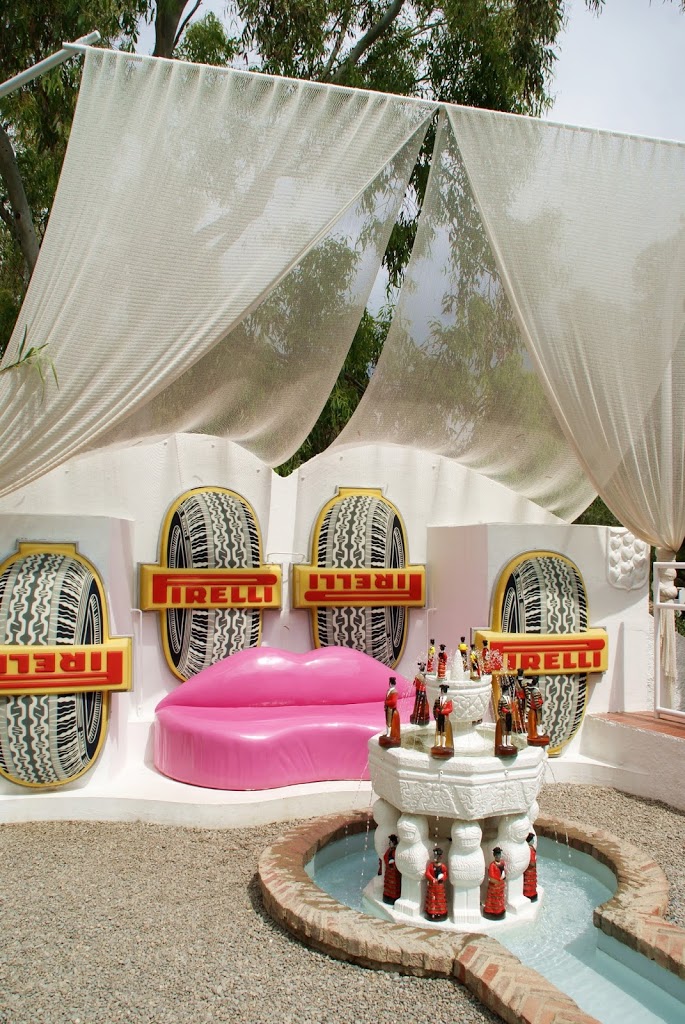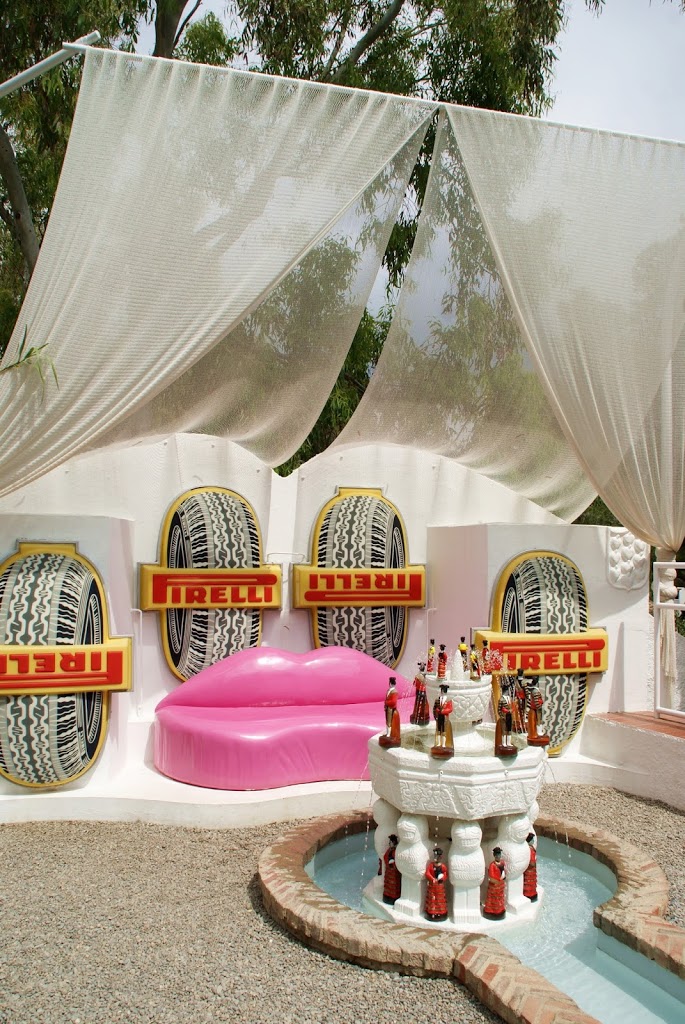 It might look like a commersial stunt but it is actually a seating area in the garden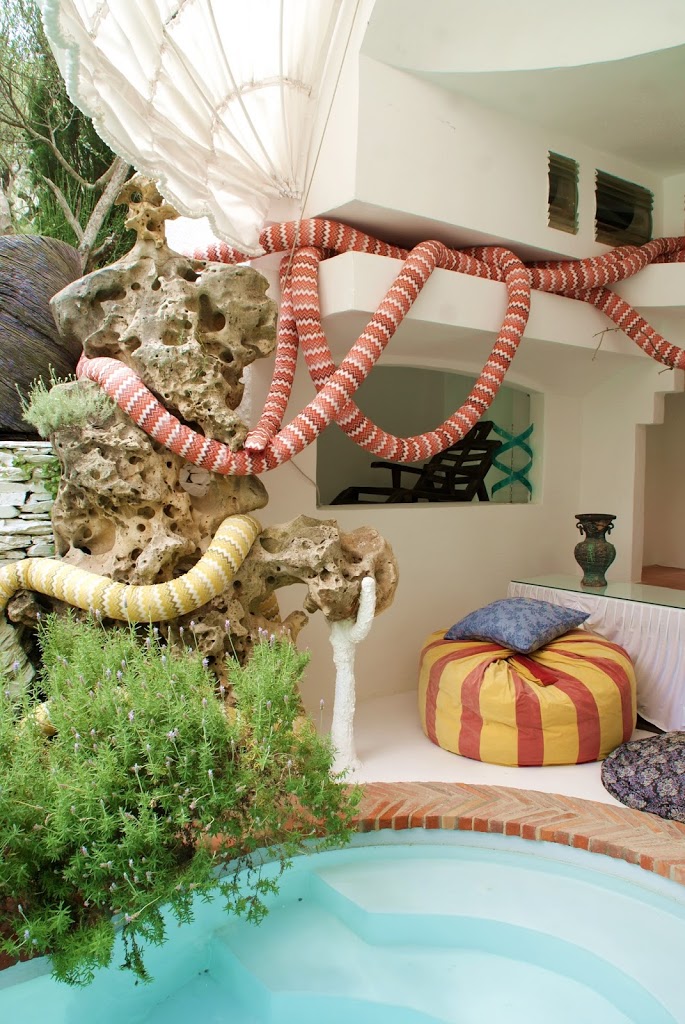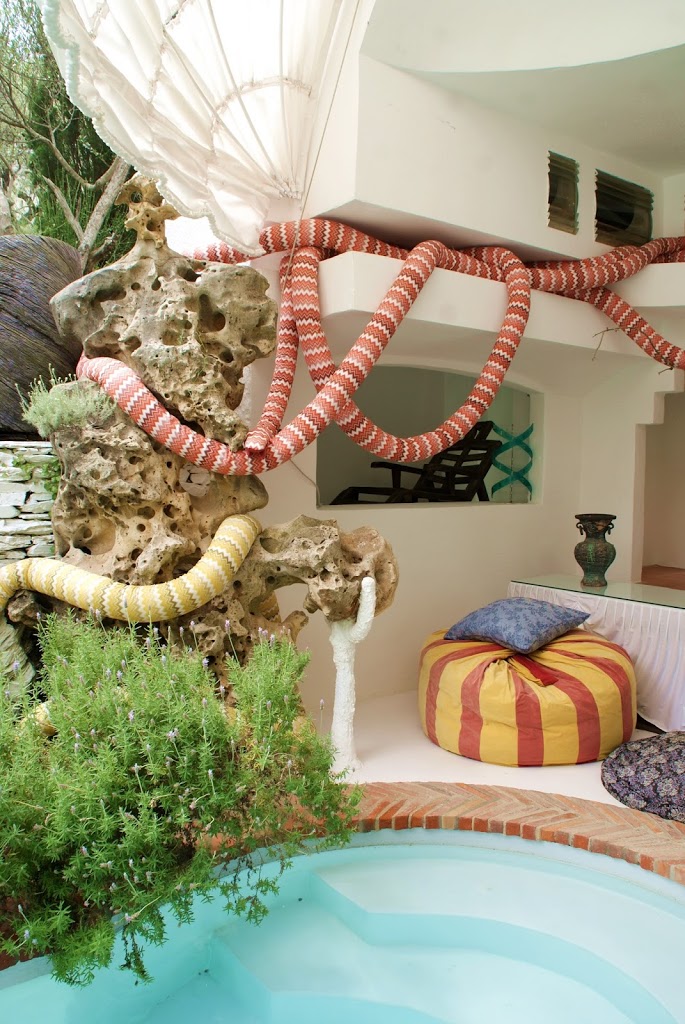 Maybe he found some inspiration from the middle east for this installation?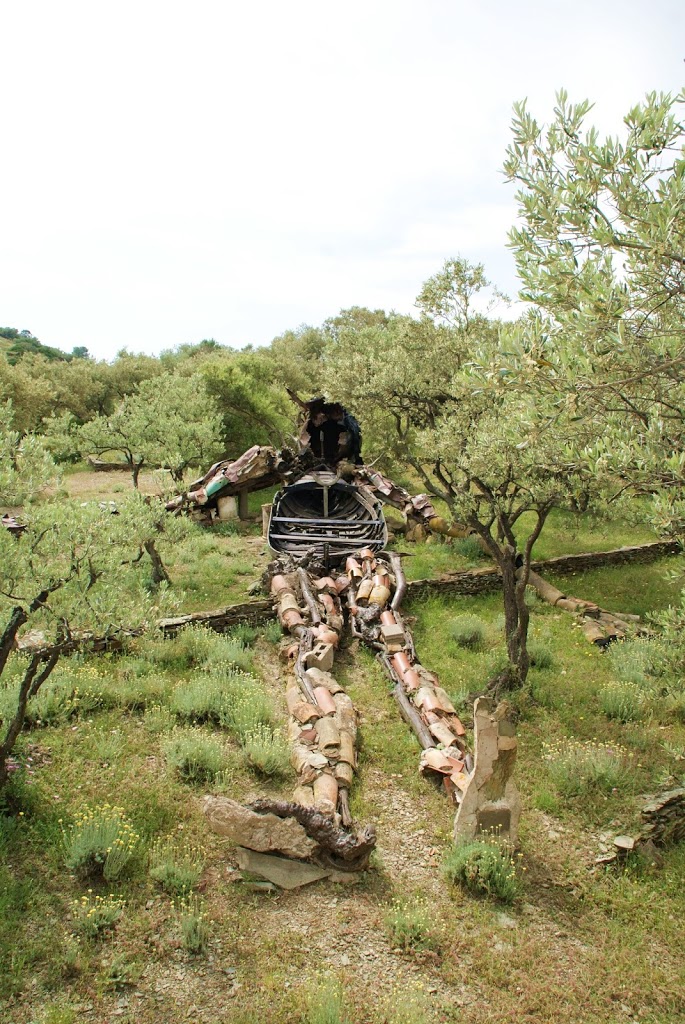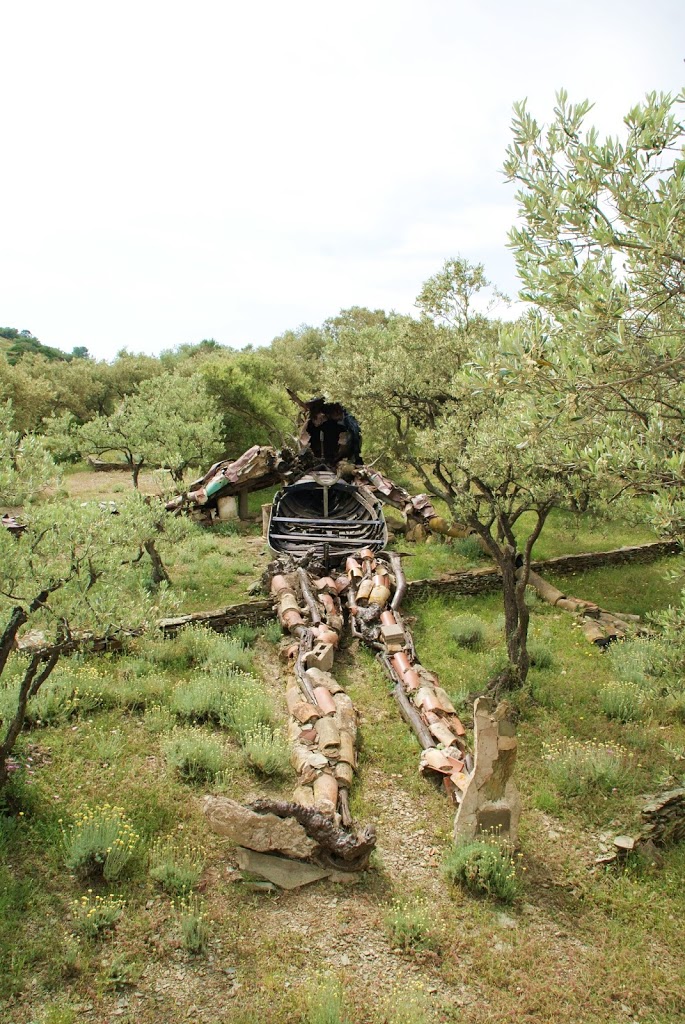 In the large garden behind the house Dali had a large olive garden. In between the olive trees you could find this large statue, which is build to resemble a lying man around a wooden boat.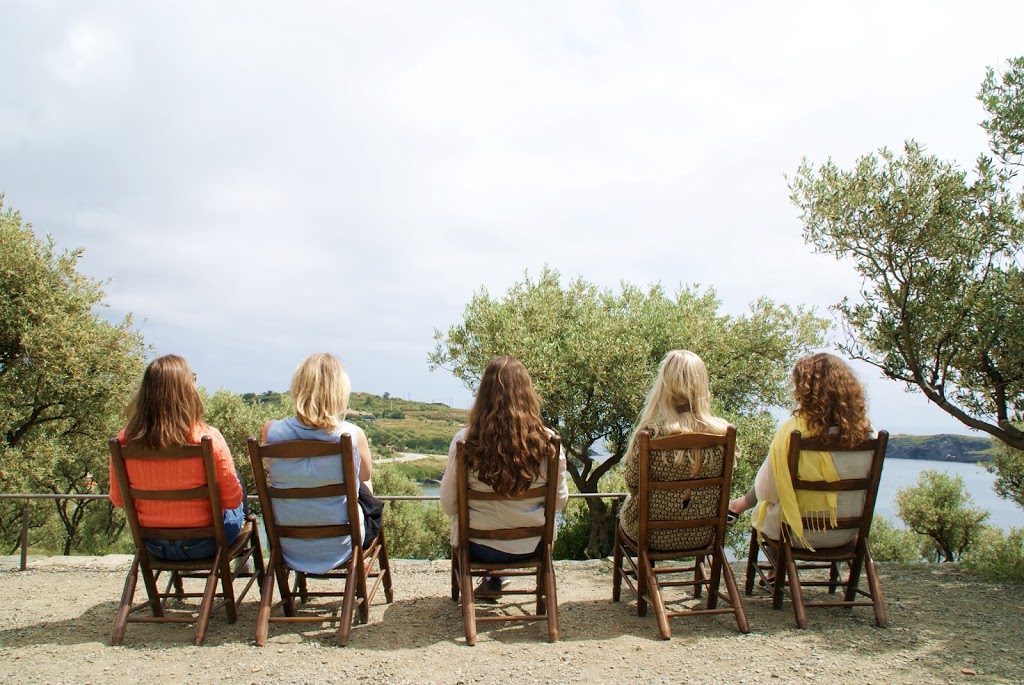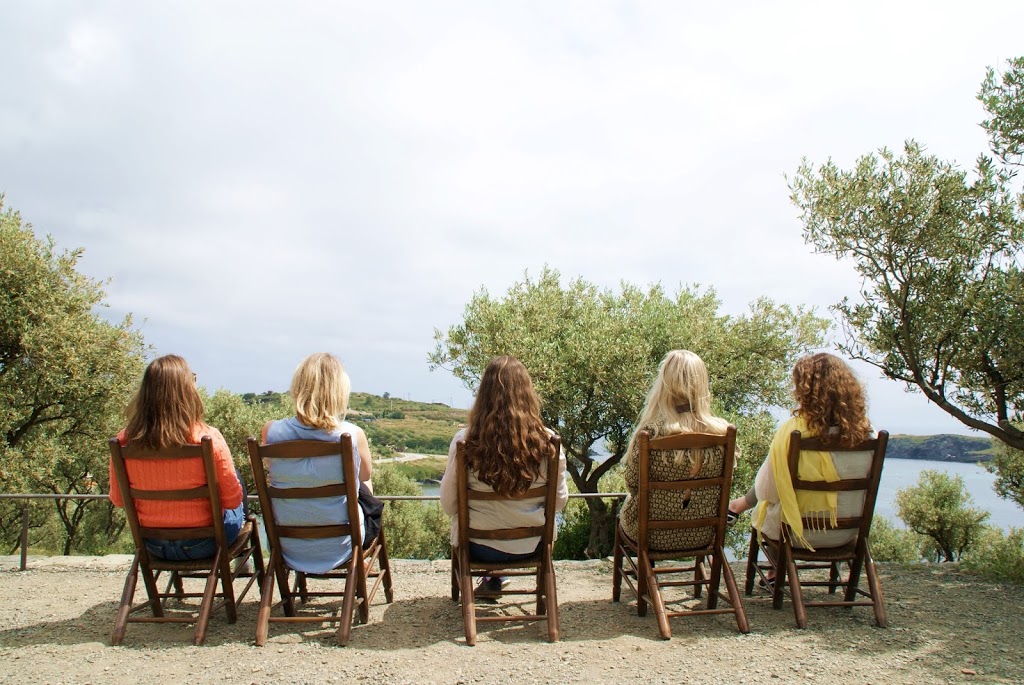 If you are feeling overwhelmed by all the impressions of the house and around the property, you'll be happy to relax a little in the chairs Dali designed facing the ocean. This view point is one of the most quiet areas, and was created to simply enjoy nature.
Would you find it interesting to visit the artist's home? I advise you to book your tickets in advance, as they only allow groups of 8 in at the time for the guided tours. The tour starts every 10 minutes, and if you lose your spot it can be tricky to get a new space booked. The tour itself only takes 40 minutes, and is well worth the time! Read more about Salvador Dali's private home and museum, and other museums connected to him and his art here.
The trip to the Costa Brava happened as a part of a collaboration project #CataloniaCostaBrava between NordicTB, Costa Brava Tourism Board and the Catalonia Convention Bureau. All opinions are my own.
This post is also available in: Norsk bokmål