5 top tips when in Bologna, Italy
Bologna is a beautiful, welcoming city. Stroll around the streets or climb a tower to enjoy the city from above, and you cannot help but notice the delightful palette of yellows, oranges and reds that colour the city. A comprehensive restoration project, initiated in the late 1970s, has thankfully preserved many of the historical buildings and large parts of the core structure of the city's historical centre. One characteristic feature in Bologna are the beautiful arcades fronting most of the buildings, providing welcome shelter when walking around town, either from the hot sun or a rain shower.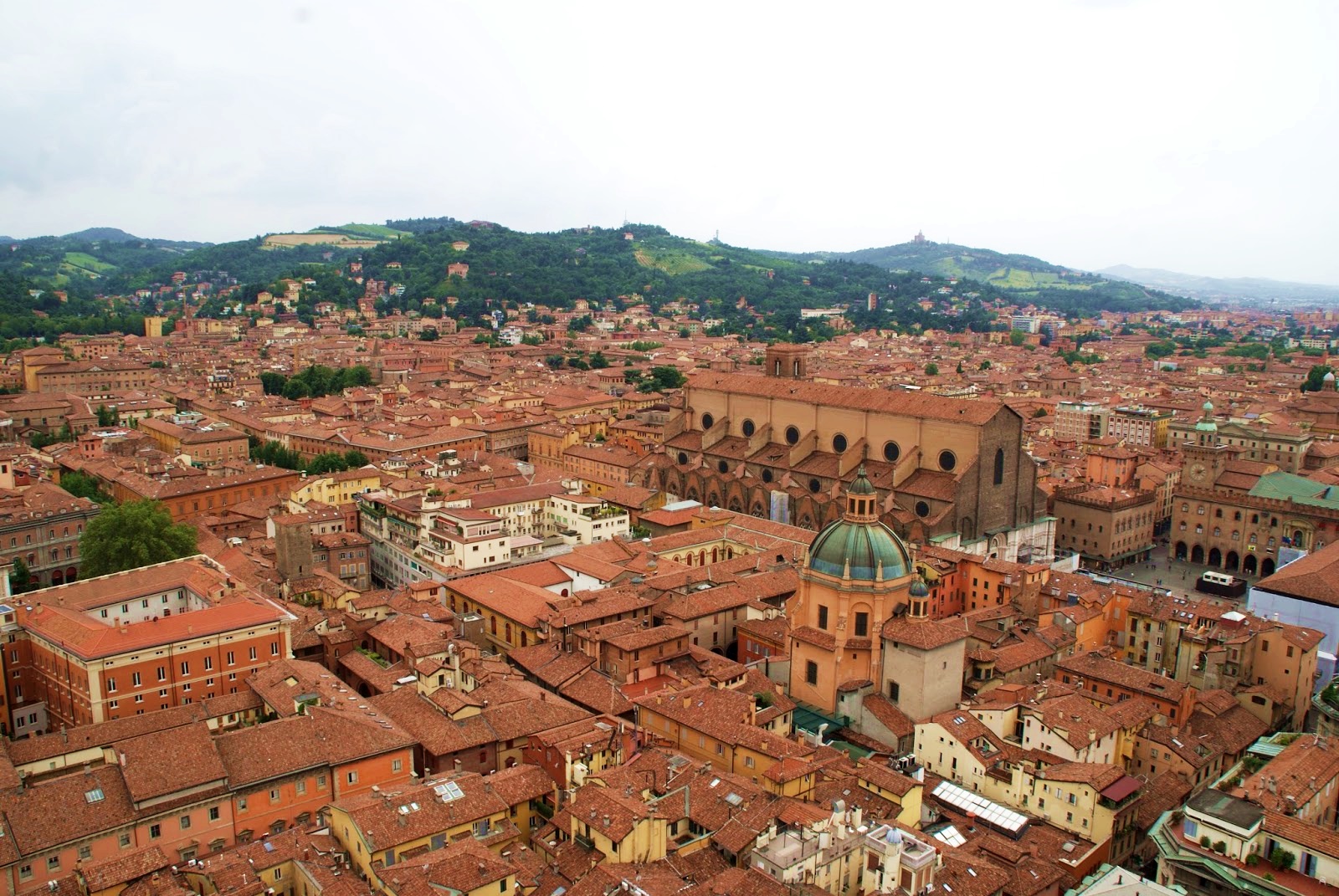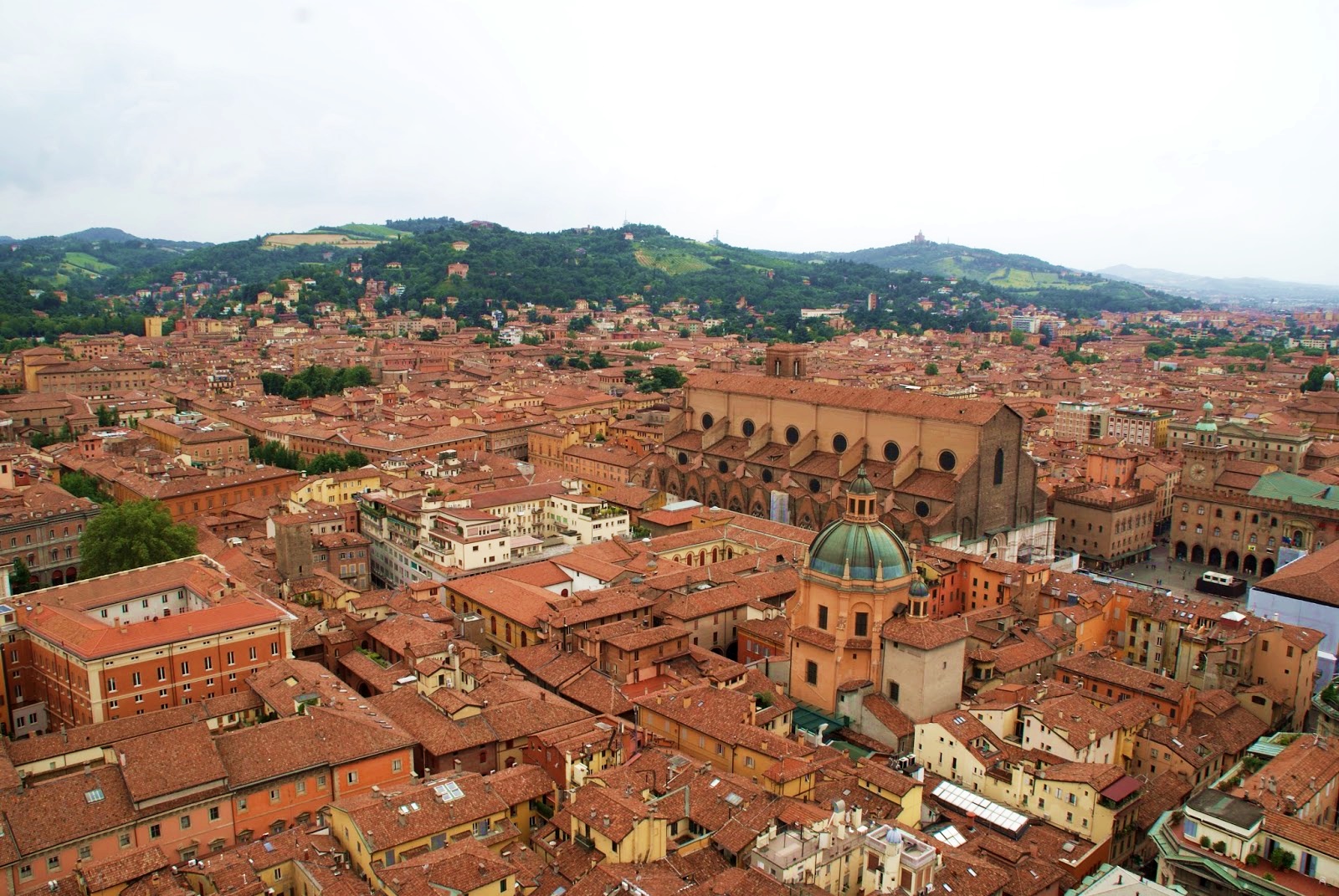 On Sundays, the two most central shopping streets – Via Rizzoli and Via dell'Indipendenza – are closed to traffic and are perfect for a quiet Sunday stroll. The absence of cars brings a whole new life to these streets on Sundays, with a fascinating variety of street artists keeping you entertained. The major chain stores stay open on Sundays, while most of the smaller shops and stalls in the back streets are closed.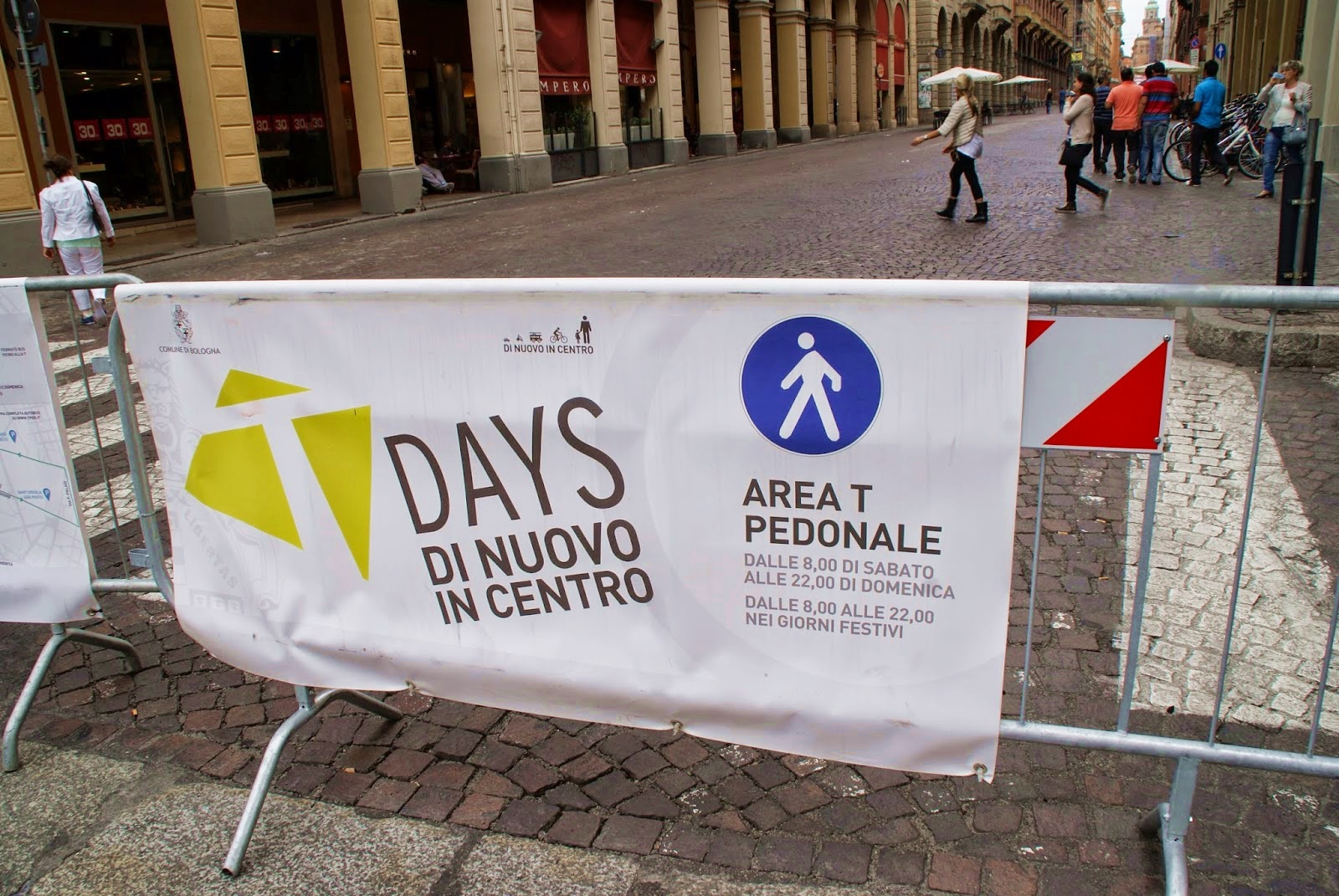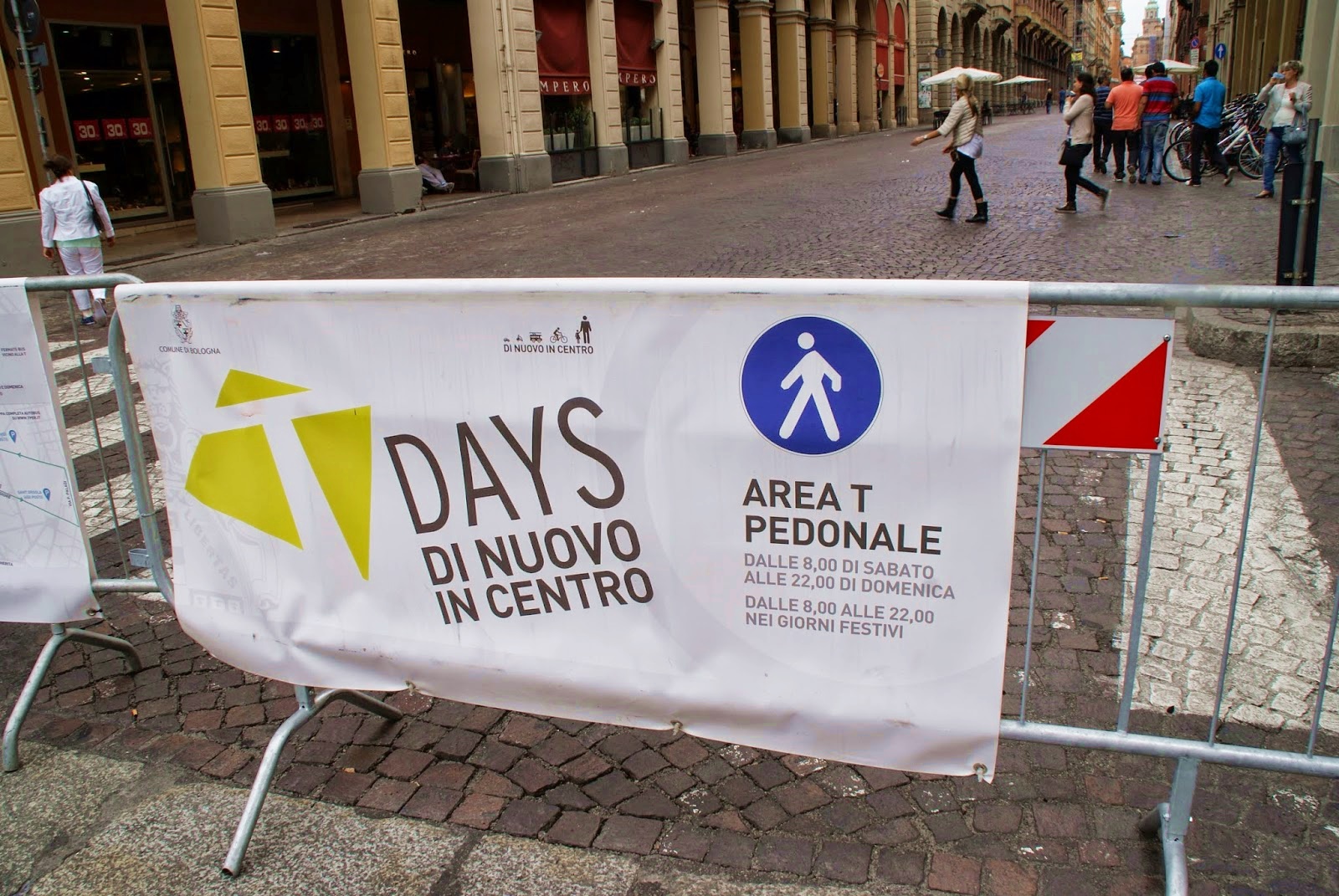 Bologna is a University city and therefore has a young, urban feel despite its historical facades. In the afternoons and evenings, people gather in the small, narrow streets and outside bars for an aperitive, a bite to eat and perhaps a beer or two later on.
Travelling to and from Bologna is simple. The city has its own international airport and is also the hub for nine of the main railway lines in Italy. You can travel directly by high-speed train from Bologna to Florence, Milan, Rome and Bari, or to and from most destinations in Italy by ordinary train services.
When in Bologna, there are several experiences not to be missed. Here is my top-five list of things to do in the city: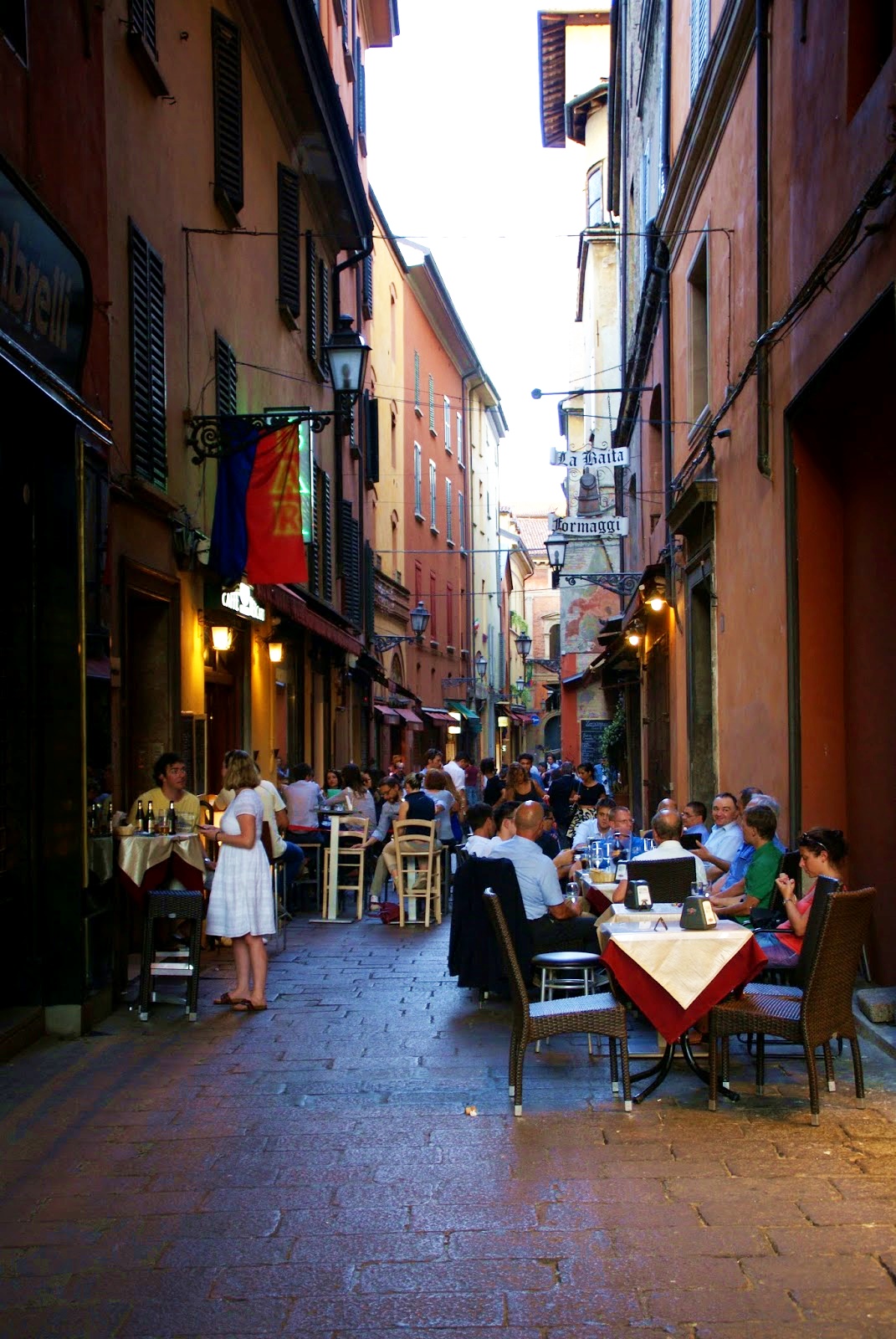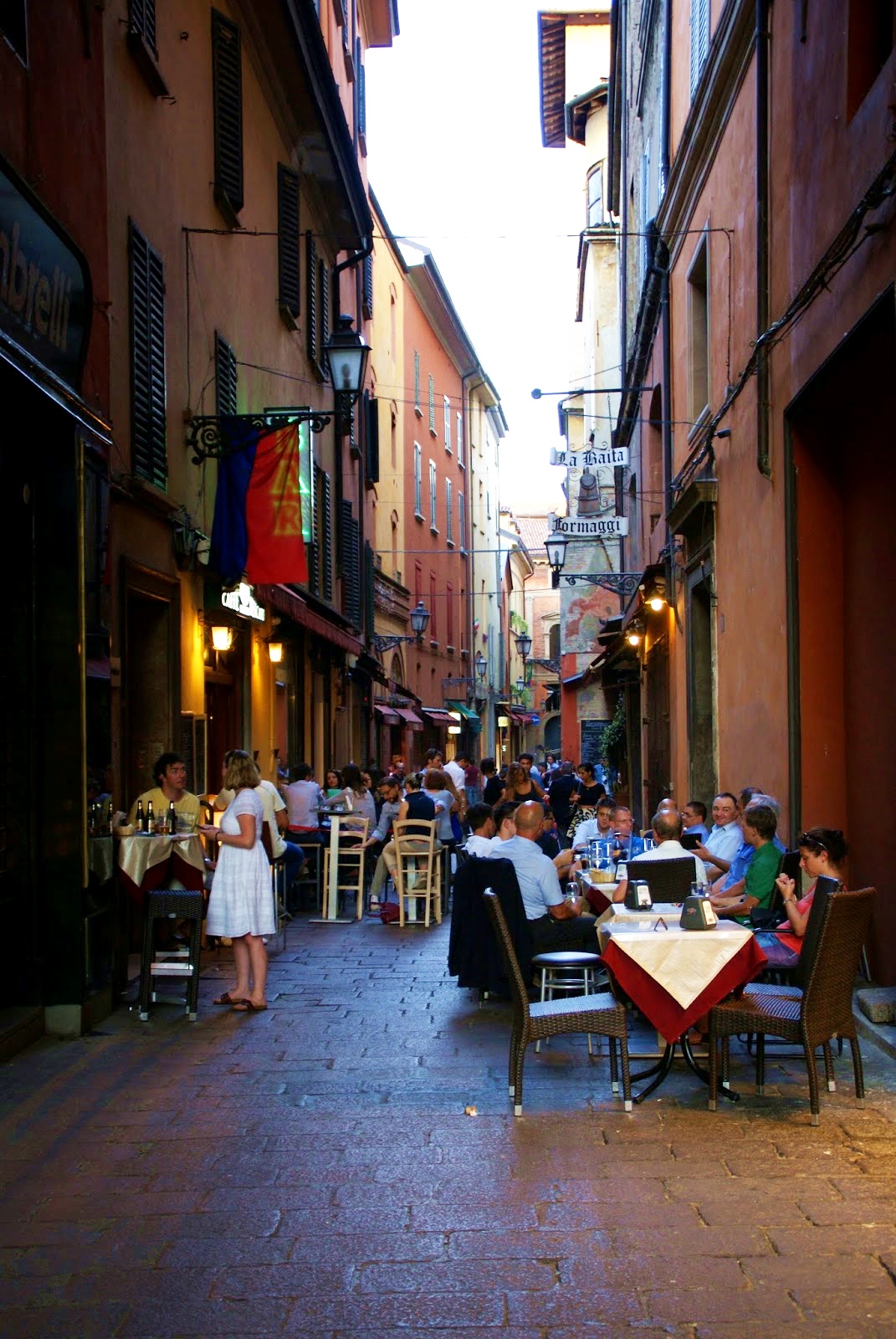 Enjoy locally produced food and drinks
Forget about Spaghetti Bolognese, you won't find it in Bologna. This international dish is actually derived from the local Tagliatelle al Ragù, made using fresh tagliatelle and a meat and tomato sauce sprinkled with Parmigiano Reggiano cheese. The perfect accompaniment for Tagliatelle al Ragù is a glass of cold Lambrusco, a sparkling red wine produced locally.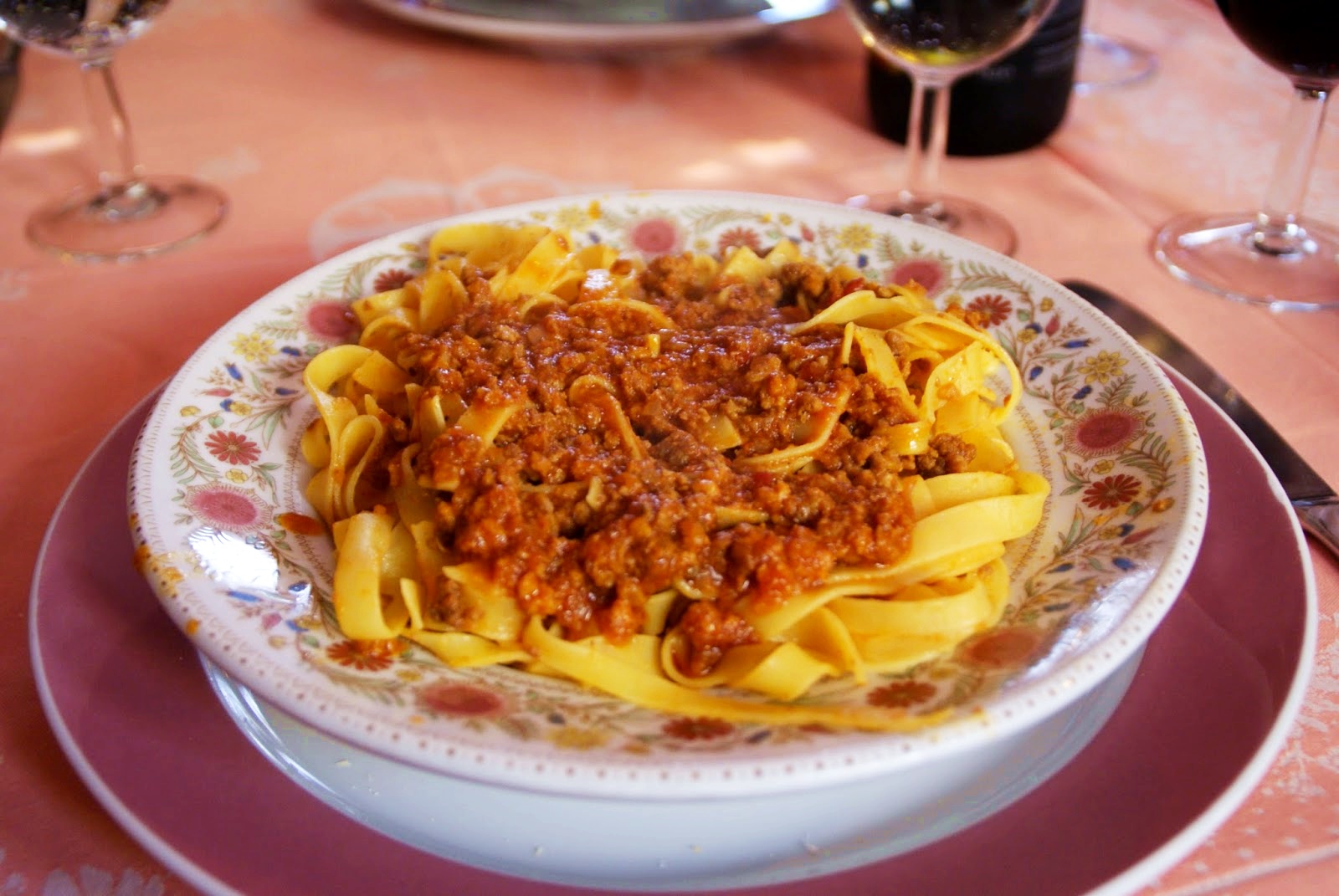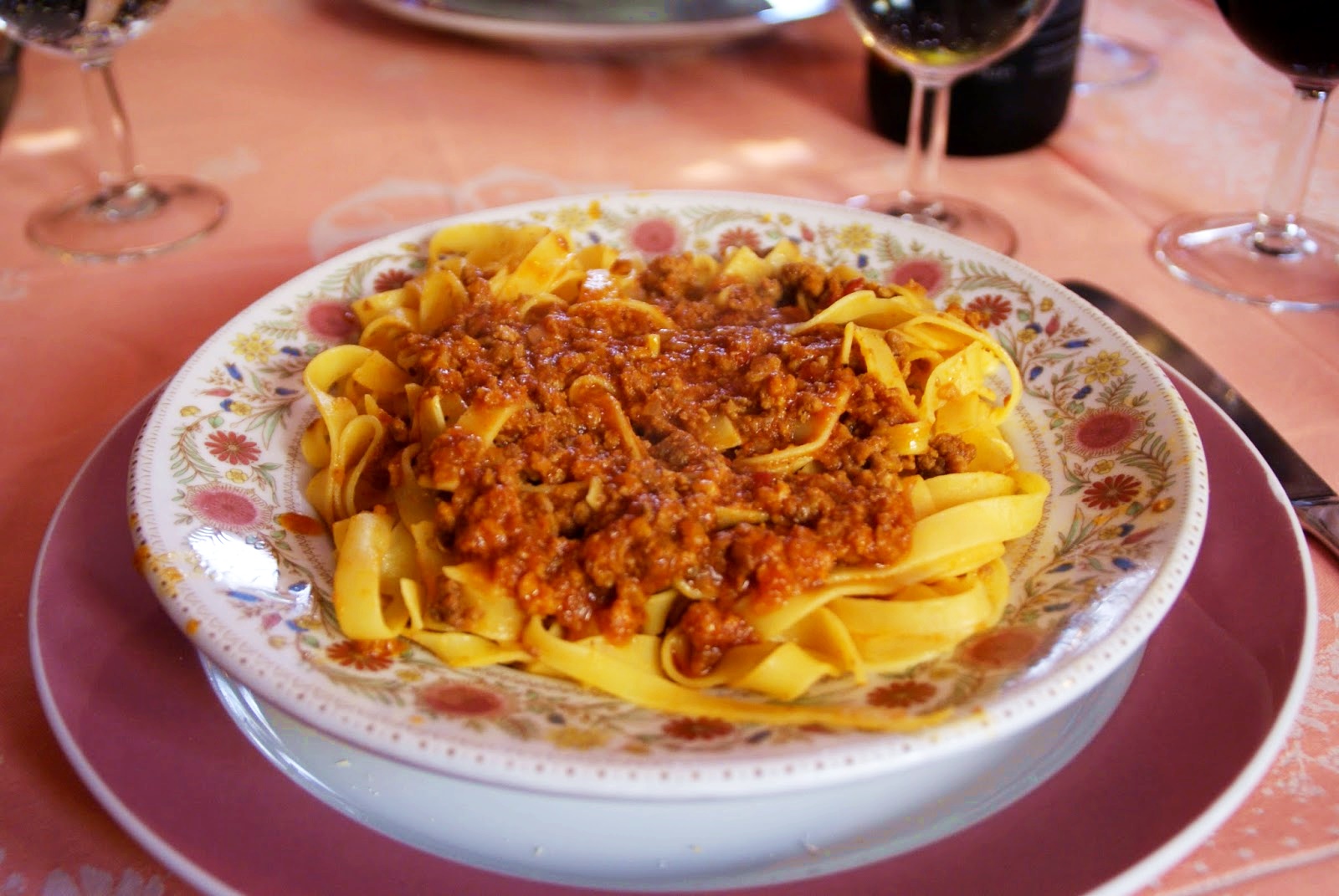 The local hams, sausages and cheeses are delicious, and can be enjoyed as a light meal or shared as a starter or antipasti. Grab a table outdoors so you can people-watch with your meal.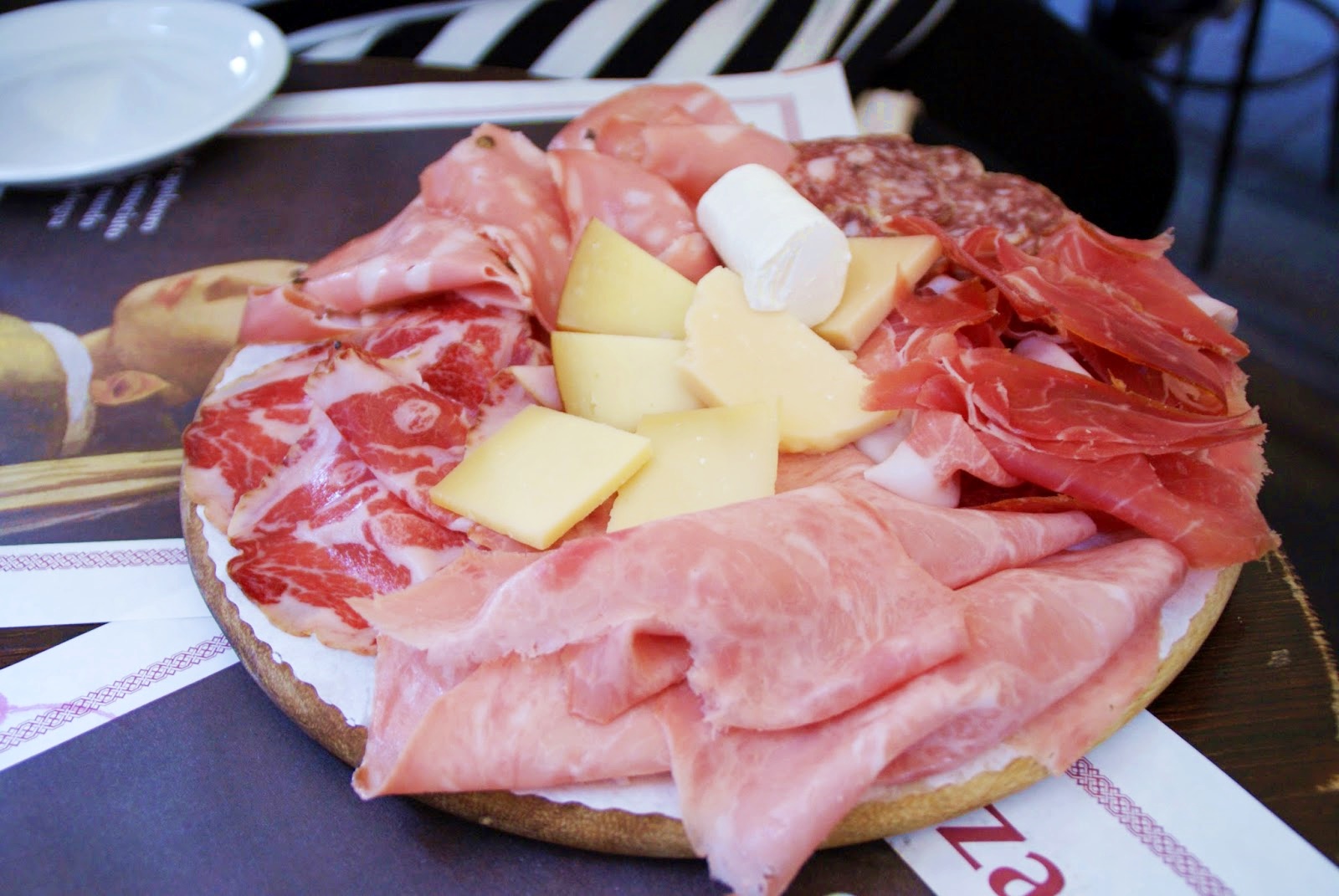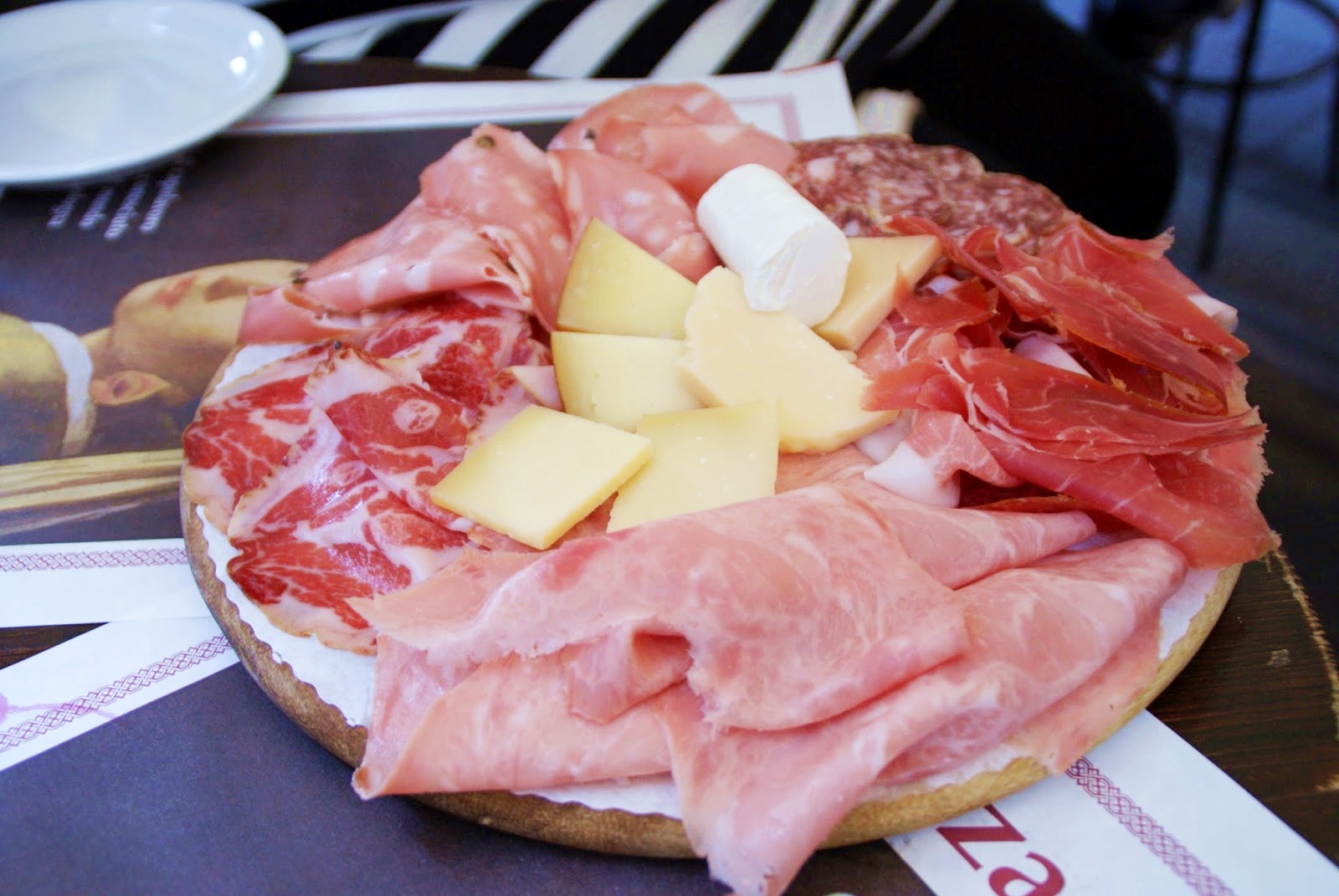 Before you leave, pay a visit to Tamburini, a delicatessen selling most local foods and wines in portions and packages that are easy to carry home with you, so you can bring back the flavour of Bologna.
After a delicious meal, you will no doubt be tempted to try just a tiny portion of the fresh Italian ice-cream, or gelato. With gelato stalls dotted around the city, you will have plenty of opportunity to try every flavour.
Get a bird's eye view of Bologna
To truly take in the city and its beautiful palette of warm colours, you should view it from above. Climb up the tallest of the two sister towers that make up Le due Torri. The tallest is the Asinelli tower at 97.2 metres. After ascending the 498 steps, you will feel as if you have the entire city at your feet. The Asinelli tower was built in the early 12th century and is one of 20 surviving towers in Bologna. The city used to have more than 100 of these towers but this number has been reduced significantly by fires, earthquakes, poor maintenance and urban development.
Le due Torri – The leaning tower of Garisenda on the left and the tallest tower, Asinelli, on the right.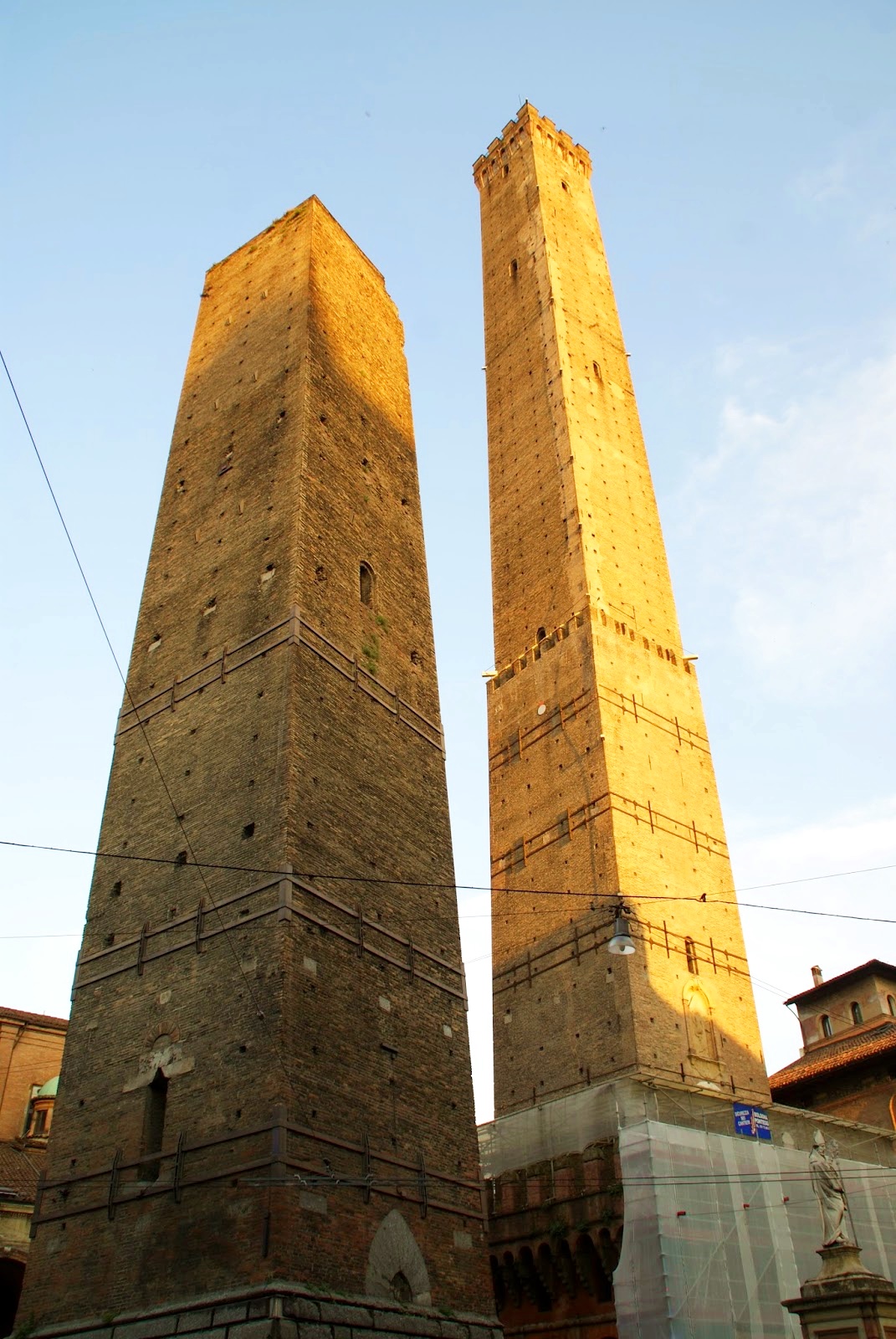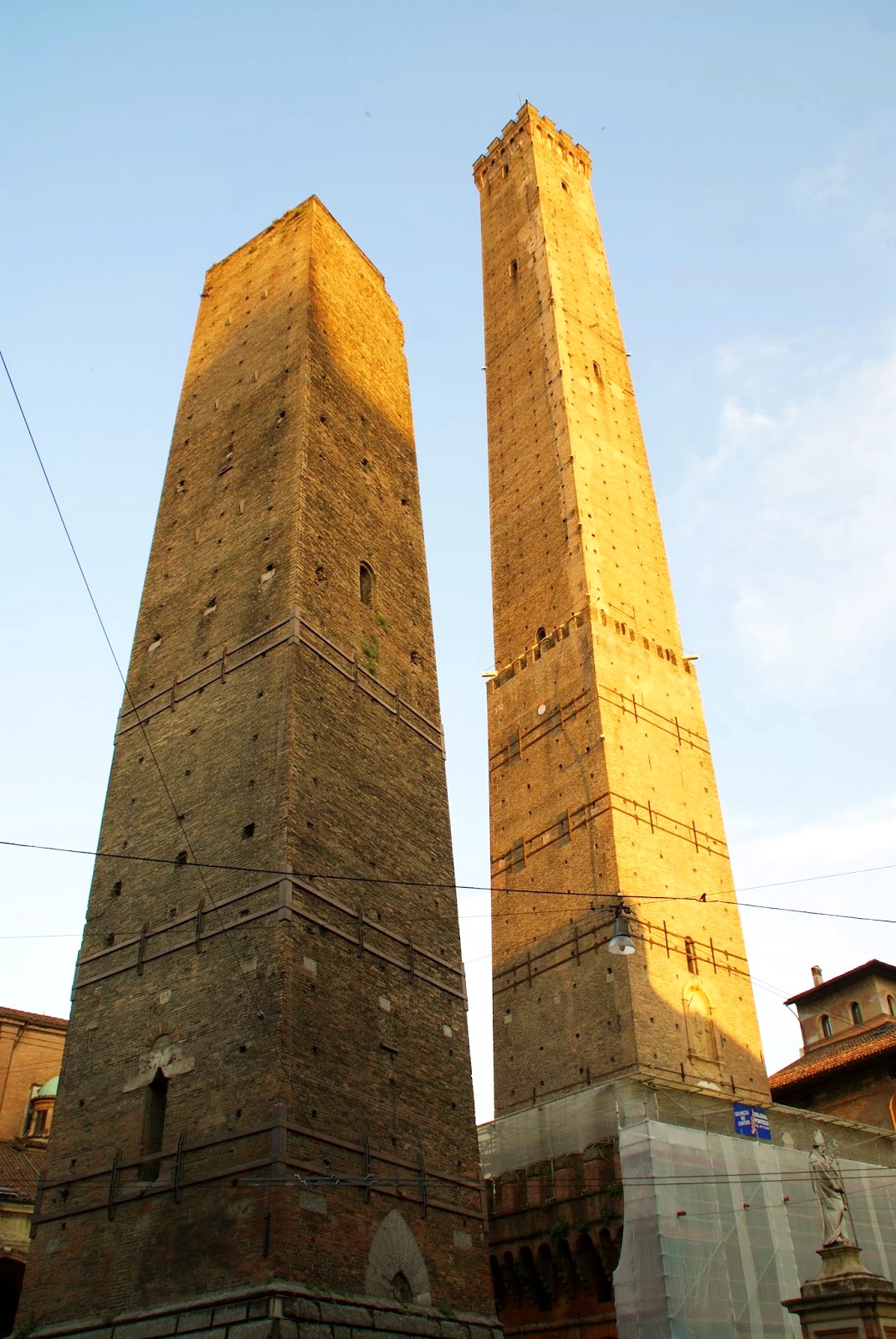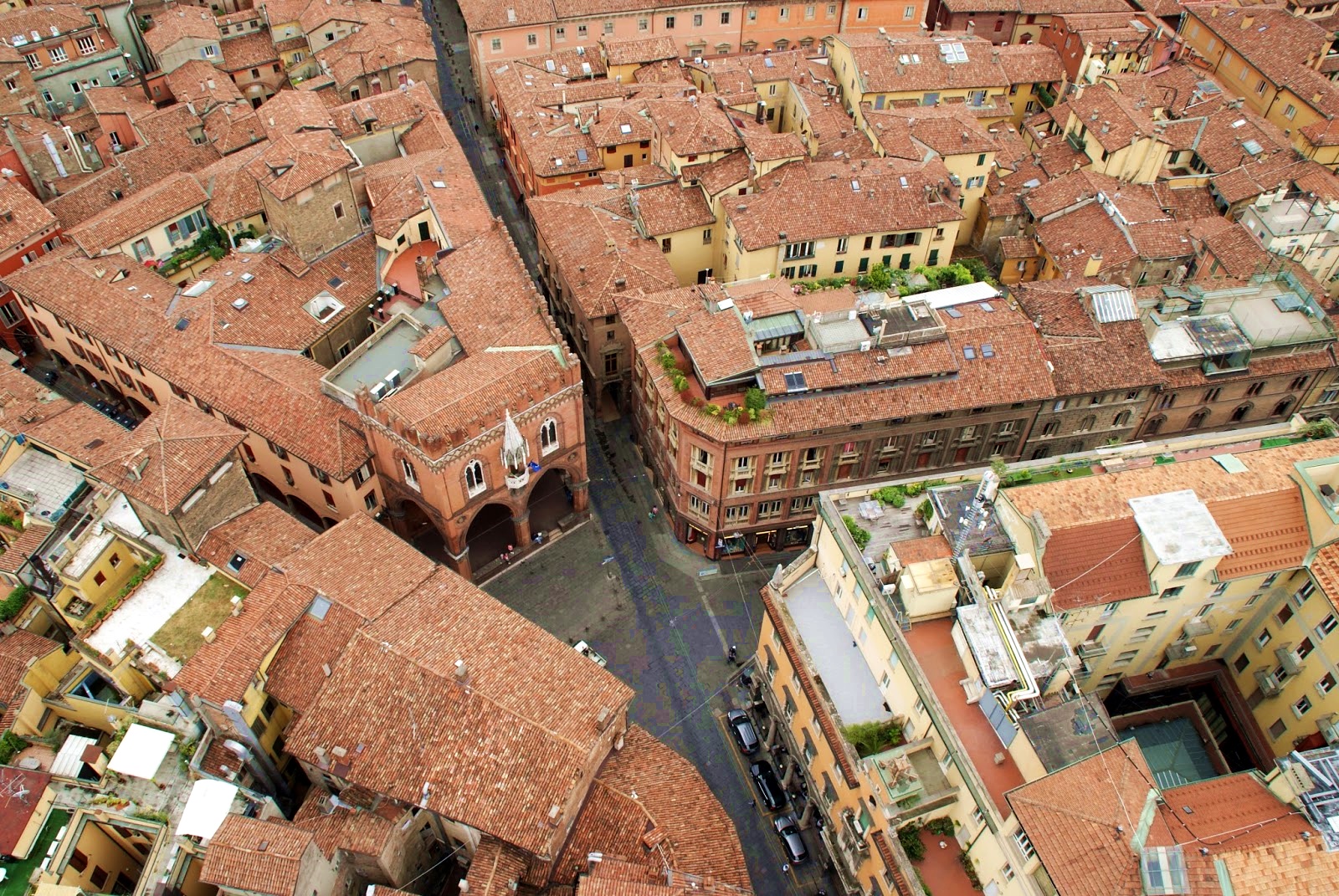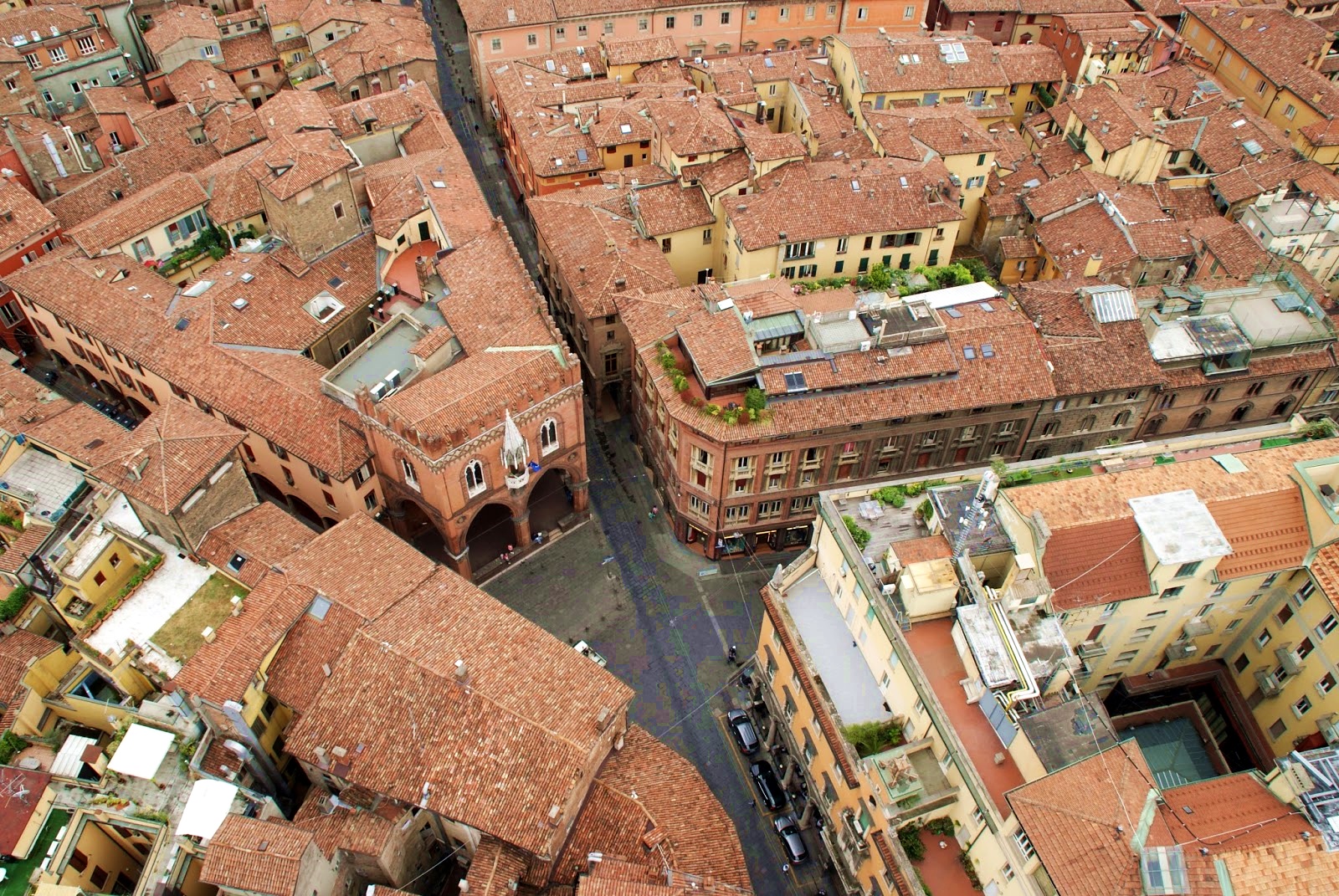 Criss-crossing streets viewed from the Asinelli tower.
Strolling through the streets of Bologna
Leave your map behind and get lost on a stroll through the city's alleyways and streets. Bologna is criss-crossed by beautiful, narrow streets interspersed with charming, small piazzas with a café or small park. You will also come across small markets and stalls selling vegetables and other items. Take a break in one of the tiny piazzas and enjoy a cup of coffee or bite to eat alongside the locals.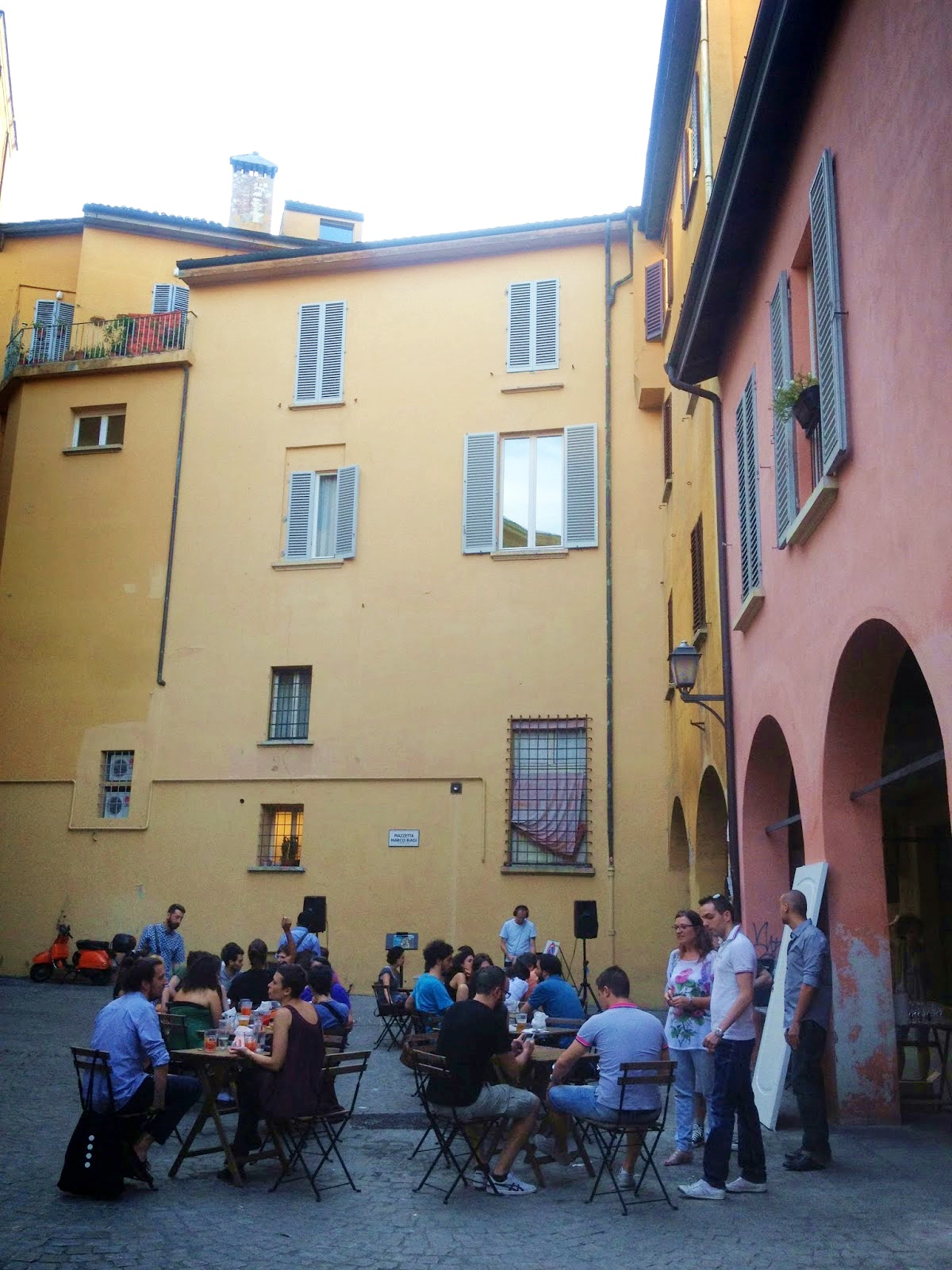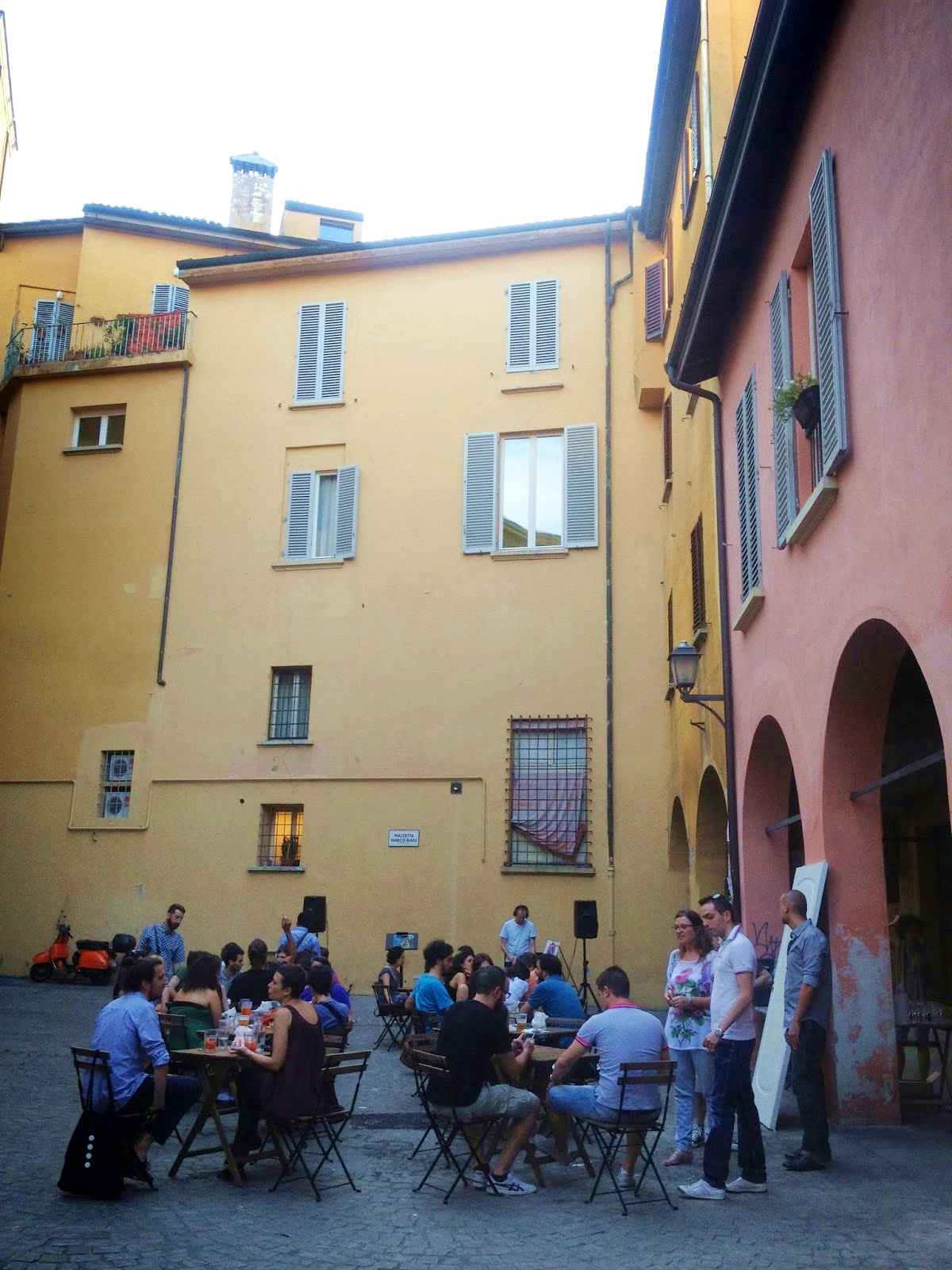 Bologna is also a city of canals although most are now covered over. You are almost guaranteed to come across a charming, small bridge crossing one of the open canals as you wander around the streets.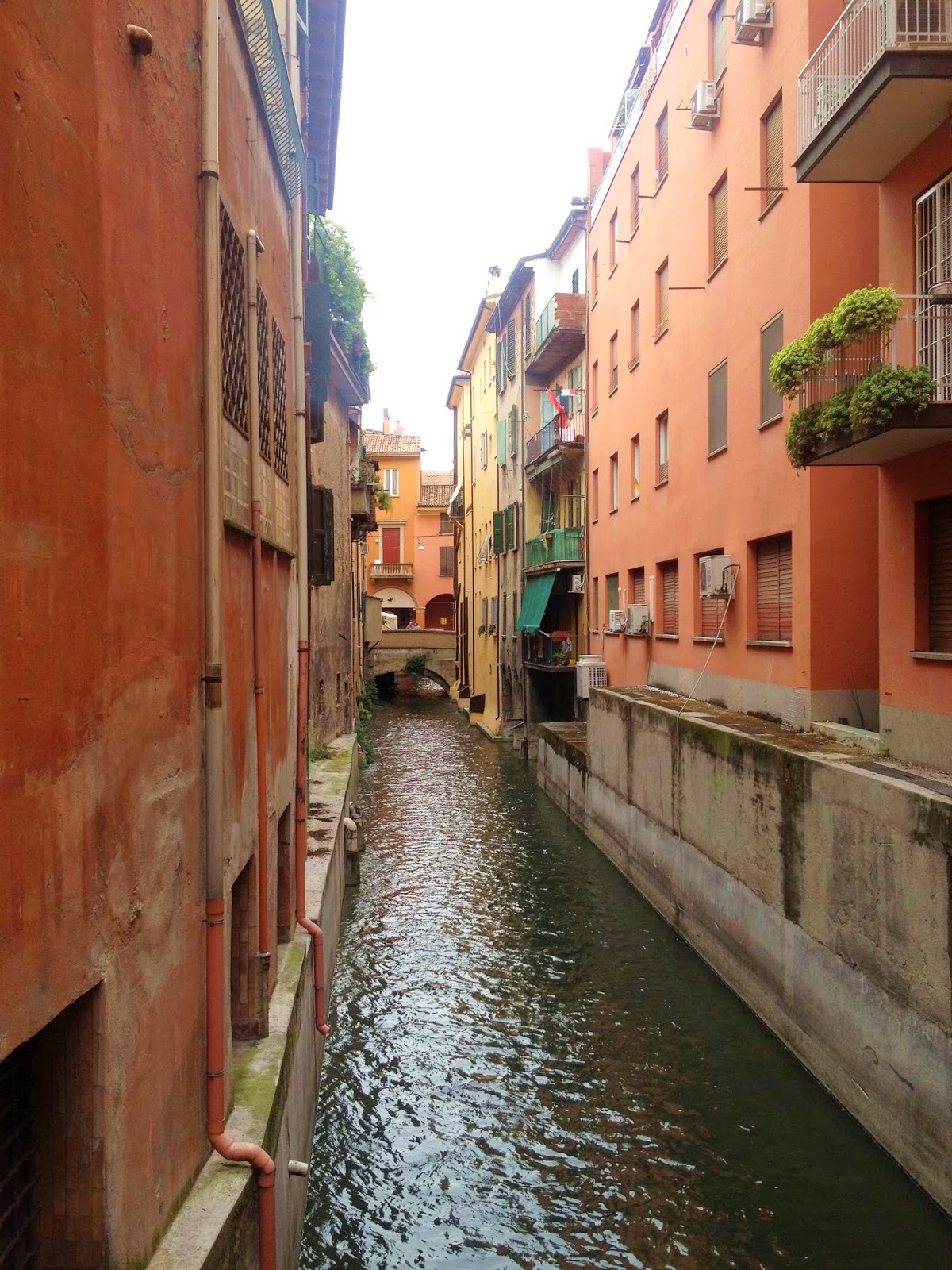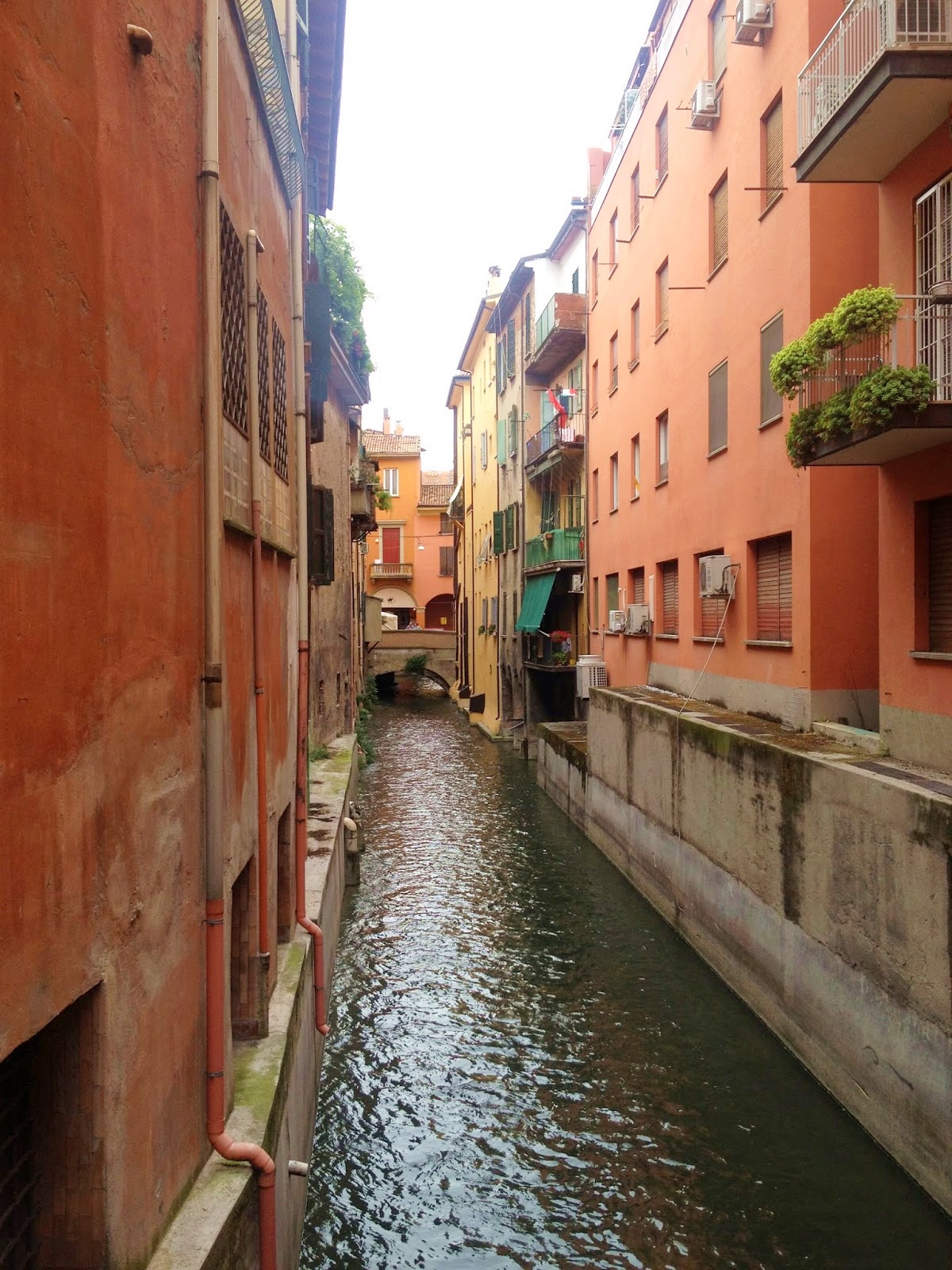 Don't forget to look up
Don't forget to look up as you walk around the city. All the arcades have beautiful features and ornamentation that are well worth a stiff neck. Most arcades have wonderful details in the ceilings and ornamental pillar tops to please the eye.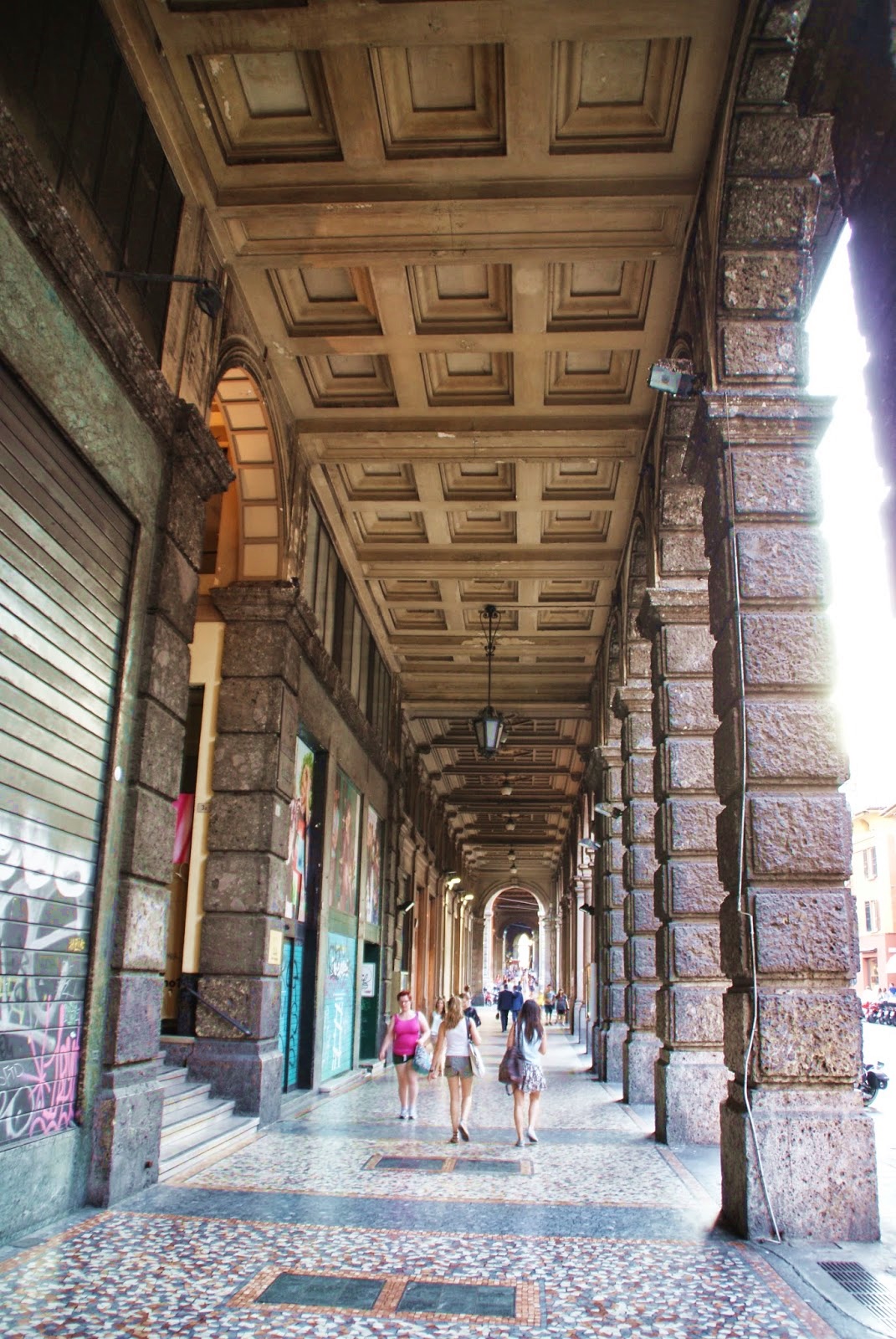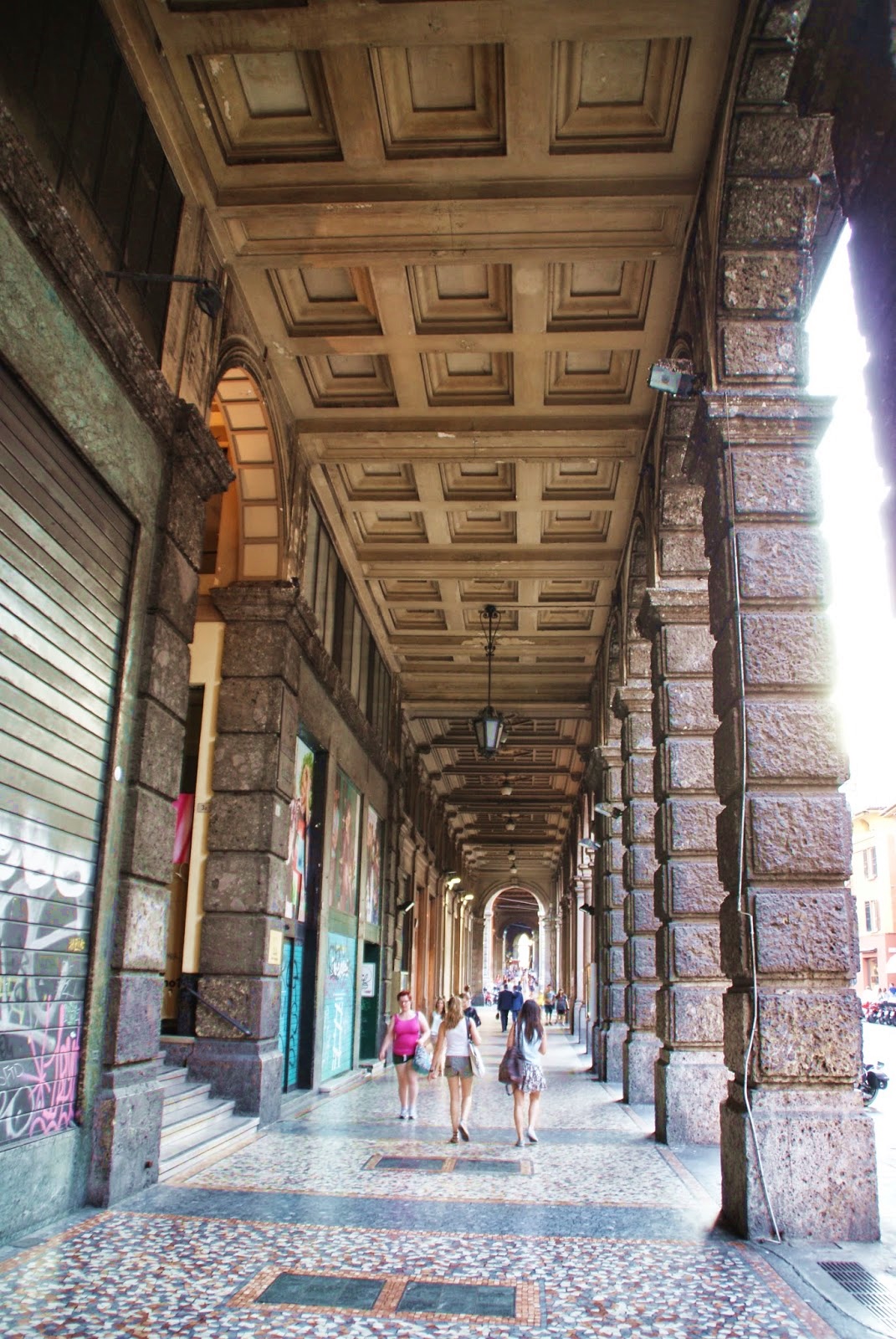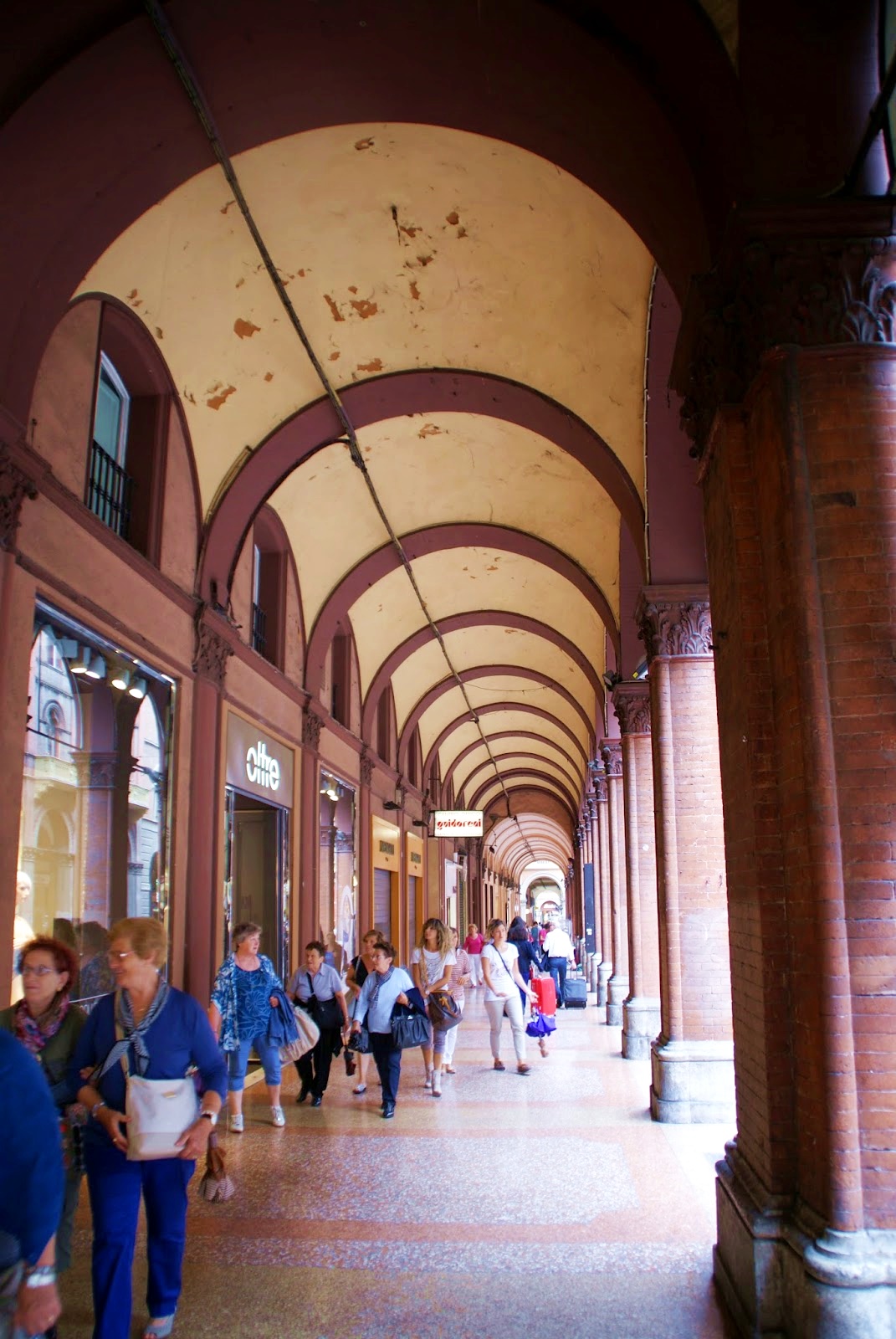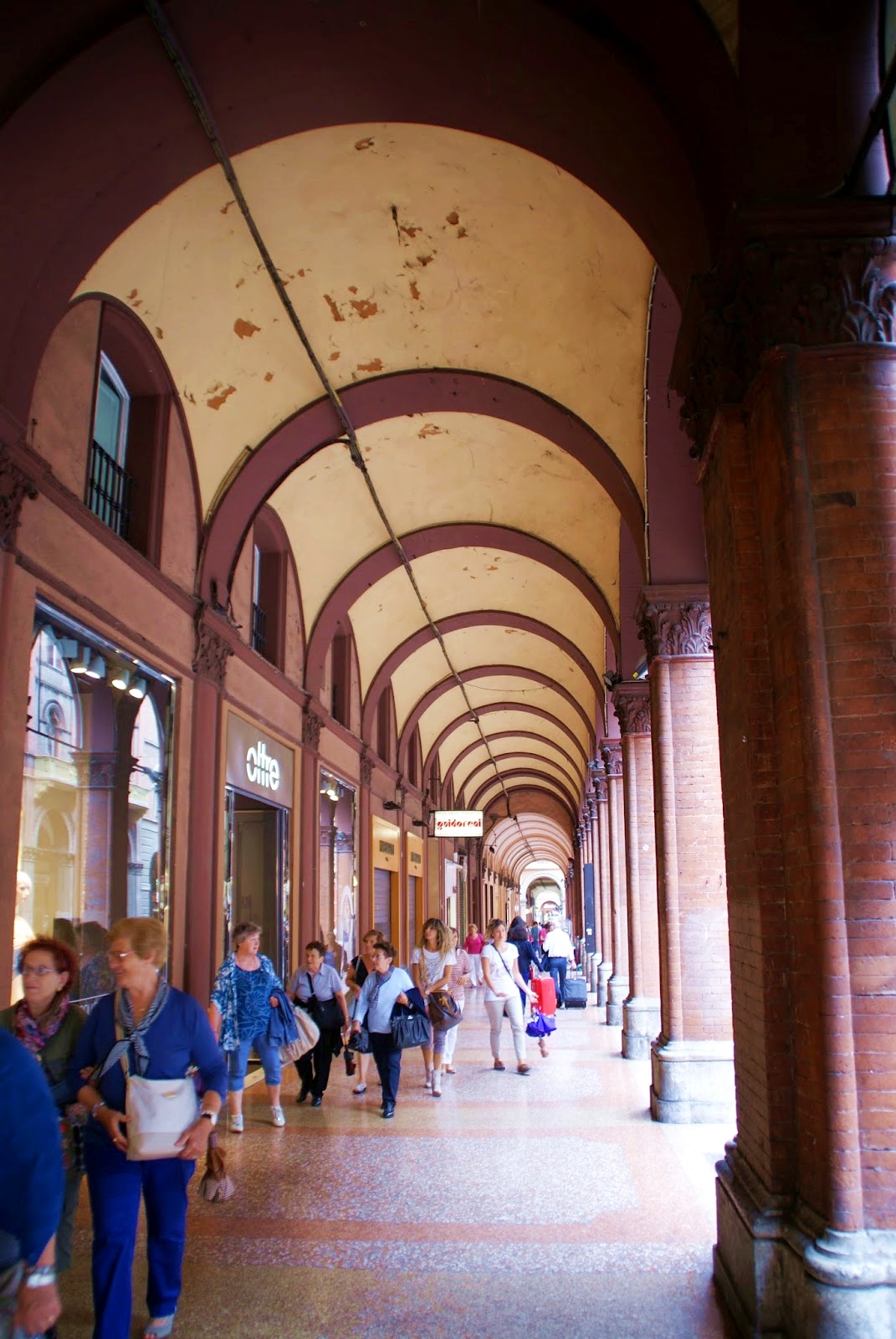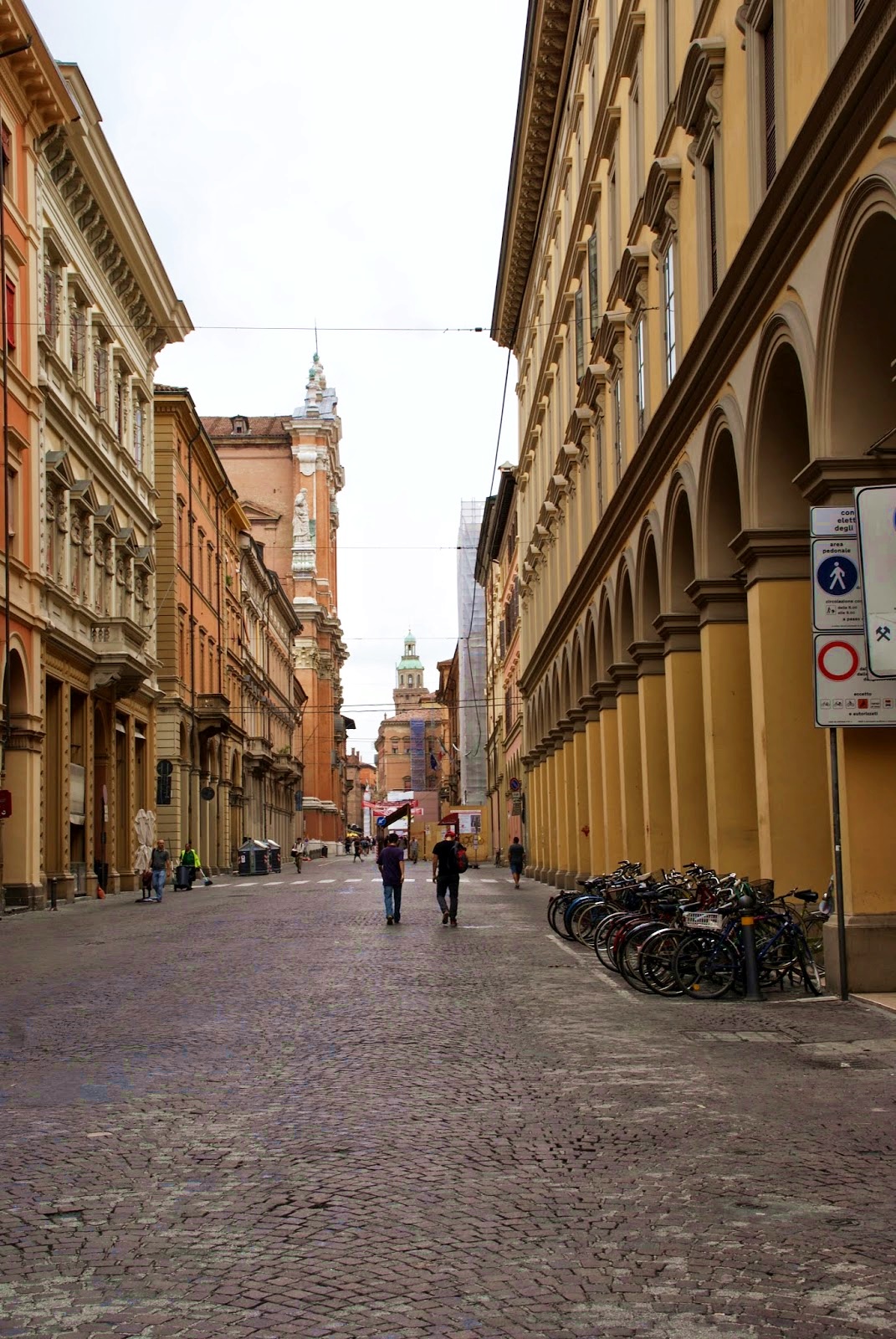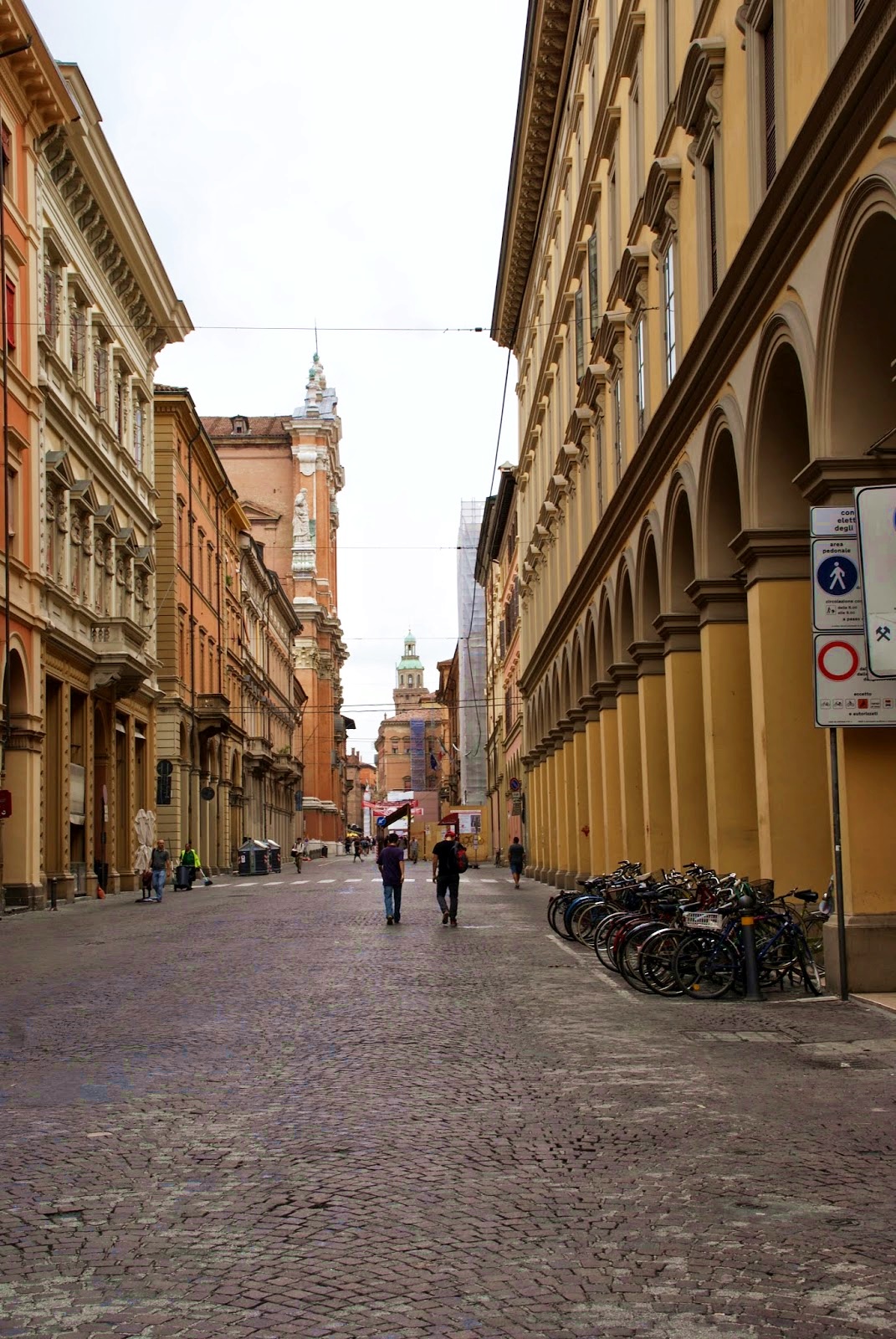 Beautiful details in the arcades and columns
Meet the locals in Bologna
Any city's atmosphere and mood is commonly determined by its citizens. The people in Bologna are just as warm and welcoming as the colours that dominate the city. They are open, inclusive and genuinely interested in you. They are proud of their city and more than happy to share both their experiences and recommendations. Talk with them, ask them questions or for recommendations, and you are guaranteed to gain new experiences every day.
One of the locals from Bologna recommended a fantastic restaurant that was hidden away off the beaten track, and we were fortunate to enjoy one of the best meals during our time in Bologna. So now we can recommend Drogheria Della Rosa to you too, for a unique dining experience.
The level of service and quality of food at Drogheria Della Rosa were absolutely fantastic!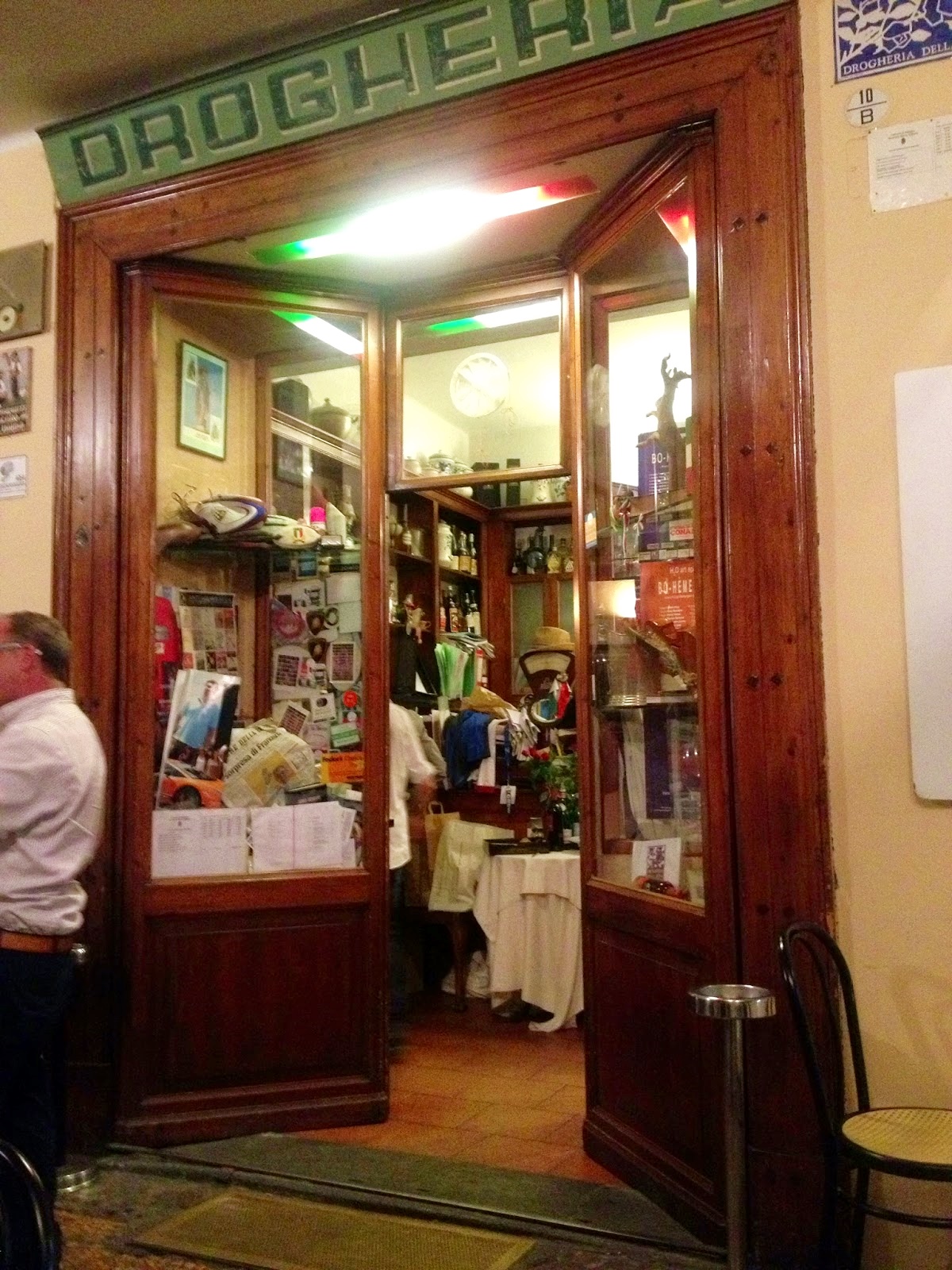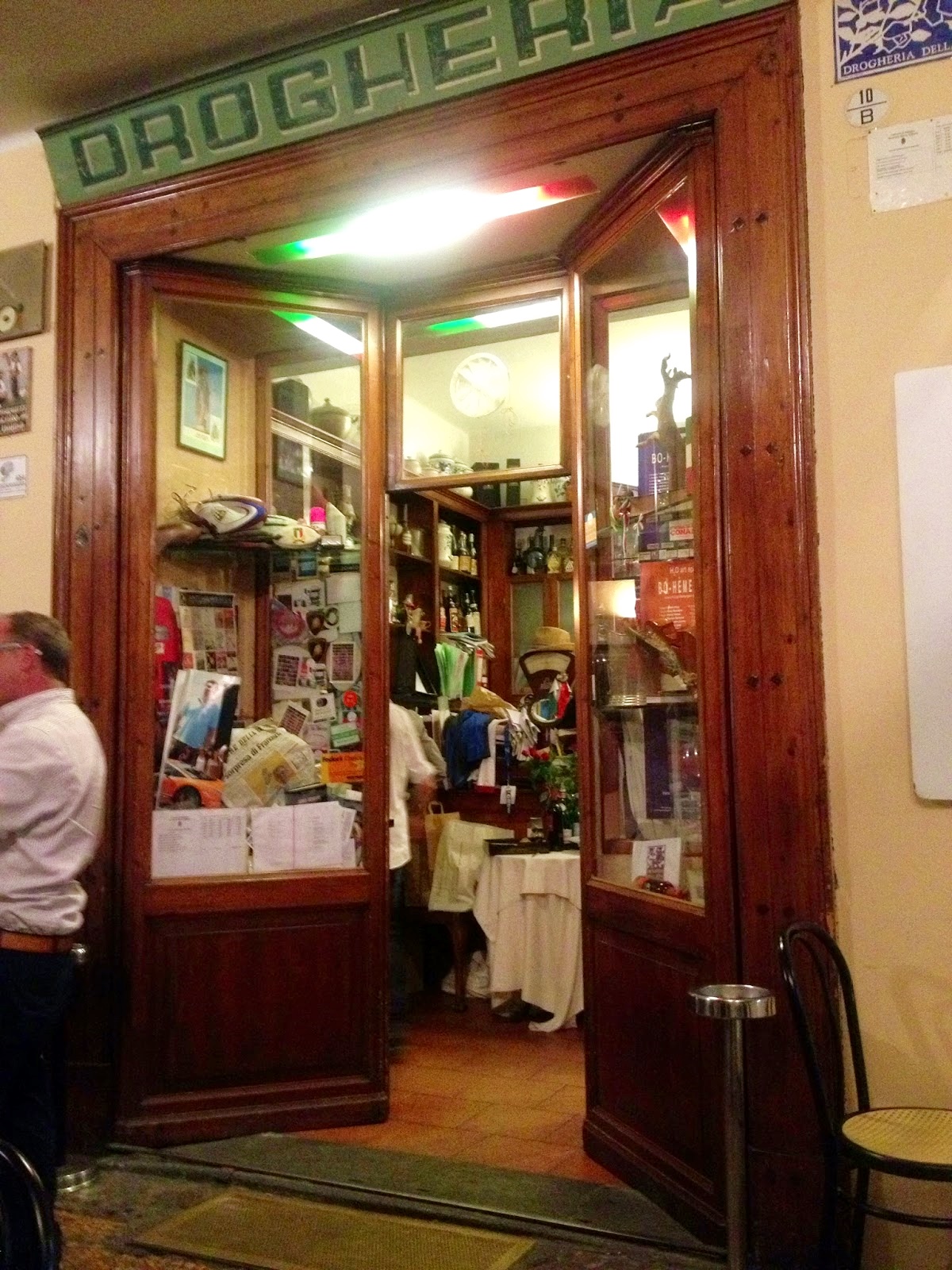 This post is also available in: Norsk bokmål