5 below freezing point, fun adventures in Ruka
If you enjoy outdoors adventures, don't let low temperatures, ice and snow stop you. There are a lot of great fun outdoors adventures to do below freezing point. Here's a list of 5 super fun adventures in Ruka Kuusamo, Finland to do during the winter season.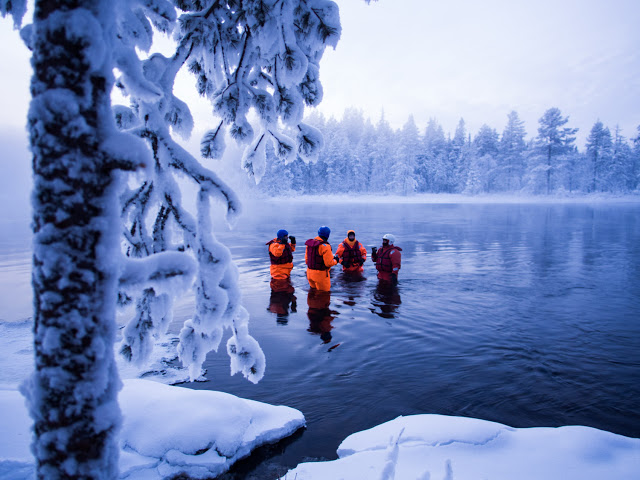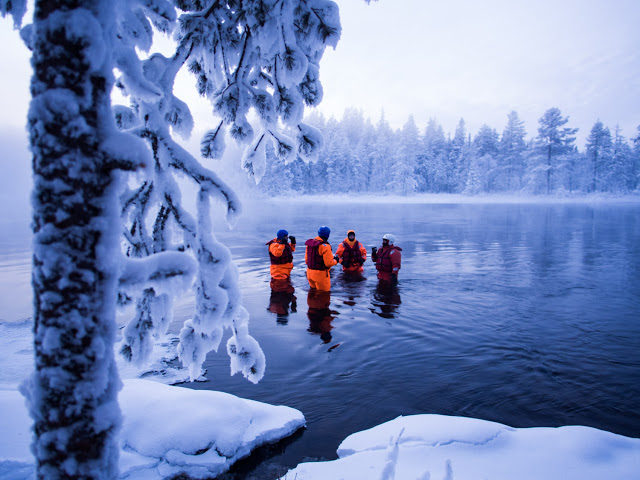 1. Ice Climbing in Ruka
I tried ice climbing for the first time during my visit in Ruka, and I must say, what a fun and challenging activity! In minus 20 C we dressed up in wool, fleece and winter clothes, strapped on our climbing harness, spiked up our shoes and put on our helmet and tried to beat gravity climbing up the steep ice wall using ice picks. It is actually harder than it looks when you don't know the technique, but once you got the hang of it, it's as easy as normal climbing.Hiighly recommended as one of your outdoors adventures in Ruka.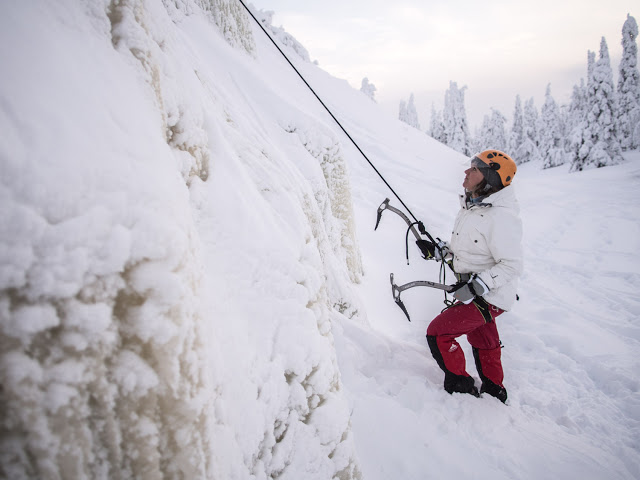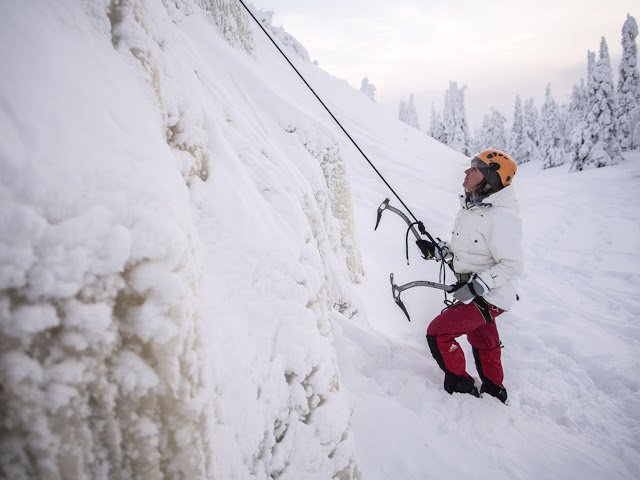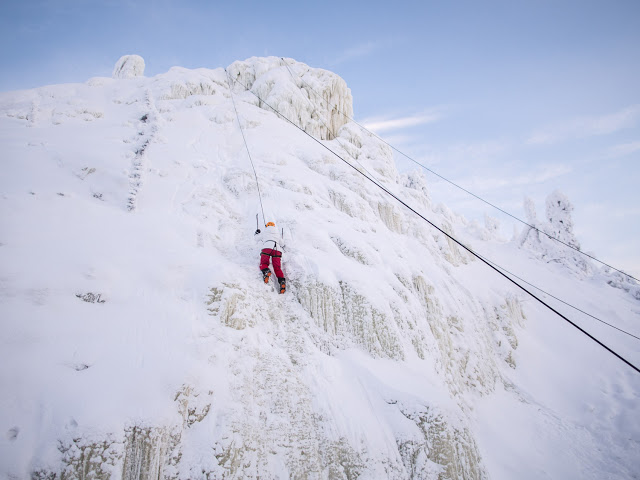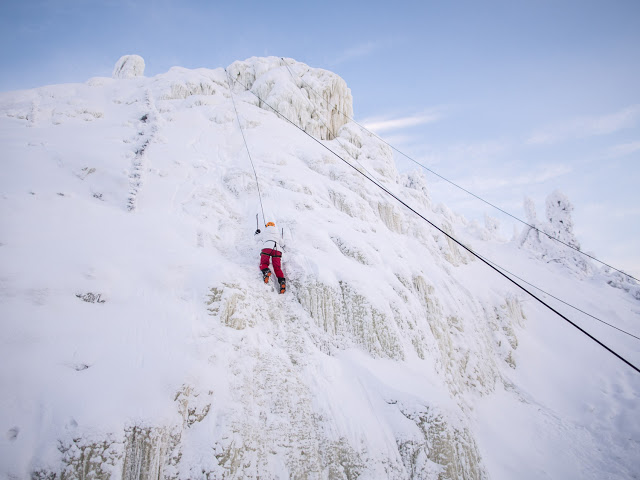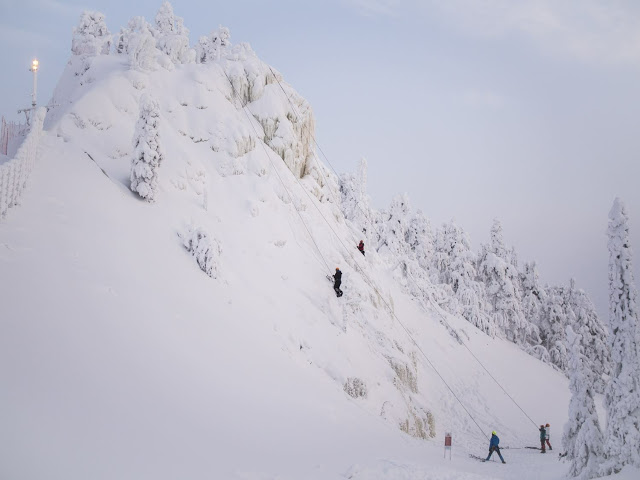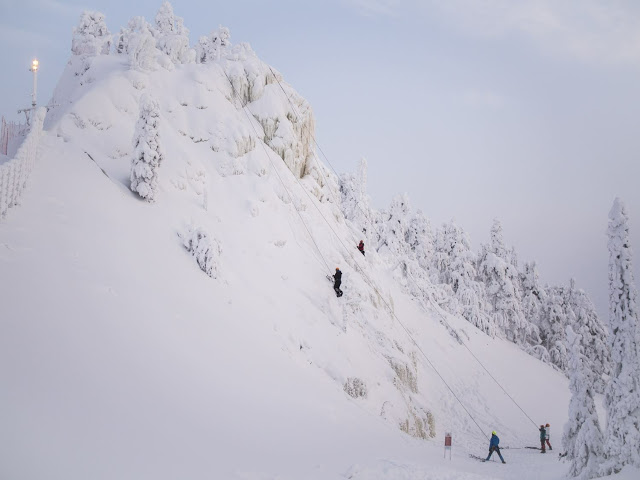 2. Ice Carting in Ruka
Have you tried driving a normal car on an icy road? It can be pretty scary and unpredictable. Have you ever tried driving a go cart car on an icy race track? It is so much fun! We tried out driving these small cars and it only took one round before the race was on. Remember to wear two layers of gloves, prefarably wool first. Your fingers are going to get cold when clinging on to the steering wheel trying to avoid spinning your car, driving into the snow or crashing into the others.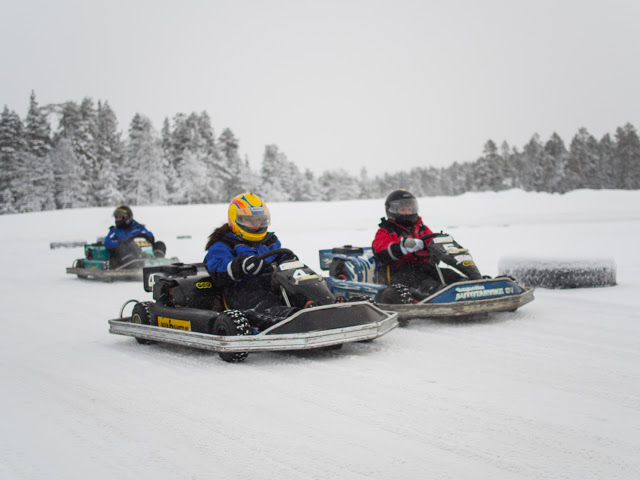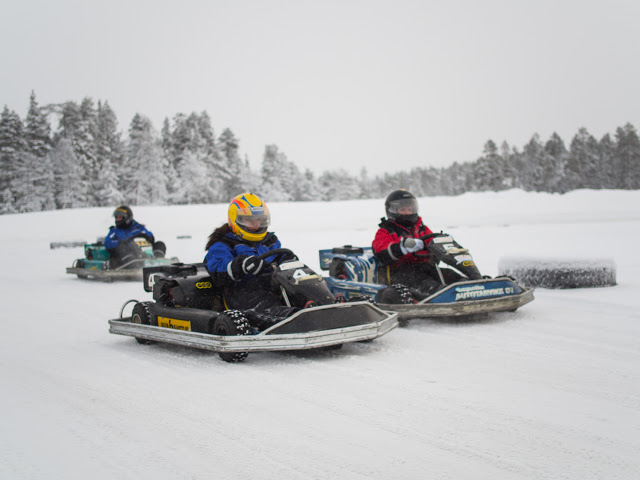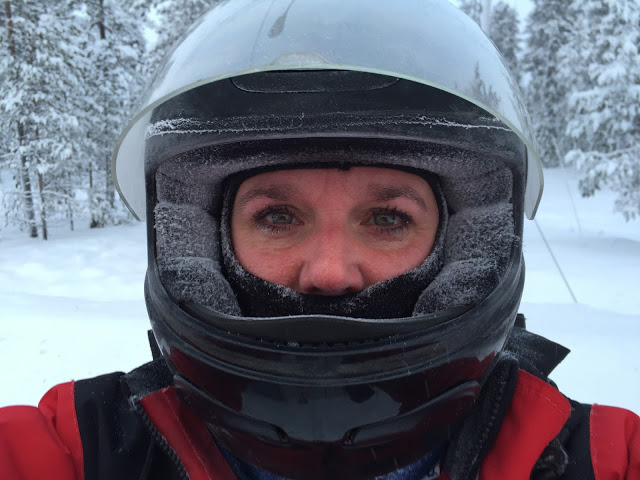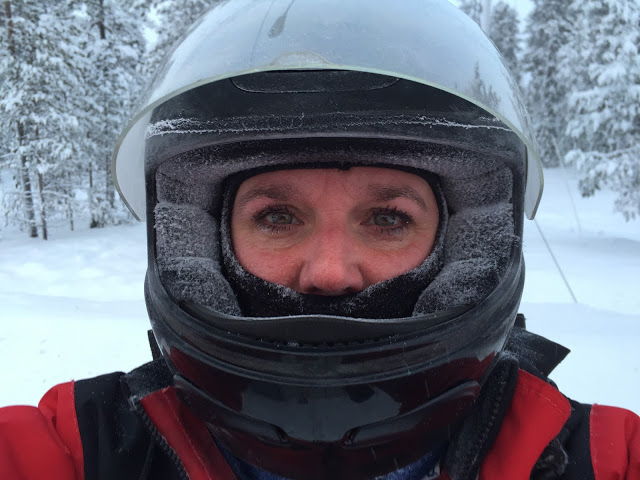 3. Ice Bathing
You don't visit Finland in the winter without trying ice bathing. Most of the Finns combine the hot and steamy sauna with trips outside to go dipping in the icy cold water in a hole in the ice. It is the most refreshing thing you can ever imagine and it actually doesn't feel as cold as you think it will. Roll in the snow after and then head in to the hot sauna again. Guarantied one of your favorite adventures in Ruka, and a great travel story you will tell your friends and family for years to come!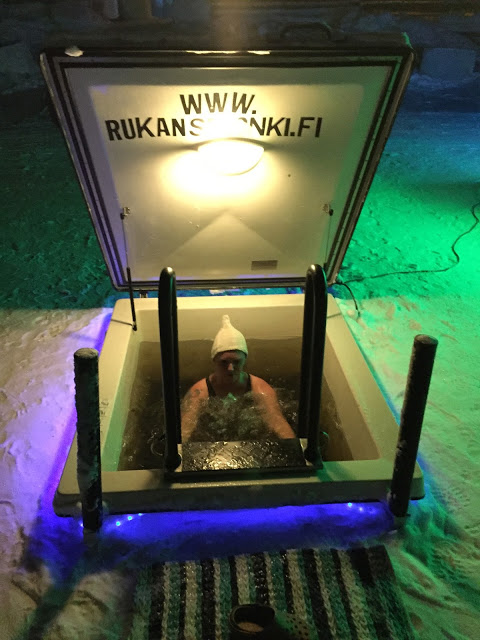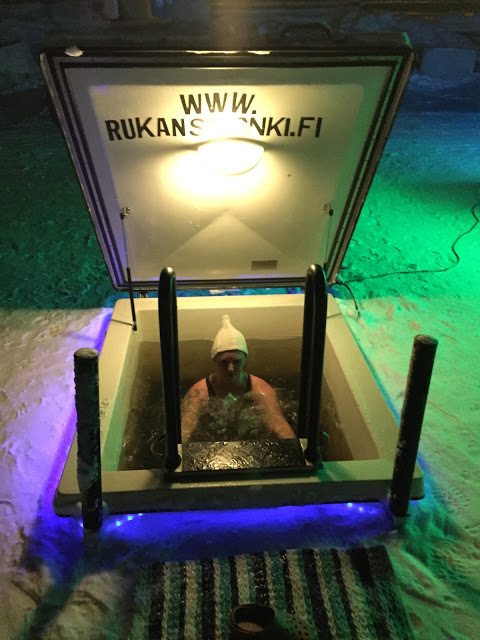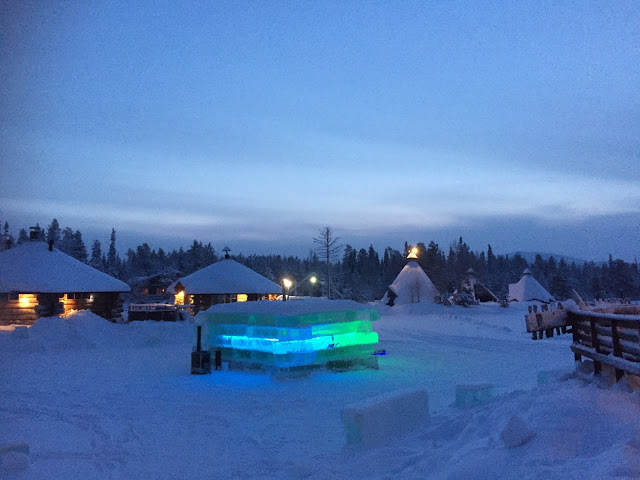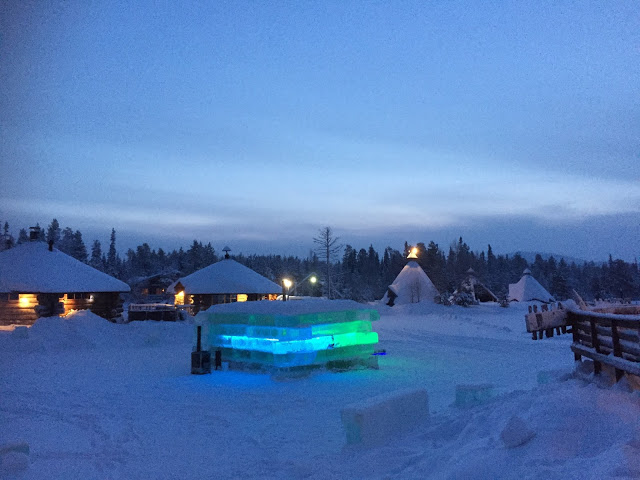 4. River floating
Can you imagine floating all by yourself slowly down an icy cold river in the middle of the woods just as the sun sets and the magic blue hour starts? It's an experience of a lifetime! To be able do this you simply dress up in lots of warm clothes and put a survival suit on top. Finishing with a floating west and a helmet you are good to go. River floating will make you experience the strangest adrenaline kick you have ever had, feeling both excited, thrilled, calm and relaxed at the same time. If you are really lucky, you will have the Aurora Borealis (northern lights) dancing across the sky above you as you float calmly down the river.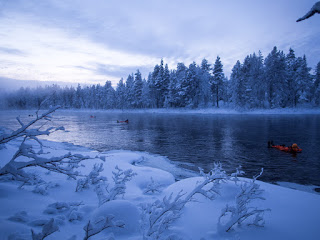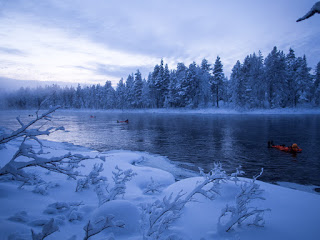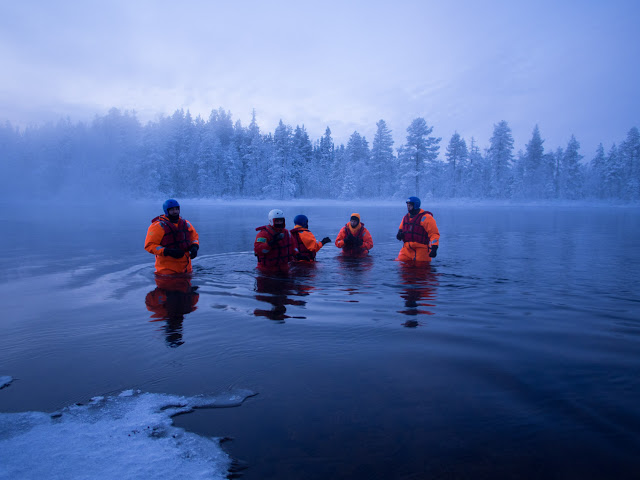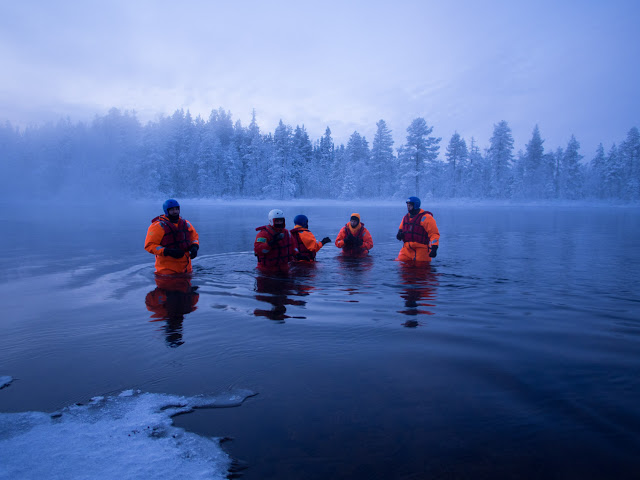 5. Make snow out of hot boiling water!
You can actually do this! I tried it out when visiting the Oulanka National Park and it was so much fun. The temperature outside was minus 34 C (!) and I brought 1 liter of hot boiling water in a mug outside. I threw the water up in the air, and it fell down like snow! One of the most amazing adventures in Ruka during my stay!
<iframe width="840" height="473" src="https://www.youtube.com/embed/oqQsAPPLREU" frameborder="0" allowfullscreen></iframe>
Also, when it's minus 34 degrees C and you are hiking in the woods, you might end up looking like this, with eyelashes and hair filled with ice crystals!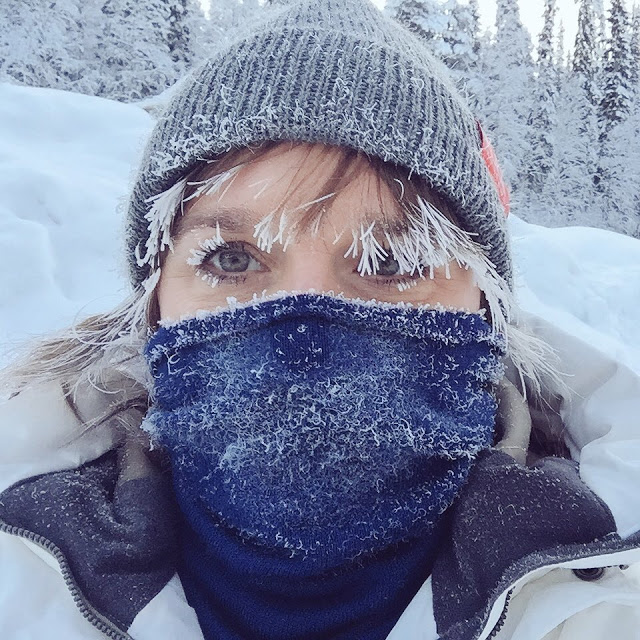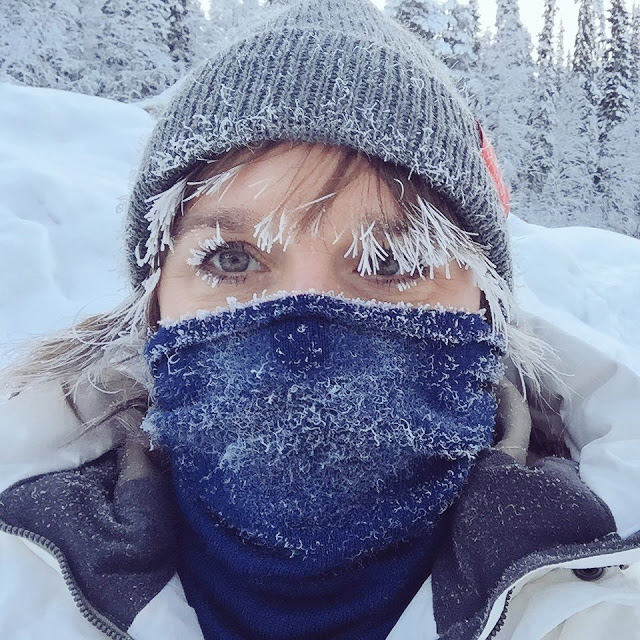 Photos from the adventures in Ruka: Ice climbing, Ice carting (except the selfie) and Ice floating is by Maria Mikkonen.
This post is also available in: Norsk bokmål